July 1, 2022
Hoʻomau (07/01/22)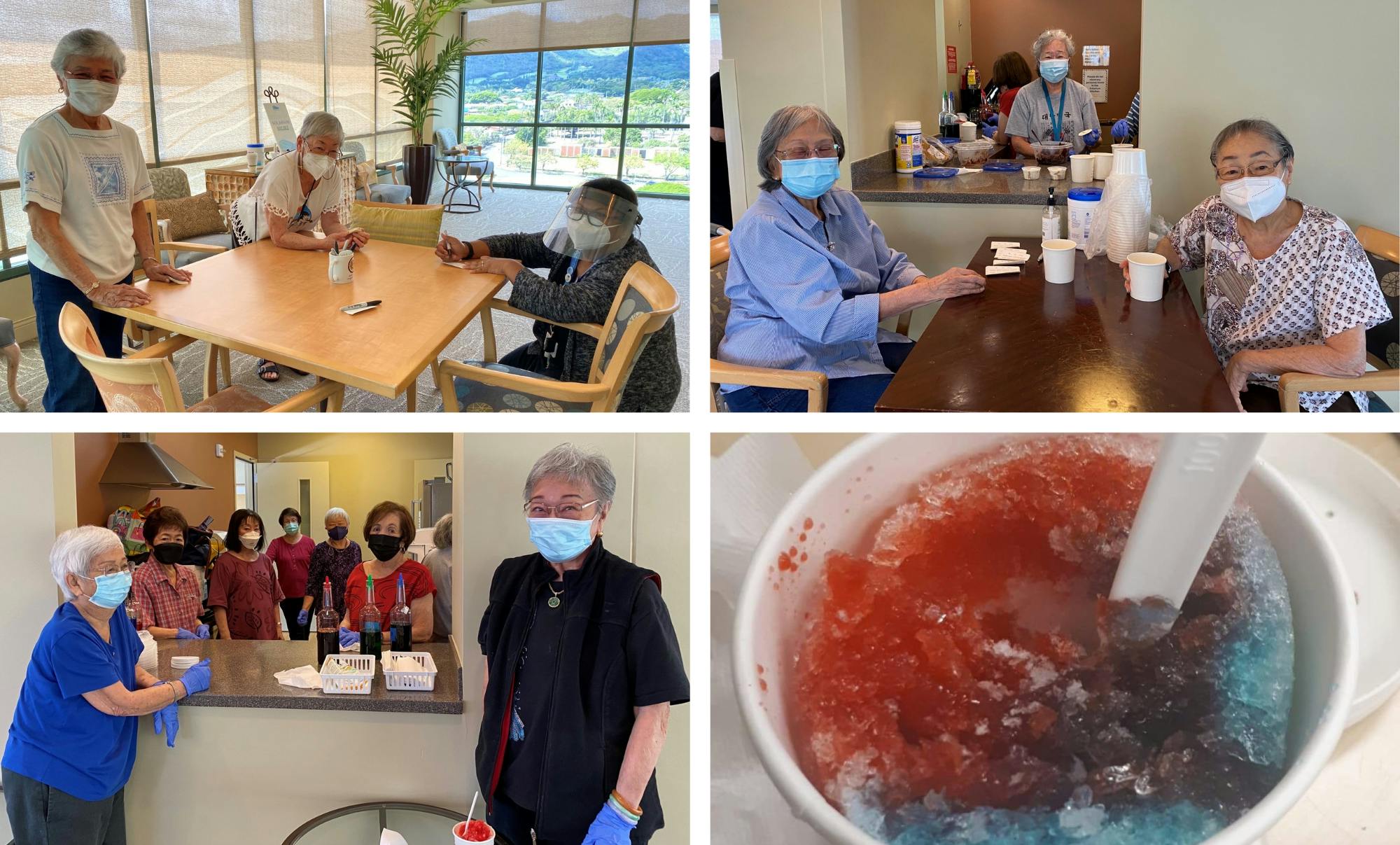 JULY 1, 2022, ISSUE 57
Hoʻomau
Renew, Perpetuate, Persevere
Shave Ice Stand
15 Craigside kicked off summer and beat the heat with a refreshing afternoon shave ice treat. The shave ice stand in the Solarium was an organized resident-run operation. Residents and employees placed and picked up their custom orders with filling choices of ice cream and azuki beans, and an assortment of flavors including strawberry, vanilla and melona. Sugar-free options were also available in strawberry, vanilla and banana flavors. Shave ice in the islands traces its roots back to Hawaii's plantation days. Japanese immigrants, who came to the islands in the mid-1800s to work in the pineapple and sugar fields, introduced kakigori, which means shaved ice. To cool off, the Japanese immigrants used their tools to shave flakes off large blocks of ice, and then coated it with sugar or fruit juice. In Pidgin English, it became known as shave ice - not shaved ice.
Kukui High Alumni Pep Band
Arcadia residents were recently treated to energizing music from the Kukui High Alumni Pep Band. The band previously performed as the Oahu College Band and have been supportive of Arcadia for many years. As we all started to recover from the pandemic, they reached out with interest to entertain our residents once again. The fun group of musicians is comprised of alumni and friends of Punahou School.
AAH Member Shares Game of Eternas
Have you heard of Eternas? It's a three-dimensional strategy game of four in a row that's similar to Connect 4. Arcadia At Home (AAH) member, Mr. Walter Ozawa, gifted the game to the AAH team and they shared it with the Arcadia Adult Day Care and Day Health Center at Central Union Church. Mr. Ozawa's 86-year-old brother, Gordon, beautifully crafted the game. Mr. Ozawa said his brother "lives in Mililani and enjoys working in his workshop." The Center's clients spend time in the afternoon playing various board games and have been enjoying the new addition to their collection.
Tea and Biscuits
Arcadia At Home held their annual TB (tuberculosis) clinic at Central Union Church. While waiting, members were able to chat with one another and enjoy some "T" (tea) and "B" (biscuits). Thank you to Claire Bailey, Home and Community-Based Services Clinical Manager, for administering the tests!
Meet and Greet
Two more political candidates visited 15 Craigside to share their campaign plans for Hawaii. First was Jenna Takenouchi, who is running for District 27 State Representative which includes Nuuanu, Liliha, Puunui and Alewa Heights. Next up was Lt. Governor Josh Green who is running for Hawaii Governor. Both candidates answered questions and concerns from the residents to help them make their decision of who to vote for in the primary election.
Highlighter Art
15 Craigside residents created beautiful flower designs using highlighter markers. The bright colors made their flowers pop! Each resident made unique patterns according to their own vision. Shown above are Mrs. Eileen Hirota (left) and Mrs. Juliette Lum (right).
2 Big Hawaiians Hana Hou
On June 28th, Arcadians delighted in an encore performance from 2 Big Hawaiians who also entertained residents earlier in the month. The sounds of local favorites filled the air in the Main Lobby and those in attendance also admired the graceful hula of Carrie Tandal. Mahalo to the Kent family for this very special gift of lively songs and beautiful dance!
15 Craigside Health Care Center
The Health Care Center at 15 Craigside has been approved by the state to increase its census from 41 to 45 beds. Administrator, Keleka Ho'okano, shared the great news and said, "We are looking forward to providing the availability of more beds to the residents, while continuing the in-apartment boarder room." Thank you to everyone who assisted during the process!
Water and energy conservation reminders from 15 Craigside residents, Ms. Charlene Oshiro and Ms. Irene Zane
Water covers two-thirds of the Earth's surface. Fresh water is 0.002% on Earth.
Don't turn on the lights if it's bright outside.
"Wishing you a happy and safe 4th of July! I hope you have a day filled with laughter and love!" - Suzie Schulberg, President & CEO