October 14, 2022
Ho'omau (10/14/22)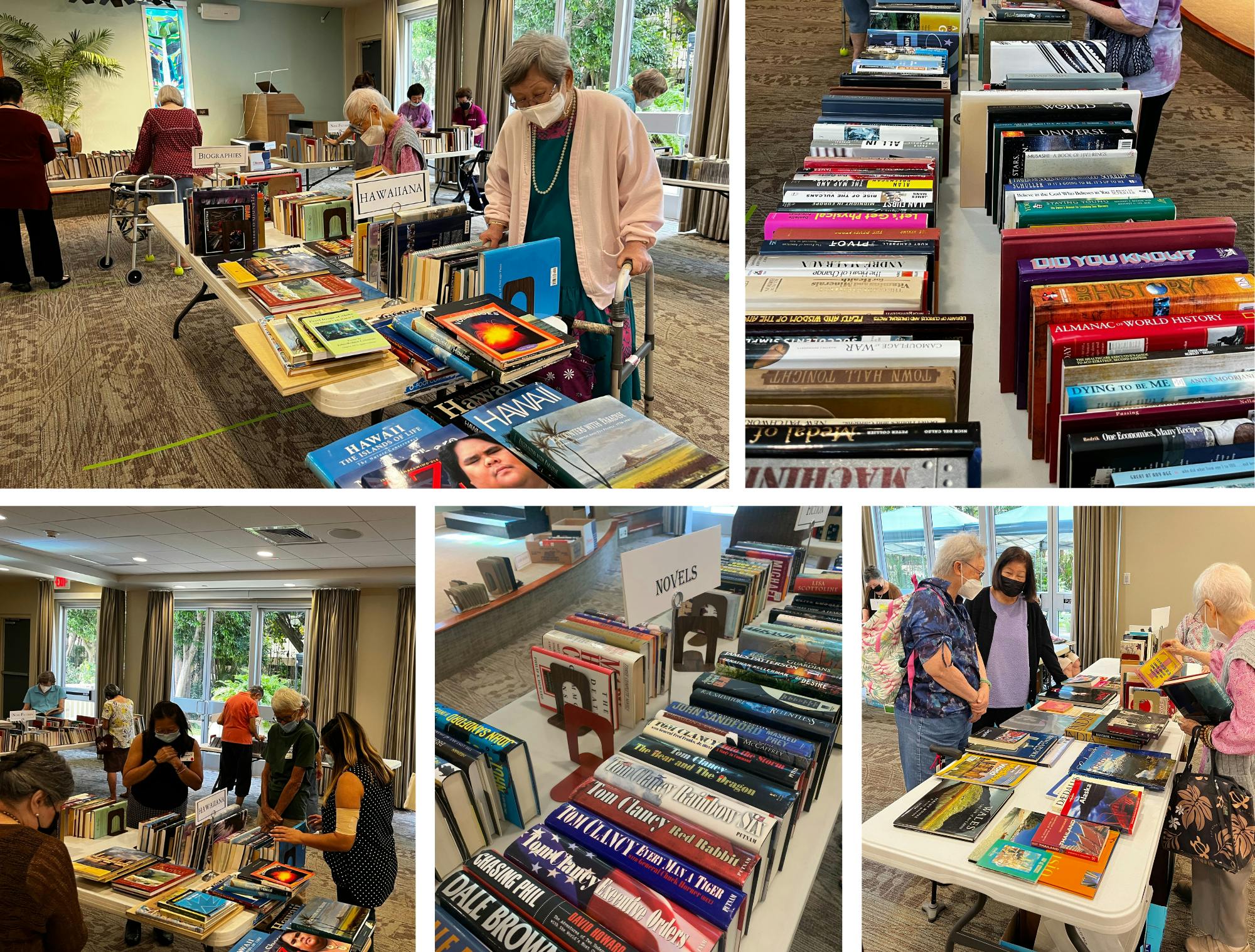 OCTOBER 14, 2022, ISSUE 72
Hoʻomau
Renew, Perpetuate, Persevere
Book Swap
October is National Book Month and what better way to celebrate than to swap old books for new stories. Arcadia residents and staff donated books, magazines and CDs that were picked up and enjoyed by others. This year there was an extraordinary Hawaiiana section and many of the books were brand new. Reading benefits your physical and mental health that can last a lifetime. Some of the benefits include stimulating your mental activity, reducing stress, improving your memory, expanding your vocabulary and enhancing your writing skills. A cup of coffee and a good read is the best way to kick start your morning!
Sorabol Luncheon
Members of Arcadia At Home enjoyed their monthly luncheon at Sorabol Korean Restaurant. The extensive menu includes BBQ, bibimbap, kalbi, bulgogi and sushi. Sorabol moved from their original location on Keeaumoku Street in January 2022 to their new location. They are now located on the same block in the old Pagoda Floating Restaurant space. Members loved the food and look forward to next month!
Oktoberfest
15 Craigside had a series of events to celebrate Oktoberfest! They started off with root beer floats, where residents got a choice of A&W or Mug root beer poured over vanilla ice cream. Residents also enjoyed Samuel Adams Citrus Wheat Summer Ale or for non-drinkers, Maui Brewing Co's Island Root Beer. The last event was a beer tasting with Beer Lab. Residents tried ten different beers from the locally owned brewery.
Risk for Falls & How to Prevent Them
The 15 Craigside Health and Wellness Programs Committee organized a presentation on risks for falls and how to prevent them. The guest speakers were 15 Craigside's Physical Therapist Ki Quilloy and Wellness Lead Scott Nguyen. They shared helpful tips in identifying and reducing risks of falls in one's apartment, and how Wellness classes can help improve flexibility and balance. Thank you Ki and Scott!
Halloween Crafts
The Center is getting into the Halloween spirit with various arts and crafts! They created picture frames, masks and beautiful paintings. Halloween has a fascinating history that dates back to the eighth century. The holiday originated from the ancient Celtic festival known as Samhain — which is pronounced "sow-in." The celebration always took place at the end of October to honor the end of the harvest, and the start of the new year.
Fall Apples
Clients at the Arcadia Adult Day Care at Central Union Church made adorable fall apples! Each client designed a wooden apple and added their individual creativity and personal touches. Apple cider is one of the most popular autumn drinks and is perfect to hold on a brisk day, looking at the colored leaves and crunching the fallen ones. Cheers to the new season!
Card Making
Arcadians got crafty when making beautiful handmade cards. They used colored construction paper, paper cutters, stickers and gems to create some unique designs. Pictured here are Mrs. Grace Sunahara (left), Mrs. Stephanie Pang (middle), and Mrs. Betty Nakaji (right). Our residents are so talented and remember to keep an eye out for their cards in Arcadia's Gift Shop!
Mahalo Father Anatole Lyovin!
October is National Clergy Appreciation Month and Arcadia At Home celebrated by showing appreciation for member Father Anatole Lyovin. He received flowers, a card and a little gift from employees of the Arcadia Family of Companies. We recognize the contributions and service of pastors, priests, reverends, ministers and all other clergy members.
"Sunday, October 9th was Pastor Appreciation Day. We express our gratitude to AFC's Chaplain, Rev. Dr. George Scott, and his assistance dog, Cedar, for their support and dedication to the residents, clients, members and employees of the Arcadia Family of Companies." - Suzie Schulberg, President & CEO