January 6, 2023
Ho'omau (1/06/23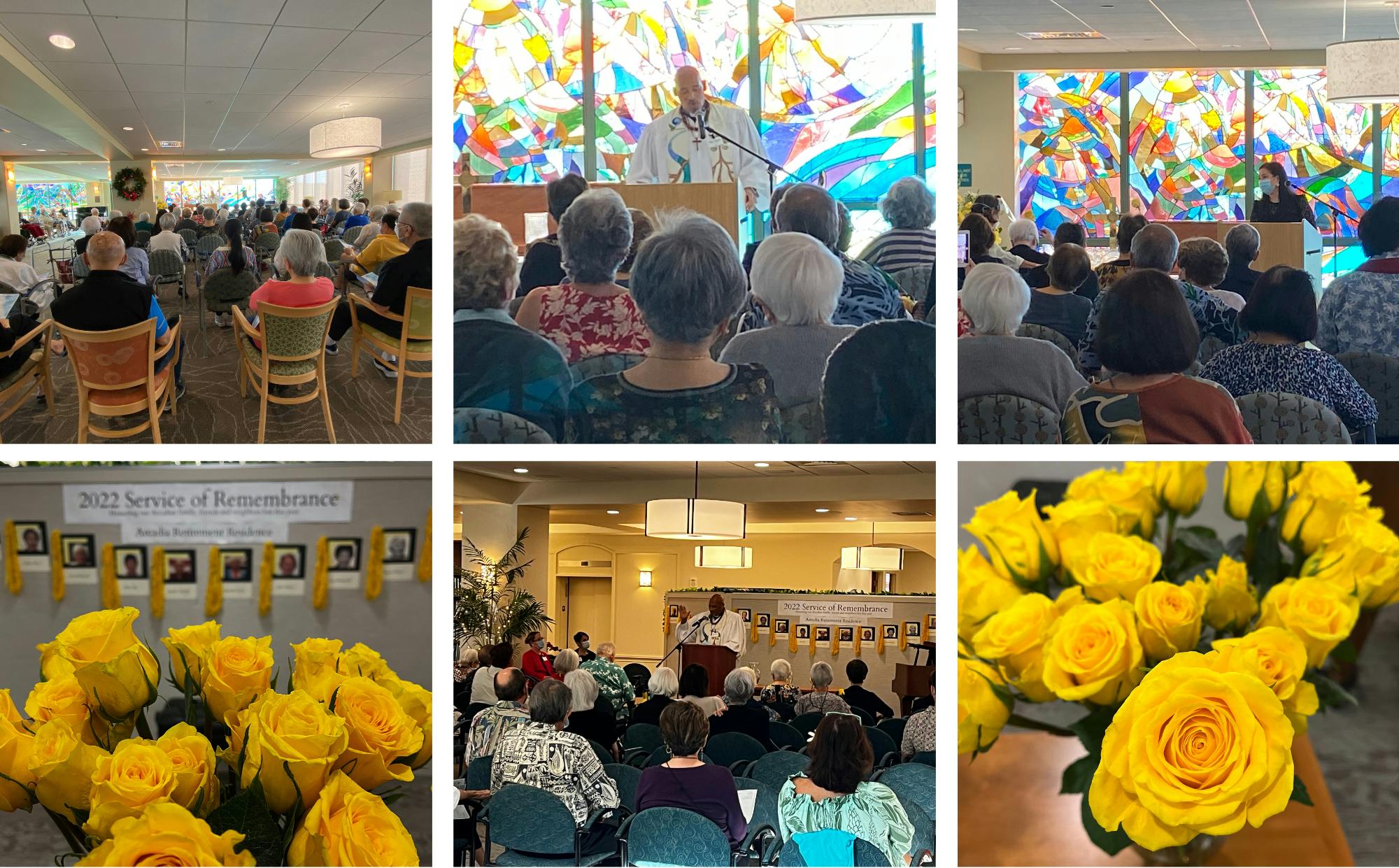 JANUARY 6, 2022, ISSUE 84
Hoʻomau
Renew, Perpetuate, Persevere
Services of Remembrance
On December 29th, the Arcadia Family of Companies held their annual Services of Remembrance at 15 Craigside and Arcadia. The services honor and recognize our residents, clients and members who passed in 2022. Family and friends were able to join us this year to celebrate the lives of their loved ones. Rev. Dr. George Scott led the attendees through prayer, words of hope and hymns. The presentation of roses dedicated one rose for each person we have lost and was placed in a vase to create beautiful arrangements. Yellow roses represent friendship, strength, wisdom and power. Pianist, Nicholas Calzada, provided the soothing musical arrangements throughout the programs. In addition to the services, walls of remembrance were put on display in 15 Craigside's Lobby and Arcadia's Main Lounge. To everyone who helped put these programs together, thank you for your hard work, diligence and love. We are so grateful to gather together and appreciate the time we've spent with those who are no longer with us.
Christmas Trolley Rides
To celebrate the holiday season, Arcadia residents took two private trolleys to view the Honolulu City Lights. Everyone really enjoyed seeing all of the festive decorations, listening to Christmas carols and each other's company. The famous Shaka Santa display was the first of the large displays to debut in 1989. Created by sculptor, Kurt Nelson, the Shaka Santa stands at 21 feet tall and weighs two tons!
Santa Claus is Coming to Town
Ho ho ho! Arcadia At Home's Member Services team have connections to the North Pole and requested an early visit to the Arcadia Family of Companies. Santa visited 15 Craigside's Health Care Center, Arcadia Adult Day Care at Central Union Church, and Hale Ola Kino by Arcadia. Our residents and clients were thrilled to receive gifts and take pictures with Santa Claus!
The Birds of Haleakala
Arcadia Family of Companies Board Chair, Martin Zorn, captured beautiful photos in Haleakala National Park. The amakihi (left) are well known for their "scolding" manner, often delivering a buzz sound at birdwatchers. These yellow-green birds forage for blossom nectar and insects. The iiwi (right) are an astonishing red, with striking black wings. These honeycreepers seek flower nectar in native and non-native trees.
End of the Year Casino Fair
Cheers to 2023! In honor of National Games Day and Card Playing Day, Arcadia residents enjoyed a casino themed fair in the Main Lounge. There were mini games, small bites and prosecco to celebrate the end of the year. Everyone had a great time getting dressed up and welcoming the new year. We hope that 2023 brings nothing but happiness, good health, prosperity, and love.
The Birth of Christ
Rev. Dr. George Scott and Arcadia resident and Chaplain Chair, Mr. Ed Kimsey, led Arcadia through the story of the birth of Christ. The program consisted of residents acting out each scene, songs and hula. For God so loved the world that he gave his one and only Son, that whoever believes in him shall not perish but have eternal life (John 3:16).
Highway Inn Luncheon
For their last monthly luncheon of 2022, Arcadia At Home (AAH) enjoyed a delicious meal from Kakaako's Highway Inn. They are known for their ono Hawaiian food which includes kalua pig, lau lau and poi. AAH member, Mr. Steven Nagata, who recently moved into 15 Craigside, was still full from the holidays and decided to stick to a liquid lunch, ordering a savory bloody mary!
St. Clement's Gift Exchange
Special delivery! Arcadia residents and St. Clement's School had a small gift exchange during the holidays. The students created cute and festive ornaments for our residents and the Programs team put together Christmas goodie bags for the students. In addition, residents recorded a Christmas story for the students to view with their families.
"Mahalo nui loa to our residents, clients, members, families and employees who attended our Services of Remembrance. It was wonderful to gather together and honor our loved ones who are no longer with us."- Suzie Schulberg, President & CEO