January 14, 2022
Hoʻomau (1/14/22)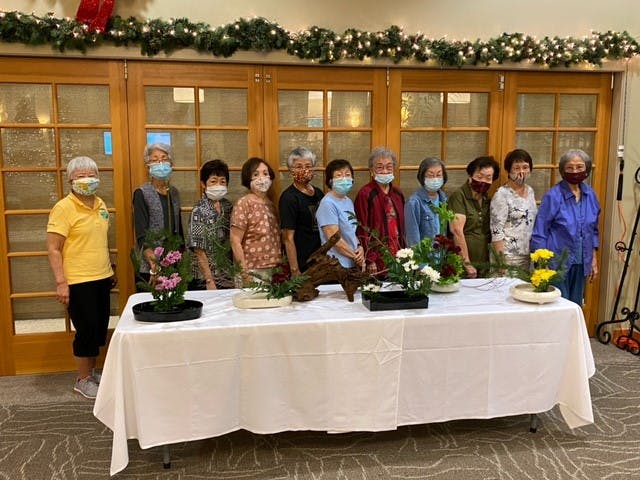 JANUARY 14, 2022, ISSUE 33
Hoʻomau
Renew, Perpetuate, Persevere
Ikebana - "Making Flowers Come Alive"
The 15 Craigside lobby looked extra special for the new year with the help of the advanced and beginner ikebana class participants. Ikebana, the Japanese art of flower arranging, aims to bring out the inner qualities of flowers and other live materials and express emotion. Residents worked in pairs and practiced all that they had learned throughout the past year from instructor and resident, Mrs. Irene Nakamoto (shown above, in yellow). Some of the plant materials used were donated and made into beautiful, unique displays.
Tai Chi at Arcadia
Tai chi is a gentle exercise that can help older adults improve their balance and prevent falls. It consists of making slow, intentional movements while breathing deeply. Tai chi has practitioners worldwide, even at Arcadia! Mr. Neil Kajioka leads his fellow residents in classes twice a week at the Wellness Center. Everyone safely comes together to practice this simple exercise with amazing benefits!
Year of the Tiger
To get ready for the Lunar New Year, residents at 15 Craigside folded origami tigers. The tiger in the Chinese zodiac symbolizes strength and bravery!
COVID-19 Updates
At the Arcadia Family of Companies, we strive to keep everyone in the loop regarding the ongoing pandemic and especially during the current Omicron surge. We'd like to share this message from Arcadia resident, Mrs. Ruth Koehl:
"What an incredibly difficult job this is to communicate the constantly changing information to a population of seniors who can be confused, worried, and occasionally rebellious. I just wanted to say how impressed I am with your very clear presentation of facts about complicated and often misunderstood data. I have not heard anyone complain that they think Arcadia is hiding information from them. Brava!!!!"
Zippy's Christmas Luau
Did you happen to catch Zippy's Christmas Luau commercial on tv this past holiday season? Arcadia resident, Mrs. Deborah Matsumura was featured in the fun and festive commercial alongside her family. Mrs. Matsumura and her ohana are shown enjoying each other's company and feasting on ono Hawaiian and local food such as lau lau, lomi lomi salmon, chicken long rice, macaroni salad, sushi and haupia.
Boba Milk Tea
Arcadia Adult Day Care clients were recently treated to a refreshing afternoon pick-me-up of boba milk tea. This popular drink was first created in Taiwan in the 1980s. One of the most beloved flavors is milk tea, which is comprised of tea, milk and sugar. The tapioca balls, also referred to as "boba," are made by extracting starch from the cassava root, a long tuberous plant native to Brazil. (Masks were removed for drinking only.)
Service of Remembrance
The 2021 Service of Remembrance at Arcadia was held virtually with a video by the Programs team. In addition to the service, a wall honoring residents who passed was on display in the main lounge. Placing the finishing touches on the exhibit were, Ms. Hilda Ohara, Mrs. Anne Hedani, Ms. Amy Taniguchi, Mrs. Sheila Black and Jim Tagupa (left to right).
AHHS Recertification Class
Arcadia Home Health Services (AHHS) held a recertification class at the Arcadia Adult Day Care Center. The all-day training was offered by AFC for the Home Health team to be recertified as CNAs. Left to right are Jubilee Andres, Daisy Menor, Ayako Kato, instructor John Reyes, Nahor Brown, Grace Gohol and Anna Fujioka. (Team members were closely spaced for photo only.)
Floral Arrangement Donation
Richel from For the Good Events donated a creative floral arrangement to Arcadia that she designed for a wedding party. When asked what made her think of us, Richel replied that her best friend was an RN who worked at Arcadia and she learned about all of the amazing services we provide to older adults. Do you see the unique addition of a tropical fruit in the arrangement?
"While our days seem dim right now, we are hoping for better days in the coming weeks. The most effective ways to stay safe and battle this virus are to get vaccinated, boosted, wear a face mask, avoid large crowds, and practice good hand hygiene and social distancing." - Suzie Schulberg President & CEO