November 4, 2022
Hoʻomau (11/4/22)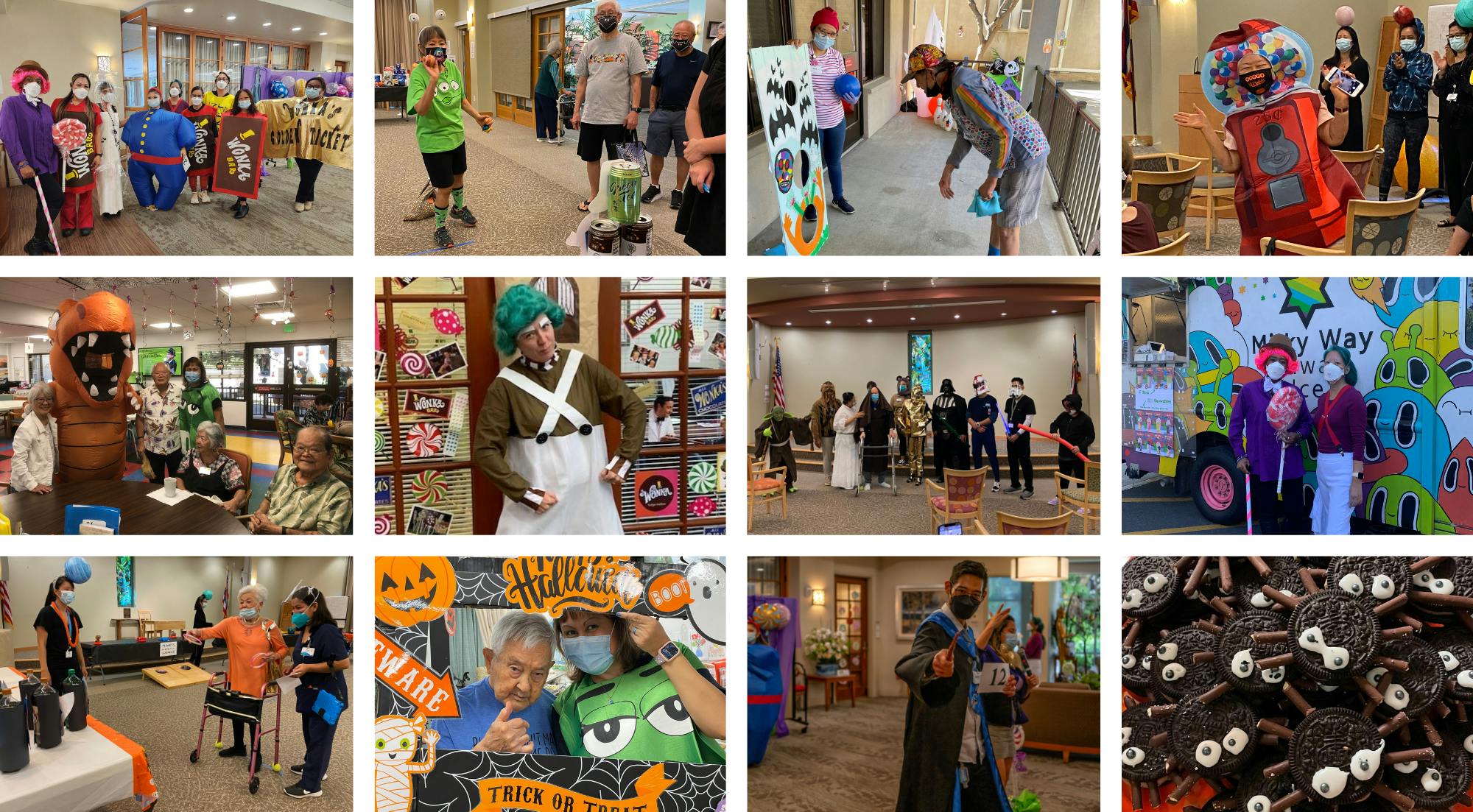 NOVEMBER 4, 2022, ISSUE 75
Hoʻomau
Renew, Perpetuate, Persevere
Halloween Happenings
15 Craigside, Arcadia and the Arcadia Adult Day Care Center were filled with frightful fun on Halloween! 15 Craigside was "Out of This World" as residents and staff came to play games and collect candy along the way at the Galaxy Candy Crawl. At the end, everyone was able to pick a prize and leave a winner! Residents also enjoyed the employee parade of costumes including Star Wars, the solar system, Bumblebee from the Transformers and more. At Arcadia, the theme was "Willy Wonka and the Chocolate Factory." Staff dressed as characters from the movie strutted on the runway for residents to view and vote for their favorites. Milky Way Hawaii Ice also made refreshing drinks for all to enjoy as a Halloween treat. The festivities continued over at The Center with a Halloween party filled with games, prizes, a photo booth, and snacks including Oreo spiders!
Pumpkin Carving
15 Craigside's Health Care Center got into the Halloween spirit by carving a large pumpkin. Residents guessed how many seeds were inside as well as the weight of the pumpkin. Pumpkin seeds contain a wide range of vitamins and minerals and are particularly rich in zinc, magnesium, manganese, copper and iron.
Creepy Crawly Cupcakes
At Arcadia, National Cake Decorating Day was celebrated by designing cupcakes with a Halloween theme. Residents selected from a variety of toppings including Oreos and autumn-colored sprinkles to festively adorn their cupcakes.
Member Luncheon
Arcadia At Home members gathered for food and fellowship at Maple Garden for their monthly member luncheon. The Moiliili eatery specializes in Northern Chinese Szechuan cuisine and is known for their mu shu pork and favorites like Shanghai noodles, spicy eggplant with fried tofu, honey walnut shrimp, and beef with mushrooms and bamboo shoots. Members loved the vegetarian mu shu pork (without the pork) dish. They enjoyed bundling it up in the little tortilla-like wrappers and called it a "Chinese taco."
Spreading Halloween Cheer
The Where's Waldo? gang (also known as the Home and Community-Based Services team) made stops at the Health Care Centers of 15 Craigside and Arcadia to deliver Halloween smiles and treats. Mahalo for bringing joy to our residents! Are you familiar with Where's Waldo? The book contains detailed illustrations to scour and find Waldo who is always dressed in his trademark red and white striped sweater and glasses.
Witch-Crafty Halloween
Residents at 15 Craigside were busy crafting away for Halloween! Adorable witch lollipops were created with tissue paper and pipe cleaners. Broom candy treats were made by using brown paper bags to create the bristles and those were then filled with sweets. Black paper was cut into bats whose wings cradled a Hershey bar. A couple residents also organized and created drawings to color, cut, and place on their face masks for everyone to wear on Halloween!
Bivalent Booster Clinics
Arcadia Family of Companies' residents, clients, members and employees received their COVID-19 bivalent vaccine boosters at clinics held at 15 Craigside, Arcadia and Central Union Church. This booster provides broader protection against both the original virus that causes COVID-19 and the currently circulating omicron subvariants.
Country Outing
Arcadians took a ride out to the windward side of the island for lunch at Kalapawai Café and a stop at the pumpkin patch and sunflower fields of Waimanalo Country Farms. Residents also saw animals at the farm, including baby goats! Pictured are Mrs. Elva Yoshihara, Ms. Sumie Higa, Mr. Ed Lapsley, Mrs. Mitzie Kodama, Mrs. Sheryl Anzai and Mr. Dean Anzai.
Hale Ola Kino Blessing
Welcome to the Arcadia Family of Companies! On November 1st, we began a new chapter for Hale Ola Kino by Arcadia (HOKA) with a blessing by AFC Chaplain, Rev. Dr. George Scott. Pictured (left to right): Roselle Salon, HOKA Director of Nursing; Keleka Ho'okano, 15 Craigside Administrator; Suzie Schulberg, AFC President & CEO; Rev. Dr. Scott.
"As we enter this new month, keep in mind this quote from Charmaine J. Forde – 'Don't wait until the fourth Thursday in November, to sit with family and friends to give thanks. Make every day a day of Thanksgiving!'" - Suzie Schulberg, President & CEO