November 5, 2021
Hoʻomau (11/5/21)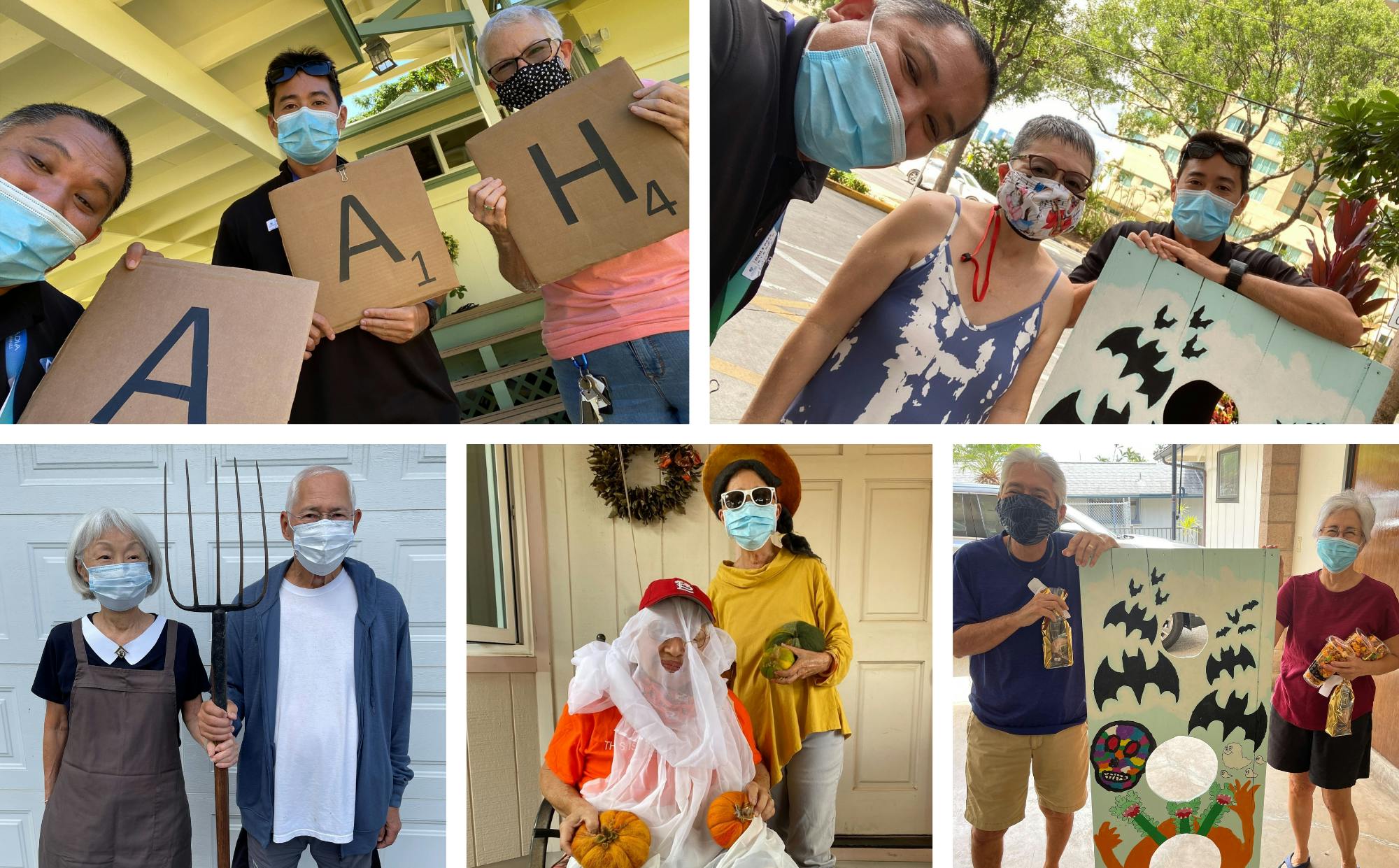 NOVEMBER 5, 2021, ISSUE 23
Hoʻomau
Renew, Perpetuate, Persevere
Arcadia At Home Halloween Delivery
Last week, Arcadia At Home (AAH) members were treated to a fun Halloween delivery by Bobby Olmstead, Member Services Manager, and Jon China, Member Services Coordinator. Some members even dressed up in costume for the occasion! Bobby and Jon creatively made "AAH" Scrabble tiles that tied into the Home and Community-Based Services board game Halloween costume theme. Members received a delectable trio of chocolate-covered treats (wafers, Oreos and fortune cookies) and popcorn from Island Popper. In addition, members also partook in an entertaining game of cornhole. As Jon, mentioned, "they got competitive trying to get the high score!" Thank you to Bobby for making the cornhole board and Anela Bartels, Adult Day Care Activities Coordinator, for designing and painting it!
Candy Land at the Arcadia Adult Day Care Center
This year's Halloween theme at the Arcadia Adult Day Care was based on the colorful board game, Candy Land. There were smiles all around as costumed team members passed out trick-or-treat goodies. Clients also painted pumpkins and cast their votes for the employee mini pumpkin decorating contest. Thank you to the Adult Day Care staff for all the fun Halloween activities! (Mask was removed for picture taking only.)
Paint By Numbers
Have you ever wanted to create a masterpiece? 15 Craigside residents did just that as they painted by numbers to create their own beautiful versions of Vincent van Gogh's famous "Sunflowers." Everyone's unique style was displayed through their paintings. Many have discovered a new hobby as they found it therapeutic and will continue to paint in the future.
A Broadway Halloween at 15 Craigside
15 Craigside residents got into the Halloween spirit with Broadway-themed festivities. Residents trick-or-treated at various stations for soda, wine, candies and prizes. Everyone was also able to take photos in front of the theater stage backdrop decorated with playbills from different shows.
Trail Mix for National "Take A Hike" Day
Arcadia residents celebrated National "Take A Hike" Day by creating the perfect hiking snack, trail mix! Resident, Mrs. June Honda, shared, "Mahalo to our super Programs team, Gillian Davis and Ashley Maeshiro, for continuously providing activities to keep us happy amid COVID restrictions. Today's trail mix event was fun. In typical Arcadia mode, we even saw our COO, Heidi Pliszka, assisting with the serving. We definitely have an impressive leadership team...always visible, always involved...a true close-knit family."
Bus Outing to Hawaii Kai
Arcadia's Health Care Center residents took a scenic ride out to Hawaii Kai on the east side of Oahu. The excursion provided the residents with a chance to venture out and catch glimpses of the blue ocean along the way. Stacy Aleman, Activities Supervisor, mentioned that the residents kept saying, "look at how much Hawaii Kai has changed!"
Pumpkin Cups
What better way to hold your Halloween treats than in a pumpkin cup! 15 Craigside residents created these cute containers using Mod Podge (a decoupage medium) and orange tissue paper. They then chose their eyes, noses and mouths to complete the faces of the jack-o'-lanterns. Last but not least, they filled their cups with a yummy assortment of candies!
Women Who Mean Business
Congratulations to Suzie Schulberg, President and CEO of the Arcadia Family of Companies (AFC), on being recognized as a 2021 Pacific Business News Women Who Mean Business honoree. Your invaluable contributions to the AFC, its residents, clients, members and employees, and the community, make us proud. You are an inspiration to Hawaii's future leaders.
"On 11/8, 11/9 and 11/11, AFC employees will be gifted Caregiver Pampering Sessions from Gimme A Break, a local organization dedicated to caring for the caregiver. This generous gift was donated to the AFC by Diane Paloma, outgoing CEO of the Lunalilo Home. Enjoy!" - Suzie Schulberg, President & CEO