January 20, 2023
Ho'omau (1/20/23)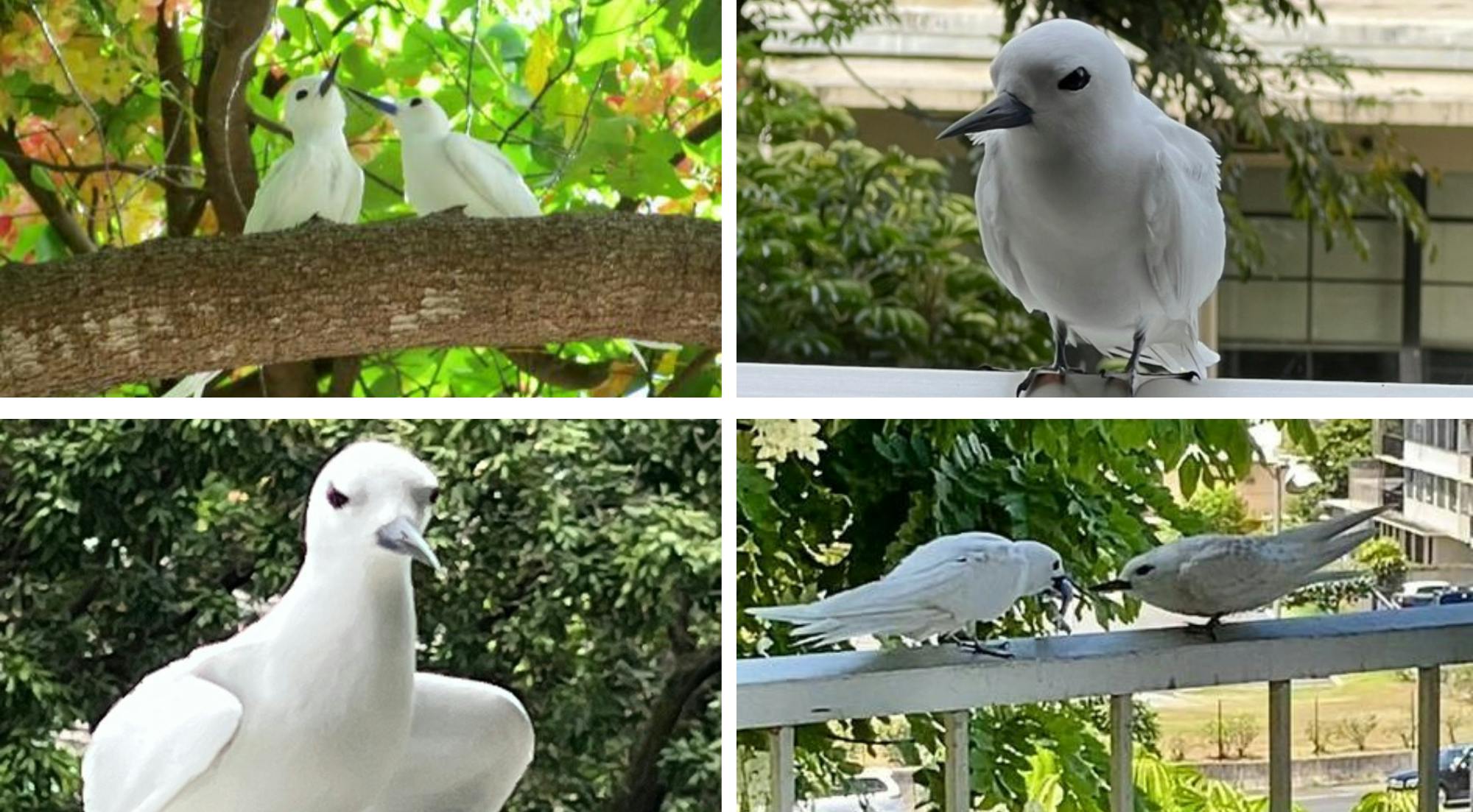 JANUARY 20, 2022, ISSUE 86
Hoʻomau
Renew, Perpetuate, Persevere
The Return of the White Terns
Most of us who have lived here a while are aware of the White Terns, the pure white birds we usually see flying in pairs around Arcadia. The White Tern (its official name) is a seabird, and eats only fresh fish it catches in the ocean. However, they have chosen Honolulu as a place to lay eggs and raise their chicks. Their territory is very narrow, only ranging from about Niu Valley to Sand Island. Why this is, no one knows, but we are privileged that several of them have chosen the trees around Arcadia to be their "nesting ground." I say "nest," but they don't build a nest. They lay their egg (one at a time) on a bare branch or even on the ledge of a building!
Their egg-laying season here at Arcadia is usually from December to March, but since they can lay several eggs a season, they could lay another egg in April or May. They lay their eggs in the same spot, on the same branch, in the same tree every time. Both parents take turns sitting on the egg to keep it warm. One sits while the other goes to fish, usually returning in a day. I have witnessed the "changing of the guard" several times, and they are very careful not to dislodge the egg. As soon as one parent gets off the egg, the other immediate hops on to it. The egg hatches in about 35 days.
They have been entirely absent for the last months of 2022, and I was wondering where they went and if they would return. To my delight, they returned in force on January 8th! They must have been busy breeding, because the female terns almost immediately started laying their eggs in their usual trees. Since their return a week ago, five of the terns are sitting on eggs. Hopefully all will hatch successfully, and by early summer we'll have five fully fledged, young adult White Terns!
Honey Almond Cornflake Clusters
For the first snack demo of the year at 15 Craigside, residents watched how to make honey almond cornflake clusters for Chinese New Year. With only six ingredients, the Programs team started by melting butter and mixing in sugar and honey. Next they added cornflakes, sliced almonds and raisins until they were coated with the butter mixture. The treats were baked for 10 minutes at 350 degrees and then ready to eat!
Abstract Art
Clients at the Arcadia Adult Day Care at Central Union Church showcased their talents in this artistic activity. Abstract art does not represent an accurate depiction of visual reality, instead communicating through lines, shapes, colors and gestural marks. It is a form of art that allows you to express yourself without many rules and restrictions. Each artist is able to use their imagination to incorporate their unique styles and add personal touches.
Chinese Lucky Coin Bracelets
To celebrate Chinese New Year, Arcadia residents made lucky coin bracelets. In feng shui, Chinese coins are a symbol of good fortune and prosperity. The shape of the coin has meaning as the circle represents the influence of the heavens upon the earth, which is symbolized by the square in the middle. The string is significant because the color red represents vitality, protection and life force energy.
Weekly Tea Time
The weekly tea time at 15 Craigside started an additional time on the weekend. Utilizing the outdoor space by the Theater, residents enjoyed their snack and tea with fresh air and good company. As a part of the grounds beautification, a water feature was added for everyone to enjoy (right photo). It's the perfect way to relax, reset and regroup.
Butterfly Crafts
Clients at The Center folded adorable little butterflies. Did you know that butterflies are one of the most emblematic animals? Primarily, they are associated with allegories of transformation and change. Butterflies are a lucky charm during cycles of change within your life and personality. It keeps you moving during periods of renewal and rebirth.
"Happy Lunar New Year! 2023 is the year of the Water Rabbit, starting from 1/22/23 through 2/9/24. The sign of the Rabbit is a symbol of longevity, peace and prosperity. 2023 is predicted to be a year of hope." -Suzie Schulberg, President & CEO