December 30, 2021
Hoʻomau (12/30/21)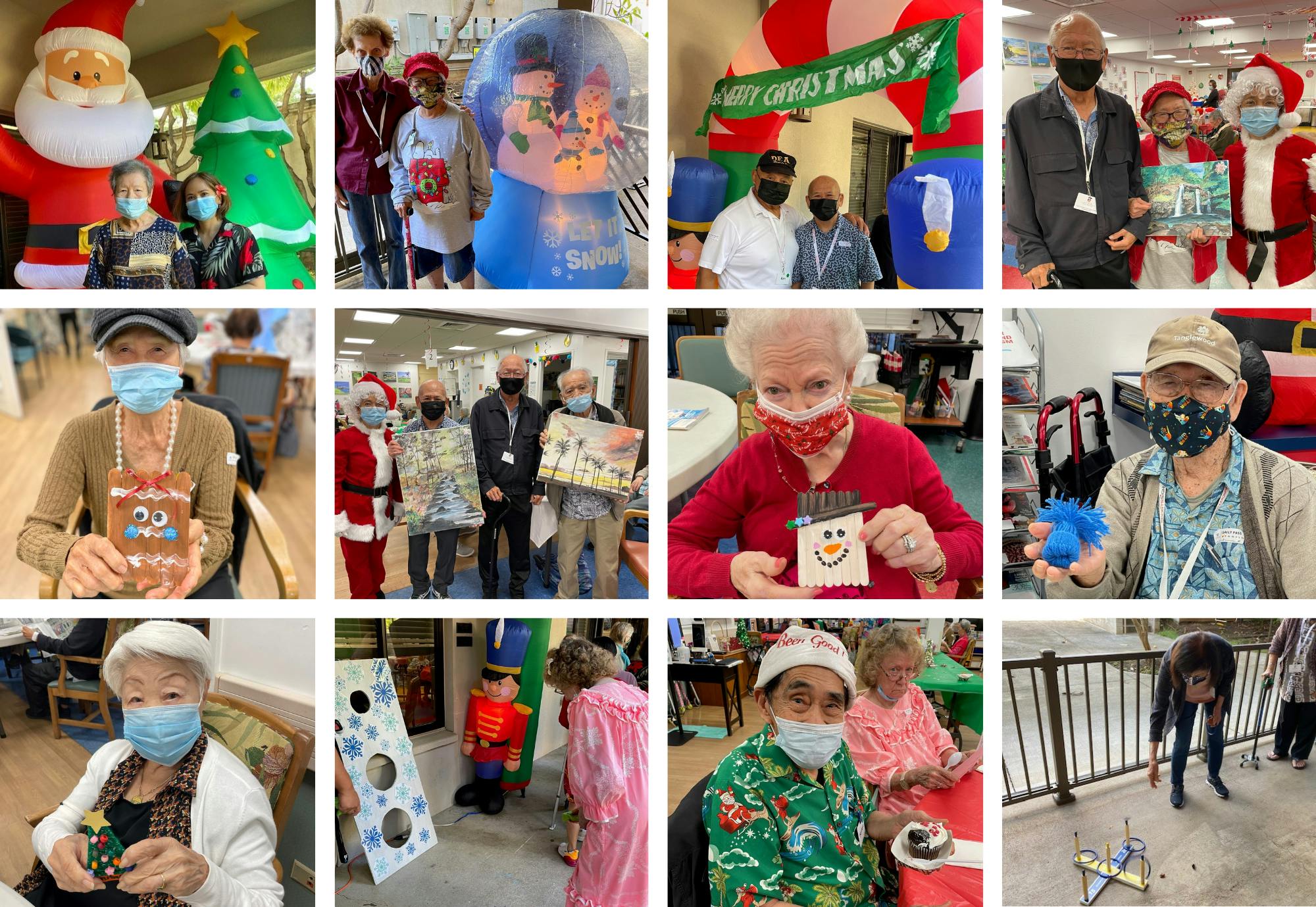 DECEMBER 30, 2021, ISSUE 31
Hoʻomau
Renew, Perpetuate, Persevere
Jingle and Mingle
On December 16th, the Arcadia Adult Day Care and Day Health Center celebrated the season with their annual Jingle and Mingle party. In the morning, clients had fun outdoors with games like Christmas cornhole and ring toss. Everyone had a blast playing and winning prizes. For lunch, clients feasted on a fabulous Hawaiian meal prepared by Arcadia's Chef Ryan and team. The festivities continued in the afternoon with holiday crafts and a raffle. Some even won one of client Mr. Larry Ueki's original paintings. As Anela Bartels, Activities Coordinator, said, "Larry was so happy to share his paintings with others and clients were so happy to receive them."
December Make It, Take It
Arcadia residents made cheerful Christmas ornaments for December's Make It, Take it session. Wooden sticks were crafted into cute reindeer and adorable trees for the holiday season. Decorations were colored and adorned with festive pompoms, stars and googly eyes. A red pompom nose was the perfect finishing touch to add to Rudolph the Red-Nosed Reindeer!
Mini Tree Decorating
15 Craigside residents helped decorate mini Christmas trees with a variety of delicate bows to spread joy to the Health Care Center. Save and Share cards that residents worked on throughout the year were delivered along with the trees.
Pick a Tree
Residents tried their luck at 15 Craigside's Christmas Pick a Tree event. After choosing a paper tree that called out to them, they flipped it over to reveal what they won. Prizes included candies and cash! What did you win, Mr. Okamoto?
Crafting Christmas Cards
15 Craigside residents made unique Christmas cards with pretty patterned paper. Two pieces of paper were folded together to create a card that opened up like a present. Mrs. Margaret Harris and Mrs. Joyce Nakamura worked on their creations and a finished card is shown by Mrs. Setsumi Ozawa. This wonderful idea came from a resident whose friend demonstrated how to make them to the Programs team over a Zoom call!
Holiday Dress-Up Days
The Arcadia Adult Day Care celebrated the holidays all month long with a variety of dress-up days in December. Clients and staff got into the spirit and everyone enjoyed seeing all of the crazy outfits. Themes included "Wear a Hat," "Dress as an Elf," "How the Grinch Stole Christmas," "O Christmas Tree" and "It's Pajama Day."
Numbah One Day of Christmas
Arcadia residents performed the classic, local style "The Twelve Days of Christmas." Do you know all twelve gifts from tutu (grandma)? 1 mynah bird in 1 papaya tree, 2 coconuts, 3 dried squid, 4 flower lei, 5 big fat pigs, 6 hula lessons, 7 shrimps a swimming, 8 ukulele, 9 pounds of poi, 10 cans of beer, 11 missionaries and 12 televisions. Mahalo to all who entertained!
Caregiver of the Year
Congratulations to 15 Craigside Health Care Center CNA, Gina-Marie Tampon (right), who was awarded and celebrated as Caregiver of the Year, Special Mention, at Gimme A Break's 2021 Gala. Gimme A Break is a non-profit whose mission is to care for caregivers by giving an emotional and physical break as well as resources for continued well-being.
National Sangria Day
December 20th was National Sangria Day and as resident Mrs. June Honda said, "True to the Arcadian way, we celebrated the day!" Sangria is a beverage made with wine and sweetened with fresh fruit and fruit juices. The Programs team also served a non-alcoholic version made with grape juice. Thank you to Mrs. Honda for capturing and sharing these photos!
"Despite the fact that this surge is hitting us hard, I remain humbled by your compassion, commitment and dedication to serving our residents, clients and members. Keep your head up and keep the faith…we will get through this TOGETHER!" - Suzie Schulberg, President & CEO