December 9, 2022
Hoʻomau (12/9/22)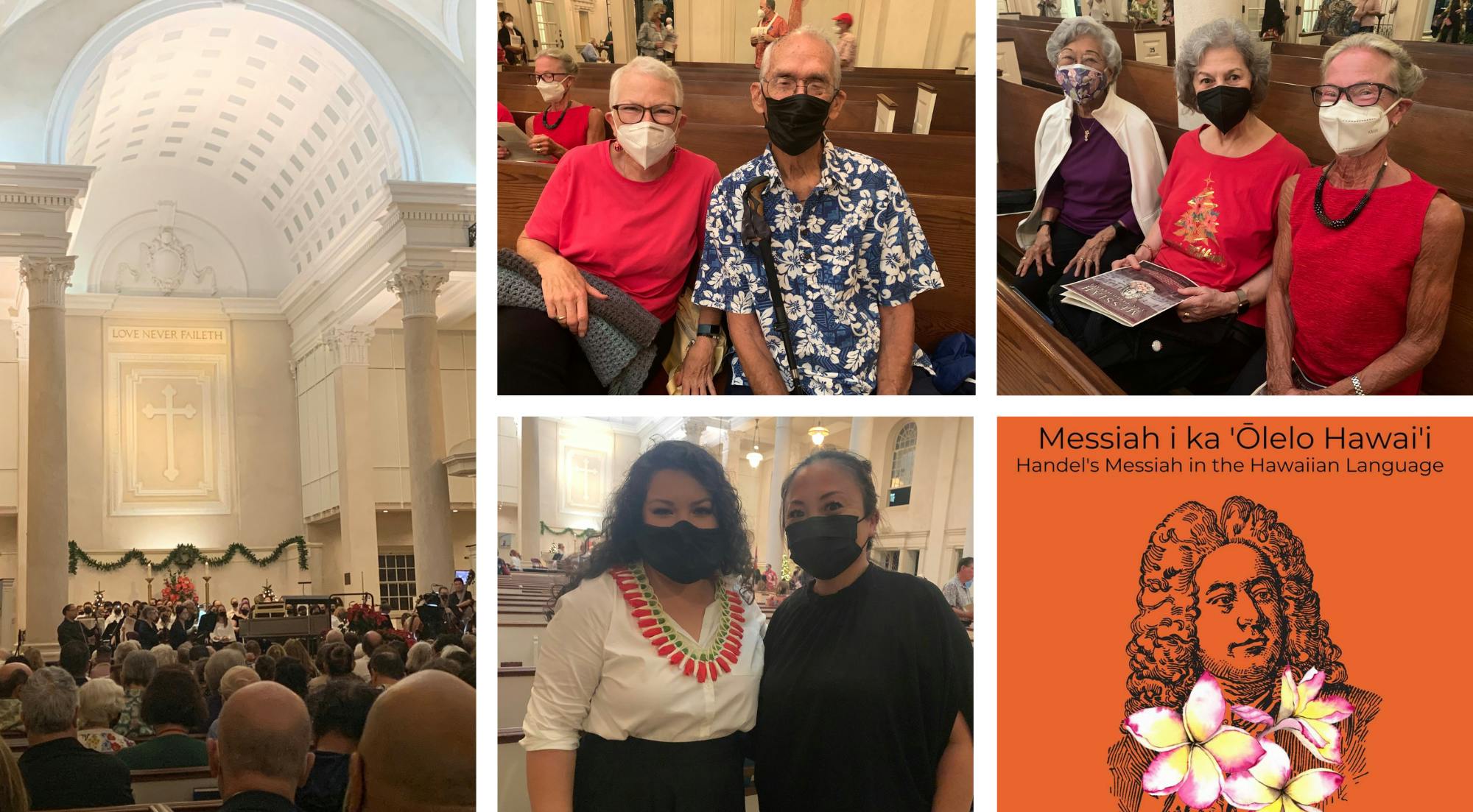 DECEMBER 9, 2022, ISSUE 80
Hoʻomau
Renew, Perpetuate, Persevere
Handel's Messiah in the Hawaiian Language
On December 4th, Arcadia At Home (AAH) members attended a holiday concert at Central Union Church. Every year, the Central Union Church Choir performs Handel's Messiah, but this year, in collaboration with Na Wai Chamber Choir, the event was in the Hawaiian language!
Elyse Espinosa (bottom center, left), AAH Member Services Coordinator, has been singing with Na Wai Chamber Choir for about a decade. Established in 2009, they are dedicated to the preservation, propagation, and innovation of Hawaiian choral music. As Elyse shared, "The group is mostly comprised of post-graduate, working individuals, which means many late night and weekend rehearsals, but it is all worth it in the end. The determination to get through a difficult piece together, the depth of emotion that you discover as you dive into the work's meaning, the rhythmic timing and breathing together as one, it all culminates in the performance. There's no describing that rush of feeling when we get on stage and sing!"
Mahalo 15 Craigside Resident Volunteers!
At 15 Craigside, there are many resident volunteers that dedicate their time and energy to the Resident Association, Advisory Board, as floor coordinators and the resident store, dining, library, spiritual life, wellness and programs committees. To honor and show gratitude to those wonderful volunteers, everyone enjoyed treats throughout the week including macarons, donuts and pizza. These volunteers truly make 15 Craigside a special place to live.
JABSOM Geriatric Fellows Presentation
Members of the Home and Community-Based Services (HCBS) Leadership Team met with fellows of the John A. Burns School of Medicine's (JABSOM) Geriatric Medicine Fellowship Program to share about various services and care options available to older adults in the community. This included sharing about the Arcadia Family of Companies' option for independent and assisted living as well as the services offered through HCBS programs. Thank you to these young professionals who are taking this extra step in their medical careers to help support our kupuna!
Getting Into the Holiday Spirit
"Christmas is doing a little something extra for someone." - Charles M. Schulz. Arcadia employees did a little something extra by helping to deck the halls. Arcadia resident, Mrs. Sheila Black, shared photos and remarked that she and other Arcadians were touched that staff members helped them to decorate for the holiday season. Thank you to residents and employees for getting everyone into the Christmas spirit!
Christmas Mask Decorating
To get into the spirit of the season, 15 Craigside residents colored adorable designs drawn by fellow resident, Mrs. Kathleen Mijo, and placed them on a disposable mask. There was a wide variety of festive cutouts like angels, snowmen, ice skating animals, trees, wreaths, candy canes, and more. The residents can now wear their finished creations for a special occasion or any day to spread holiday cheer!
Lucky Winner!
Congratulations to this Arcadia Adult Day Care client who was the lucky raffle winner from the Home and Community-Based Services Core Values Fall Fair! The fair was a celebration of the eight Core Values of the Arcadia Family of Companies - be humble, be understanding, be gentle, be just, be merciful, be honest, be peaceful, and be faithful.
Chamber Music Performance
Professional violinist Rachel Saul recently returned to perform at Arcadia. Throughout the year, she shares beautiful chamber and classical music for all to delight in. For this performance, she was joined by four other professional musicians. Chamber music is composed to be presented by a small quantity of musicians and most of the time, there is no conductor.
Strategic Planning Journey
Please remember to complete the Strategic Planning Journey survey. Provide us with your valuable thoughts, insights, opinions and information. We are excited for residents, clients, members, families, employees and the board to be part of this very important process that will ready us to serve kupuna far into the future. https://forms.office.com/r/VK0Myc3EFX
"Wishing you a magical, magnificent, and merry month of December!" - Suzie Schulberg, President & CEO