February 24, 2023
Hoʻomau (02/24/23)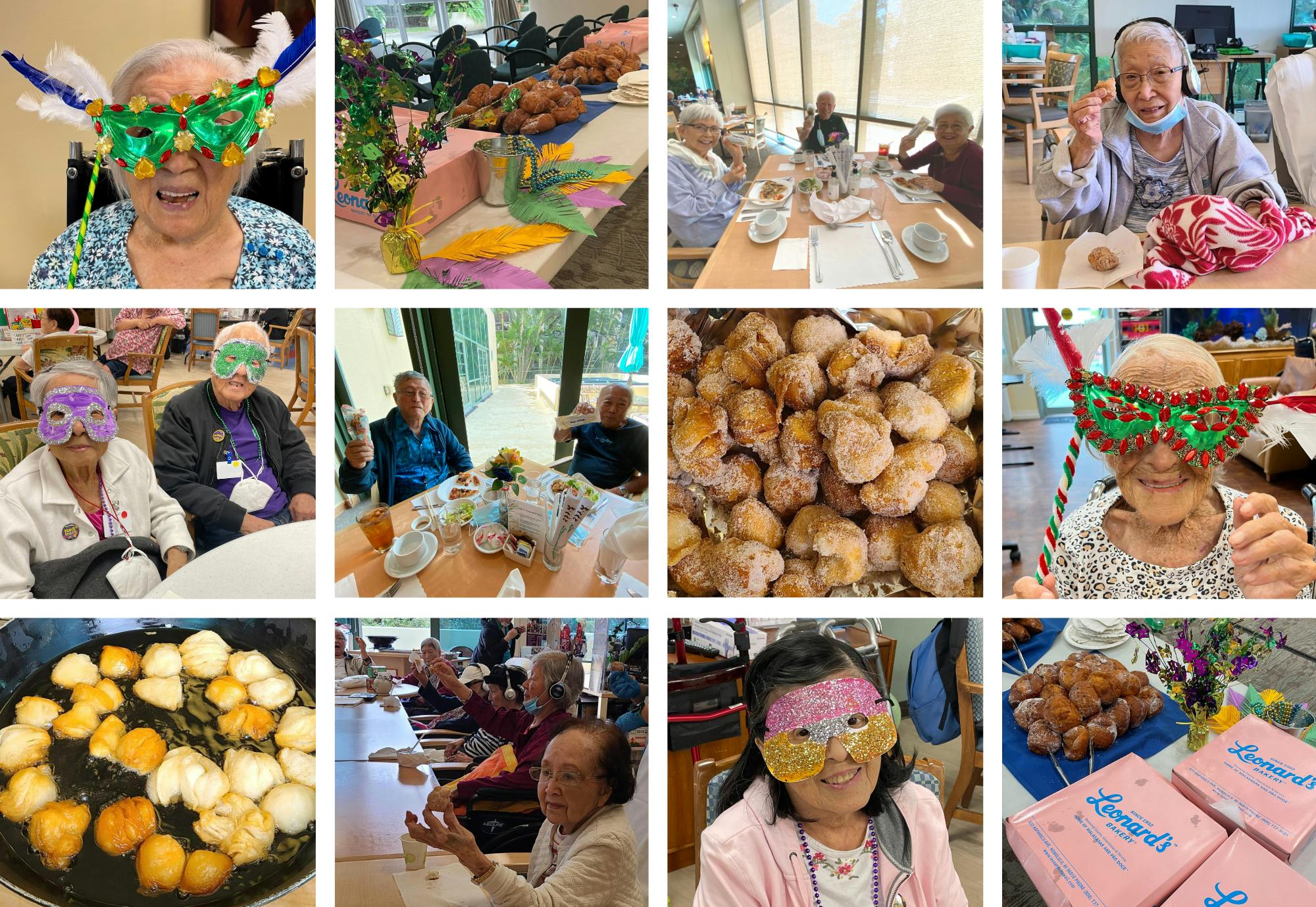 FEBRUARY 24, 2023, ISSUE 91
Hoʻomau
Renew, Perpetuate, Persevere
Mardi Gras Celebrations
Festivities were plentiful across the Arcadia Family of Companies as we celebrated Mardi Gras, also known as Fat Tuesday. In Hawaii, eating malasadas on this day is a local tradition that the residents of Arcadia and 15 Craigside's Health Care Center partook in. At 15 Craigside, residents enjoyed a twist on the tradition and satisfied their sweet tooth with an ice cream treat at lunch. Over at The Center, clients decorated masks and decked themselves out in their creations along with beads, bracelets and pins. The fun continued at Hale Ola Kino as residents embellished masks with glitter, feathers and gemstones. Everyone also learned Mardi Gras fun facts, listened to jazz music, and watched the parades going on in New Orleans.
Valentine's Day Highlights
To celebrate the day of love, 15 Craigside's Health Care Center held a Valentine's Day Ball complete with a King and Queen of Hearts, and dancing to romantic music from the 1940s and 50s. After working up an appetite, sweet refreshments of blonde brownies, chocolate-dipped strawberries, confetti Jell-O, Rice Krispies Treats, and juice were enjoyed by all. At Arcadia's Health Care Center, residents created fun crafts including beautiful painted bouquets and hearts with cute messages.
15 Craigside and Arcadia At Home Mixer
15 Craigside and Arcadia At Home (AAH) recently joined together for a mixer event held at 15 Craigside's Lobby. Everyone enjoyed light refreshments and learned how to make pretty tissue paper flowers from Elyse Espinosa (center), AAH Member Services Coordinator. Pictured above are AAH member, Mrs. Beverley Yuen (left) along with 15 Craigside residents, Mrs. Setsumi Ozawa, Ms. Amy Baba, Mrs. Audrey Won, Mrs. Dorothy Tom and Mrs. Juliette Lum.
Lovely Crafts and Tea Party
The Valentine's Day fun continued at the Arcadia Adult Day Care with an adorable heart-shaped hot air balloon craft and a special tea party for couples. There are four couples at The Center and to celebrate their love, they were treated to an outdoor gathering complete with tables for two, festive decor, and delicious bites including sushi, croissant sandwiches, cupcakes and cookies.
Painting Program
Punahou student, Isabel Cheever made a return visit to Arcadia to lead a tape painting class. Each resident applied tape to their canvas to create geometric shapes and filled in the spaces with different shades, colors and textures. The results were colorful and unique!
Detailed Coloring
15 Craigside residents are taking their coloring to the next level with a series of detailed coloring classes by Programs Coordinator, Marco Custodio. Interested residents signed up for classes and are learning how to shade, incorporate a light source, and blend using colored pencils. Two classes have been held so far starting with a sphere and cartoon character.
Super Bowl Party
Arcadia's Health Care Center held a Super Bowl party complete with beverages, ono snacks and decorations. Whether they were rooting for the Chiefs or the Eagles, a good time was had by all. Did you know this was the first year siblings faced off in the Super Bowl? Tight end Travis Kelce plays for the Chiefs and his brother, Jason, is a center for the Eagles.
Love is a Four-Legged Word
Arcadia Family of Companies' Chaplain, Rev. Dr. George Scott, and assistance dog, Cedar, recently stopped by 15 Craigside. Rev. Dr. Scott summed up their visit perfectly - "What a joy to see the response of our residents as they gave love and received love from Cedar girl." Pictured are Mrs. Margaret Murakami (left) and Mrs. Janet Kikuta (right).
Student Violin Performance
Iggy Jang visited Arcadia and was joined by pianist Tyler Ramos for a performance with violin students that highlighted their talents. To end the show, Jang and Ramos played a few pieces to the delight of the residents. Iggy Jang has received praise from around the world for his playing and excellent musicianship. Thank you for entertaining us!
"Mahalo to the Arcadia Family of Companies' Chaplain, Rev. Dr. George Scott, and assistance dog, Cedar, for bringing happiness and spreading smiles to everyone they meet!" - Suzie Schulberg, President & CEO