March 3, 2023
Ho'omau (03/03/23)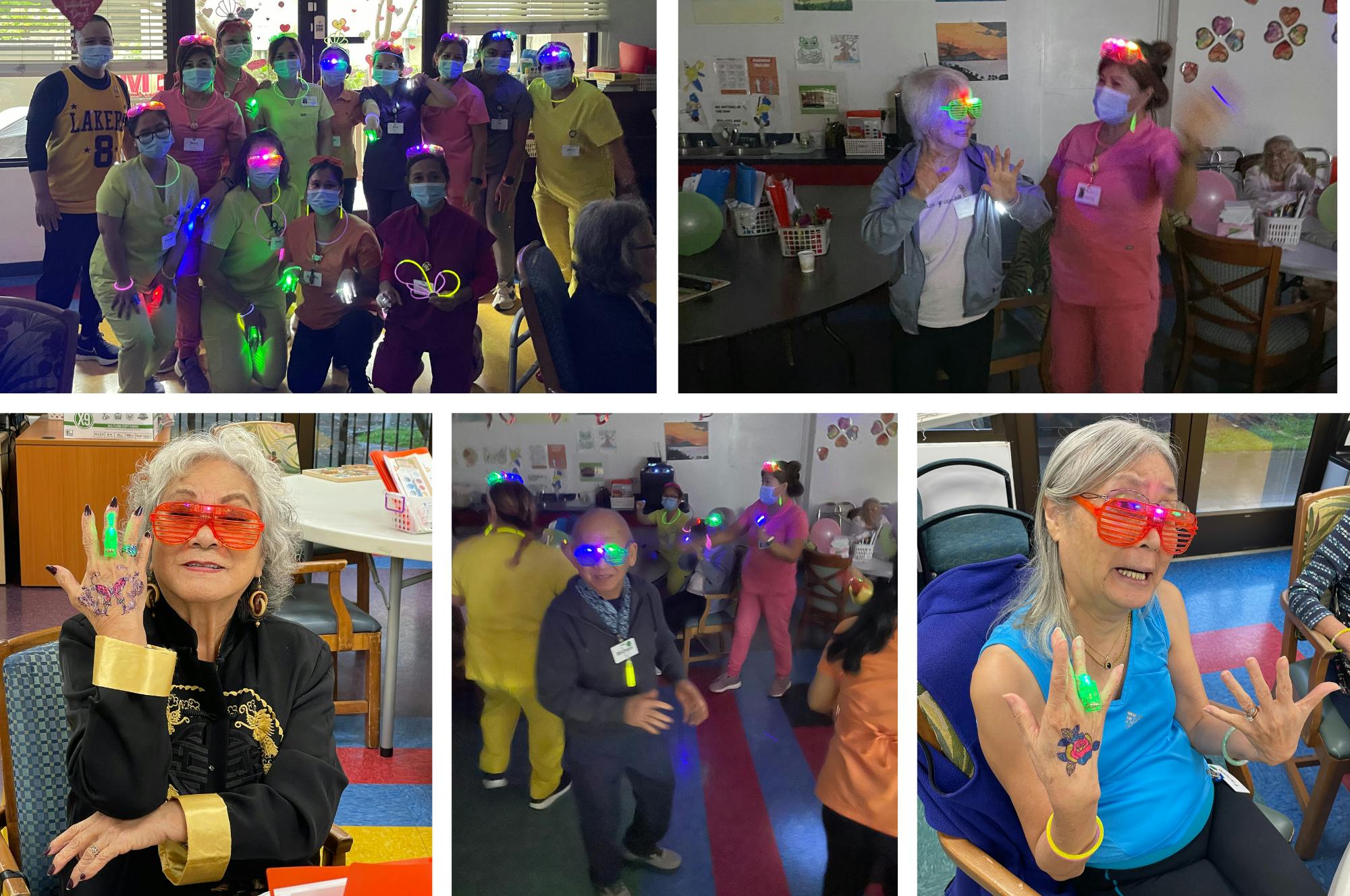 MARCH 3, 2023, ISSUE 92
Hoʻomau
Renew, Perpetuate, Persevere
Glow in the Dark Party
The Arcadia Adult Day Care at Central Union Church turned down the lights and turned up the music for a glow in the dark party! Clients and staff dressed up with glow in the dark bracelets, necklaces, rings, and glasses. Once the lights went out, everyone started dancing and mingling with one another. The idea for this party came from an incident that happened last year, when the city bus knocked out The Center's power and everyone was left in the dark. Employees decided to bring it back and turn it into a party! I guess you could say the glow in the dark festivity will be a new tradition and we look forward to enjoying the lights out event next year.
Manoa Chocolate Factory
Arcadia residents visited Manoa Chocolate Factory in Kailua for a chocolate tasting tour. Everyone enjoyed chocolate tea and tasting different cacao flavors including coffee, mango, lavender, rum, and goat milk. Hawaii is the only state with the appropriate climate for cultivating a cacao tree and this specialty has been internationally recognized for producing some of the best cacao in the world. Are you wondering why it's called Manoa Chocolate when it's located on the windward side? The word Manoa means solid, vast, and depth. The owner founded the company with that meaning in mind, taking care of the harvest land and the nuanced process of crafting the chocolate.
Death Valley National Park
Arcadia Family of Companies Board Chair, Mr. Martin Zorn, captured breathtaking photos of Zabriskie Point located in Death Valley National Park in California. The vista is named in honor of Christian Zabriskie, a prominent figure in the heyday of the Pacific Coast Borax Company. The yellow and brown striped hills have been shaped by the powerful force of water, and even during dry times, the path carved by this water is unmistakable
Cheddar Pinwheel Making
In celebration of National Cheddar Day, residents at Arcadia made delicious cheddar cheese pinwheels. Participants flattened the dough and topped it with cheese, bacon, and ham. The dough was then rolled together, cut into thin slices, and baked in the oven. Fun fact: Pinwheels originated in England in the 10th century where people commonly paired this yummy snack with a hot cup of tea.
Lokahi and Li'i
Heidi Caldwell, Wellness Director at Hale Ola Kino by Arcadia (HOKA), shares a sweet story about her two dogs, Lokahi and Li'i:
"I adopted Lokahi (larger black dog) during the pandemic in October of 2020, and she quickly became a frequent visitor to HOKA to cheer up our residents back when we couldn't even have visitors! She will be three years old in April and still continues to bring smiles to our HOKA residents. Li`i (the little white Chihuahua) was just supposed to be a foster until we found her a forever home, but I started bringing her to work everyday and she instantly won my heart. Watching how sweet and gentle she is with our residents and staff, I knew she would be a "foster fail" and so we officially welcomed her to our little ohana. We signed the adoption papers last Saturday! She is four years old, but still has her puppy energy. The two of them are definitely part of our HOKA team and my whole heart! – they work hard being cute and playful, cuddling and giving lots of free kisses!"
Let's Take a Trip!
Residents at 15 Craigside embarked on an armchair travel experience through a photo presentation by 15 Craigside resident, Mr. Patrick Takahashi. They "flew" to many destinations around the world including Seoul, Bangkok, Dubai, and Singapore. Mr. Takahashi shared pictures of the sights, food, and culture he experienced along the way.
Holoholo Friday!
Last Friday, Arcadia enjoyed their second holoholo outing of the month. Residents went on a beautiful drive through Waikiki and stopped at Waiola Shave Ice in Kapahulu for a refreshing treat. Their original location on Waiola Street has been in business since 1940! This local favorite spot is known to have the best shave ice on the island!
Joanna Fan Piano Students
Six students of Joanna Fan performed a wonderful piano concert for the residents at 15 Craigside. The students played three classical music pieces with no sheet music and the youngest performer is only six years old! Residents were very impressed by the discipline and elegance of the young students. A big mahalo to Joanna Fan for sharing such amazing talent with us.
"Over the last many months employees across the AFC have tirelessly worked on the transition to our new electronic medical records platform, PointClickCare. Without hesitation, you pulled together as ONE TEAM to support each other resulting in a very successful transition. Mahalo nui loa for always exemplifying our mindsets in all you do!"- Suzie Schulberg, President & CEO