April 22, 2022
Hoʻomau (4/22/22)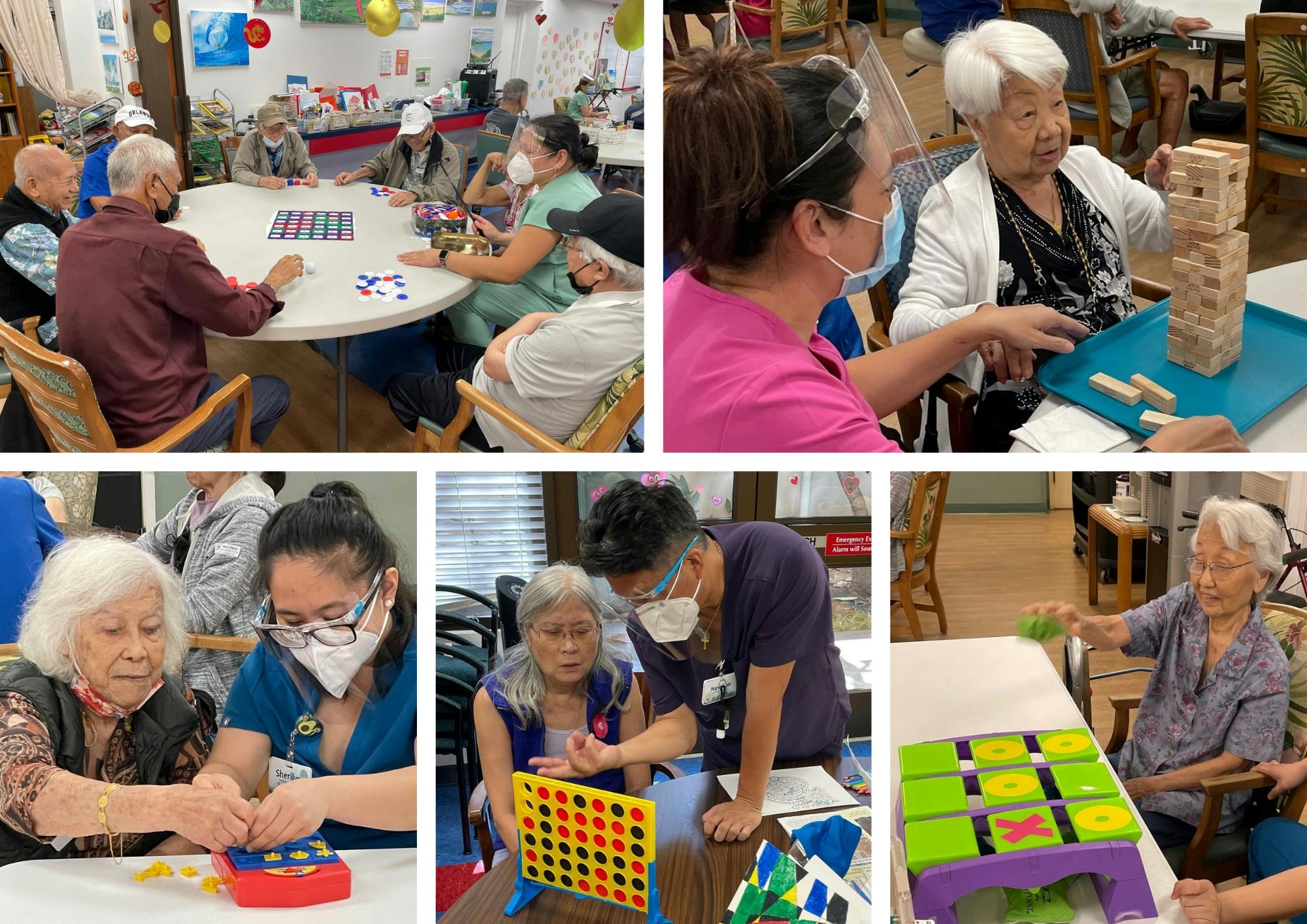 APRIL 22, 2022, ISSUE 47
Hoʻomau
Renew, Perpetuate, Persevere
Afternoon Tabletop Games
Clients at the Arcadia Adult Day Care and Day Health Center at Central Union Church spend some afternoons playing tabletop games such as Jenga, beanbag tic-tac-toe, Connect Four and Perfection. Playing games is entertaining, but that is only one benefit. Here are a few of the many benefits:
Brings people closer, strengthens relationships and helps you meet new people
Increases brain function, teaches you how to set goals and be patient
Reduces stress, makes for laughter and creates more happiness
Enhances creativity and self-confidence
Easter Fun at 15 Craigside
15 Craigside residents celebrated Easter with a cute Easter bunny basket craft and eco "egg" hunt. The baskets were made out of paper and the grass inside was meticulously cut by hand. Once assembled, chocolate eggs were added and shared with friends. To celebrate Easter and Earth Month, residents and employees hunted for recycled Easter "eggs." Two residents created boxes from recycled meal delivery bags and put special treats inside. The boxes were hidden throughout the common areas during Easter weekend for everyone to find!
Make Your Own Burrito
Have you ever made a burrito? Arcadia residents had a chance to build their own and for some, it was their first time! The Programs team provided tortillas, guacamole, sour cream, shredded cheese, shredded lettuce, refried beans, taco meat, jalapenos, taco sauce and a selection of salsas. Everyone had a great time creating their own burrito by layering their preferred ingredients. Yum!
Egg Hunt and the Easter Bunny
Residents of Arcadia's Health Care Center were recently visited by the Easter Bunny and participated in an egg hunt. Here are a couple fun facts about Easter eggs:
Decorating eggs is an ancient tradition. Archaeologists found fragments of carved ostrich eggs used as drinking vessels from 60,000 years ago in Africa.
Before plastic, Easter eggs were made with cardboard. During the 17th and 18th centuries, fillable eggs were made out of cardboard and covered with satin.
Easter Baskets
Hawaii Baptist Academy's elementary school delivered egg- filled baskets to 15 Craigside just in time for Easter. The baskets included a note that read, "A little something to say we are glad you are our neighbors! We love you all and wish you a wonderful Easter!" The colorful eggs contained handwritten notes from the students with drawings and uplifting messages such as, "You are loved!" The baskets were shared with the residents in the Health Care Center. Thank you to HBA for your thoughtfulness!
Book Donation
The Arcadia Library recently received a wonderful donation of books from Maya, a student at Maryknoll School and an avid reader. Maya wanted to do something for the community and thought that her love of books could benefit others. Maya and her mother, Lisa, were excited to be able to donate the books to our residents and Arcadia's Library Committee was delighted to receive new additions to the collection.
Easter Surprise
Mrs. Sheila Black, Arcadia resident, de-lighted some employees with an Easter treat. The sweet little baskets were made of recycled materials - fabric, paper, ribbon and plastic juice cups. Mrs. Black, along with Jeryl Kam, Executive Assistant, passed out the treats to the lucky recipients. Mahalo, Mrs. Black, for your kind and generous gesture!
New Uniforms
The Arcadia Dining Team Supervisors and Team Lead are now wearing different uniforms from the rest of the team members. This allow residents to identify them when assistance is needed. Pictured are Lyn Nakama (left) and Joshua Concepcion (right).
3D Puzzle
Activities Coordinator, Anela Bartels (left), and an Arcadia Adult Day Care client (right) show their completed 3D puzzle of the Saturn V rocket. The puzzle is from Daiso, a Japanese discount store, and was constructed from 27 pieces.
"The Dalai Lama says 'It is our collective and individual responsibility… To preserve and tend to the world in which we all live.' Please take this to heart as we want the earth to be healthier for generations to come. Happy Earth Day 2022!" - Suzie Schulberg, President & CEO