April 28, 2023
Hoʻomau (4/28/23)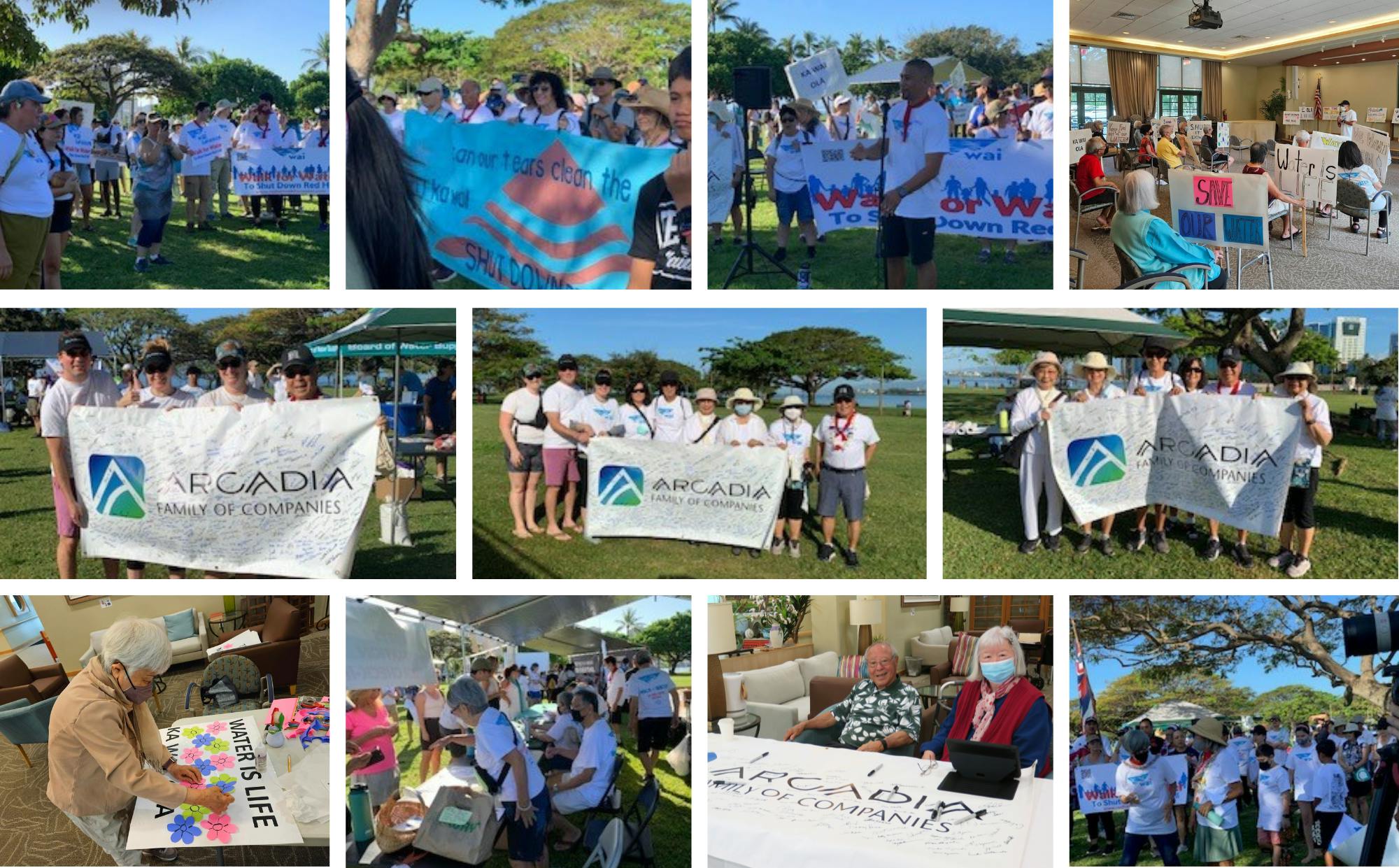 APRIL 28, 2023, ISSUE 100
Hoʻomau
Renew, Perpetuate, Persevere
The Walk for Water to Shut Down Red Hill
The Walk for Water to Shut Down Red Hill was held on Sunday, April 23, 2023 at Ala Moana Regional Park and Magic Island. The event was a benefit for the Sierra Club of Hawaii's fund to shut down Red Hill and was put on by the Sierra Club of Hawaii's kupuna volunteers. The kupuna partnered with Hawaii Youth Climate Coalition. This was truly a multi-generational collaboration for a cause that will impact the very foundation of our past, present, and future existence in Hawaii.
Across the Arcadia Family of Companies, residents and staff signed a banner to show their support. In addition to the banner, 15 Craigside residents made 30 signs for participants to carry during the walk. Approximately 500 people attended the event. Thank you to our residents for your commitment and dedication in bringing awareness to the community on Red Hill. We are grateful for your service!
Earth Day Bird Feeders
To celebrate Earth Day, residents at Hale Ola Kino by Arcadia made bird feeders to hang from a tree on their lanai. The bird feeders were made of apples and cardboard rolls, slathered in peanut butter and rolled in bird seed. It is such a fun and entertaining way to observe birds close up and connect with nature. Everyone had a great time and were delighted to have a spoonful of peanut butter at the end of the activity!
Employee Benefit Fairs
The Arcadia Family of Companies held their annual Employee Benefits Fairs at 15 Craigside, Arcadia, and Hale Ola Kino by Arcadia. Employees were able to learn more about their benefits from our vendors, win prizes, and take home a personalized bag of trail mix! The vendors who attended were AFLAC, American Savings Bank, Hawaii Dental Service, Kaiser Permanente, Pet Nationwide, and UHA.
AAPACN Conference
Arcadia Family of Companies employees attended the American Association of Post-Acute Care Nursing (AAPACN) Conference in Las Vegas, Nevada! The annual event brings healthcare professionals together to share their passion for post-acute care and commitment to lifelong learning. The conference provides education and discussions for the attendees to prepare for the changes in the post-acute care industry.
Byodo-In Temple
15 Craigside residents traveled across the Pali to the peaceful Byodo-In Temple in Kaneohe. They wandered through the grounds to experience the fresh mountain air, cool breeze, and magnificent view of the serene red temple contrasted against the Koolau mountains. One resident bought fish food for everyone to feed the koi swimming throughout the ponds.
Lumpia Service
April is Filipino Food Month and Arcadia residents celebrated by enjoying delicious lumpia—a savory, fried roll usually filled with meat and vegetables. The international month was created to appreciate and preserve Filipino culinary heritage, as well as the farmers and fishermen who make it all possible. Other popular traditional Filipino dishes include adobo, pancit, lechon, balut, chicken inasal, and sinigang!
Volunteer Appreciation
Volunteer Appreciation is an annual celebration of Arcadia residents who volunteer within the residence and beyond in the greater community. The Programs team created a display wall showcasing all 102 "busy bee" residents. At the event, all volunteers were recognized and celebrated with a yummy honey donut from Holey Grail.
Duke's Waikiki
Clients at the Arcadia Adult Day Care at Center Union Church took a trip to Duke's Waikiki located in the Outrigger Waikiki Beach Resort for lunch! The famous restaurant is inspired by the spectacular life of Hawaiian surfing legend, Duke Kahanamoku. They opened in 1992 and have remained a staple in Hawaii for their delicious food, drinks, and beautiful views.
Move More Month
The Programs and Wellness teams at Arcadia partnered up to hold a beach walk for Move More Month! Residents walked the full length of Ala Moana Beach Park and parts of Magic Island as well. Move More Month was created by the American Heart Association as a way to improve the health of Americans everywhere. April is all about staying active, fit, and happy!
"Mahalo nui to 15C residents David Nakamoto and Irene Zane for advocating to shut down the fuel storage tanks at Red Hill to protect our water for future generations. It was inspiring to walk alongside 15C residents David Nakamoto, Irene Nakamoto, Harolyn Toma, Kyoko Hijirida, Kathy Aoki and John Aoki and carry a banner with over 200 AFC signatures on April 23rd at the Walk for Water – Ola I Ka Wai!" - Suzie Schulberg, President & CEO