April 29, 2022
Ho'omau (04/29/22)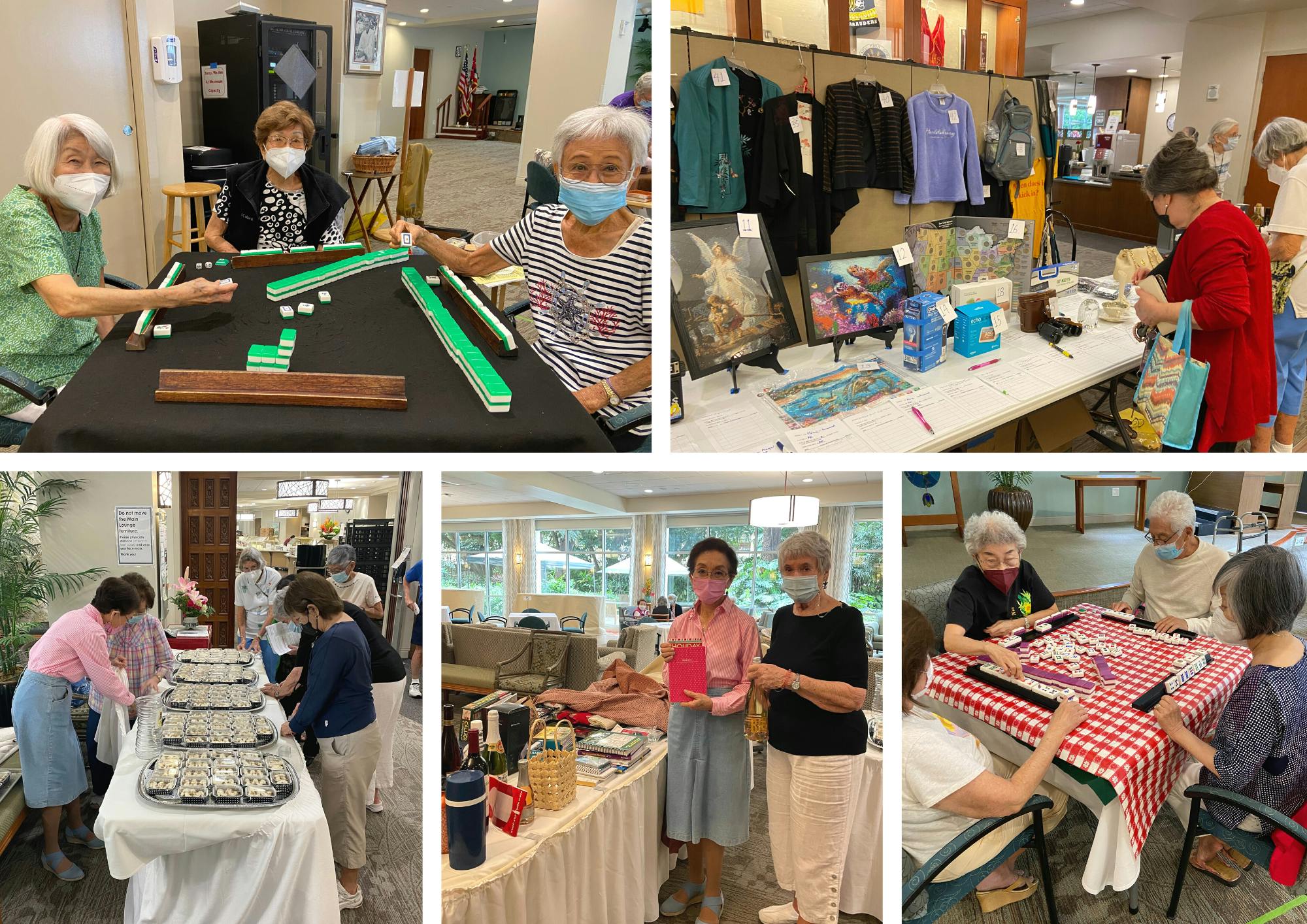 APRIL 29, 2022, ISSUE 48
Hoʻomau
Renew, Perpetuate, Persevere
Arcadia Resident Card and Games Party
On April 19th, Arcadia residents and the programs team collaborated for their annual ARA (Arcadia Residents' Association) Card and Games Party! After two years of having to postpone the fundraiser, Arcadia residents and staff were thrilled to come together and participate in all the fun activities. The residents gathered in the Main Lounge to play some of their favorite games such as mahjong, hanafuda, bridge, Monopoly, and more. They also enjoyed some yummy loaves of carrot cake. Silent auction tables were filled with quality items such as bottles of wine, designer bags, clothing, and more for everyone to bid on. There were also $1 raffle tickets available to purchase that gave one resident and one staff member a chance to win $100! The best part is that all of the proceeds from the fundraiser will benefit the ARA. There was nothing but joy in the air! Everyone was smiling, sharing laughs, talking story, and even getting a little competitive. The residents and staff had such a wonderful time, they can't wait for next year!
String Flower Painting
Did you know you could create beautiful flower paintings by using a string? 15 Craigside residents did just that by dipping string into paint, placing it on paper, folding the paper in half, then pulling the string out from the bottom. String art was invented by Englishwoman Mary Everest Boole, who had an idea to use this technique to make mathematical concepts more accessible to children. String art uses string, wool or wire to create geometric patterns. It later evolved into an arts and crafts activity by adding paint. Check out Mrs. Juliette Lum and Mrs. Margaret Harris' amazing creations, it was such a fun activity!
Seed Paper Flower Bombs
Our residents love Mother Earth! To celebrate Earth Day, Arcadians created seed paper flower bombs. They used shredded, recycled paper to form Earth-like balls, then tucked a few sweet pea seeds into the center. Fun fact: seed bombs are an ancient Japanese practice called Tsuchi Dango, meaning "Earth Dumpling." The seed balls were planted into pots of soil and residents will be able to watch as their plants grow and flourish!
The Center Garden Project
Past connections can create new opportunities! A group of students from Radford High School's National Honor Society (NHS) visited the Arcadia Adult Day Care Center to participate in a beautification project. The teacher's mother is a former client of Arcadia Home Health Services. During the pandemic, NHS students designed an activity newsletter to engage our kupuna so that they wouldn't feel isolated. This project was a full circle moment that finally brought these two groups together as they created a beautiful succulent and rock garden along the walkway to The Center
Ti Leaf Lei Making
Residents at 15 Craigside have been busy making ti leaf lei this month in preparation for the 2nd Floor Health Care Center's May Day celebration! In ancient times, the ti plant was used as a material for clothing, fishing lures, etc. In modern times, it is most commonly used for lei making. If one receives a lei, he/she is adorned with wishes of good luck, good health and aloha. Some residents were beginners, while some were returning lei makers, and everyone was able to make the exquisite leis. Special thanks to Tai Chi instructor, Les Asada, for donating the ti leaves!
Barreling Wave
Mr. Larry Ueki's latest masterpiece takes us inside a barreling wave. As an Arcadia Adult Day Care client and retired architect, he continues to showcase his artistic talent through his hobby of painting. Wave paintings have very tedious details from the water textures to the gradient colors. Fun fact: the largest wave ever recorded by humans measured 1,720 feet!
Easter Wreaths
Make it, take it! Arcadia residents were getting into the spring spirit as they created these colorful Easter door wreaths. They were able to choose from an array of colors and patterns to customize it to their own style. You can't help but smile during this time of year, which makes these wreaths the perfect addition to their apartments!
AHHS Vans
Look at these bright colors! As of last week, two new Ford Transit vans have been roaming the streets to provide services to our clients in their homes, while also promoting all that Arcadia Home Health Services (AHHS) has to offer! Be on the lookout for these eye-catching vans and don't forget to say, "Hi!" to our awesome drivers.
"On April 27th the AFC honored our Administrative Professionals. This group of awesome superstars is the glue that holds our organization together. We celebrate you! We value you! We appreciate you!" - Suzie Schulberg, President & CEO