May 27, 2022
Ho'omau (5/27/22)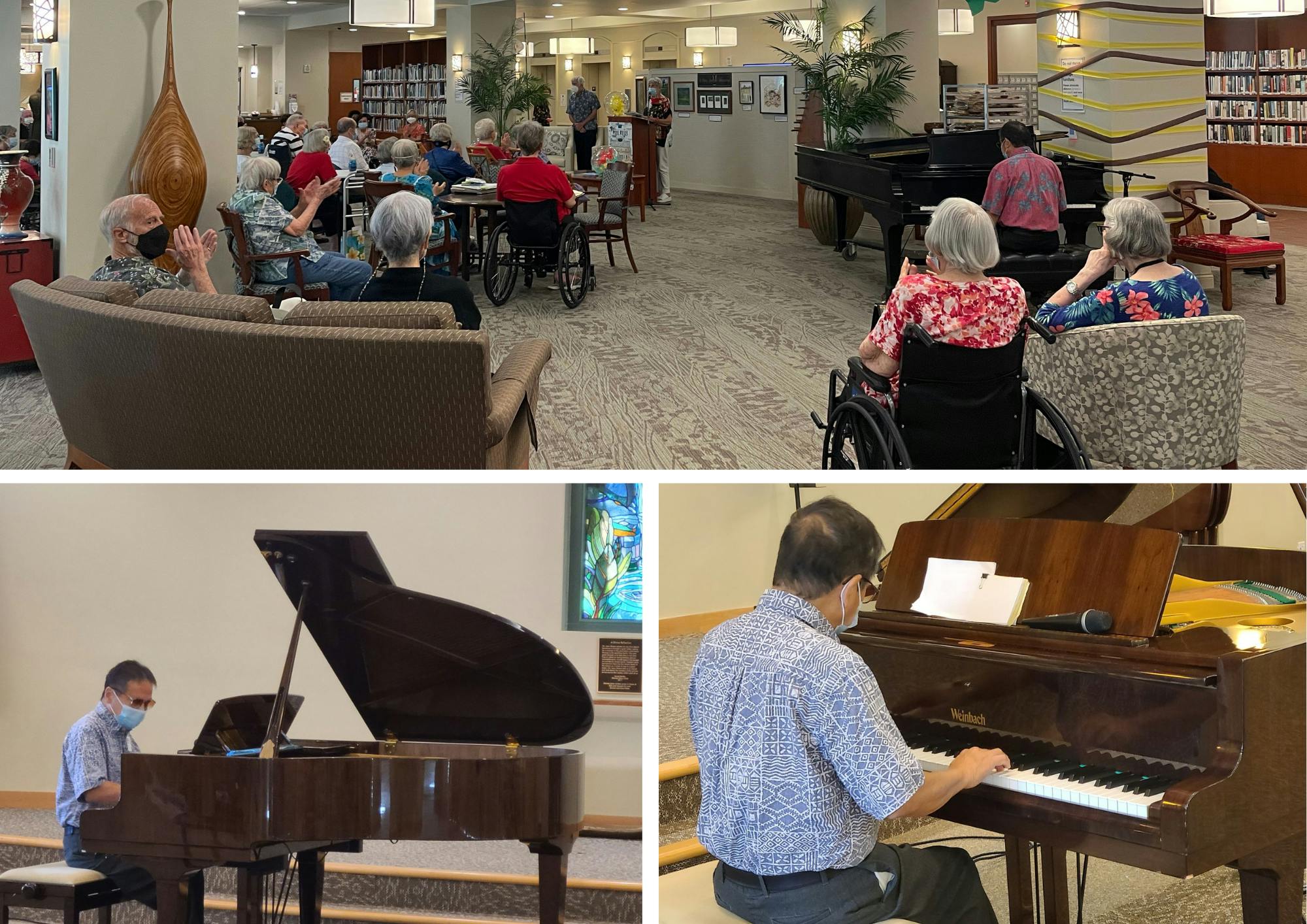 MAY 27, 2022, ISSUE 52
Hoʻomau
Renew, Perpetuate, Persevere
Arcadia Aloha Hour
Arcadia's monthly Aloha Hour is back in-person and residents couldn't be more excited! Last Friday, residents gathered in the Main Lounge for some fun festivities. Arcadia Resident Association (ARA) President, Mr. Ed Kimsey, introduced the new residents and celebrated May birthdays. Pianist Terry Tom provided the entertainment by playing music for everyone to enjoy. Programs and Dining Services worked together to create a menu based off of the theme, which was Pool Party. They served pupus, wine, and sparkling apple cider options for residents to take home. Aloha Hour is a great opportunity for residents to sit back, relax, and enjoy each other's company.
Horchata Making
15 Craigside residents watched a live demonstration on how to make the traditional Mexican drink, horchata. This refreshing beverage is made from soaked rice water, cinnamon, evaporated milk, condensed milk, and whole milk. Horchata is a name given to various kinds of plant-based beverages. The Programs team made horchata de arroz, which is the most common variety in Mexico. After the demonstration, residents got to try the tasty refreshment. Muy deliciosa!
Dog Treat Making
Arcadia residents recently gave back to the greater community! National Dog Rescue Day is proudly observed annually on May 20th to bring awareness to the countless number of dogs in shelters who deserve a forever home. The dog treat making activity was a sign up program where residents made dog treats from peanut butter, oat flour, and banana. Combining the ingredients, residents rolled the dough out and used cookie cutters to make small treats. The treats were packaged and donated to the Hawaiian Humane Society and PAWS of Hawaii. The residents had so much fun learning to make these treats and being able to give back to other non-profits.
Ti Leaf Lei Making
Partnering with our community members, Arcadia residents made ti leaf lei for a Memorial Day donation. The lei were donated to honor all the veterans laid to rest at the National Cemetery of the Pacific (Punchbowl). Memorial Day, originally known as Decoration Day, is a federal holiday for mourning the U.S. military personnel who have passed while serving in the United States Armed Forces. This was a great tribute to the individuals who sacrificed so much to defend our country.
Meet Reverend Dr. George Scott and Cedar
A special visitor came to 15 Craigside! Reverend Dr. George Scott brought his assis-tance dog Cedar, who came from Assistance Dogs of Hawaii on Maui. Assistance Dogs of Hawaii is a charitable organization that provides children and adults with disabilities professionally trained dogs that will increase their independence and enhance the quality of their lives. Residents were able to pet her and see all the tricks she can do, including "high five!" Reverend Dr. Scott shared that she matches people's energy and knows when it's time to be calm and when to be playful. Special thanks to Reverend Dr. Scott and Cedar for coming and bringing a smile to the residents' faces.
Flower Origami
Arcadia Adult Day Care Center CNA, Minda Hernando, shared her talents and taught clients how to make flowers out of origami paper. Origami is the art of paper folding, which is often associated with Japanese culture. In modern usage, the word "origami" is used as an inclusive term for all folding practices, regardless of their culture of origin.
Dog Toy Kits and Donations
 In addition to Arcadia's dog treat making activity, residents picked up a DIY kit to create dog toys. They also donated various items including dog pads, towels, and reusable bags to the Hawaiian Humane Society & PAWS of Hawaii. The PAWS of Hawaii volunteer was happy to pick up all of the donations and creations. What a great way to give back to the community!
Paper Flower Cards
We love unique arts and crafts! To celebrate Mother's Day, 15 Craigside residents created handmade flower cards. They learned how to curl strips of paper together to form a flower shape and added their own style to their designs. Pictured are Mrs. Juliette Lum, Mrs. Margaret Harris, Mrs. Ann Kealoha, and Mrs. Violet Kawakami.
"A heartfelt mahalo to every employee for your dedication, heart and grit in continuing to show up every day and power through this tough time. I appreciate the care you provide to the residents, clients and members AND the support you give to your fellow employees. Mahalo nui loa." - Suzie Schulberg, President & CEO