July 15, 2022
Hoʻomau (7/15/22)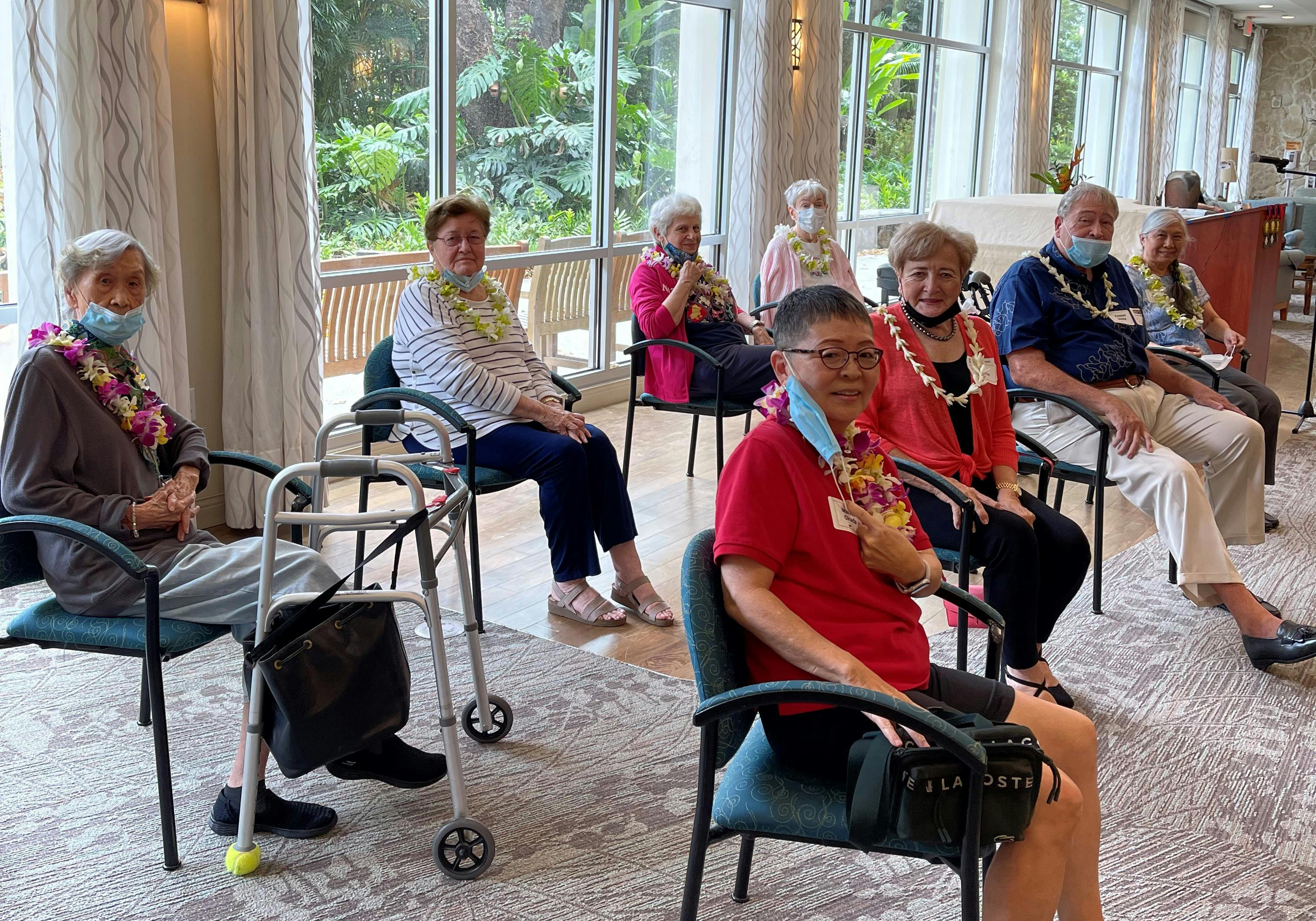 JULY 15, 2022, ISSUE 59
Hoʻomau
Renew, Perpetuate, Persevere
Kupuna Spelling Bee
Did you ever take part in a spelling bee as a child? If you never had the chance to, it's never too late! On July 6th, five Arcadia residents, an Arcadia At Home member, former Arcadia Family of Companies (AFC) President and CEO, Mr. Emmet White, and Mrs. Betty White, former Head of School for Sacred Hearts Academy, participated in the Kupuna Spelling Bee at Arcadia. The event benefitted the Alzheimer's Association of Hawaii and was organized by Riley Regan, a junior at Iolani School. The contestants competed until a gold and silver winner was declared in three categories - ages 60-69, ages 70-79, and ages 80 and better. The winners will now go to the state finals later this month.
Front row: Ms. Marian Okada* (Arcadia At Home member), Mrs. Betty White*, Mr. Emmet White, and Mrs. Betty O'Rourke** (Arcadia resident). Back row: Arcadia residents, Mrs. Alice Kakaio, Mrs. Kay Fitzsimmons, Mrs. Esther Geil**, and Professor Kathleen Falvey*. *Gold medal winner for their category; **Silver medal winner for their category.
The Art of Lei Making
15 Craigside resident, Ms. Violet Kagawa, shared her lei making talents through two classes. In the first class, residents learned how to make an eyelash yarn lei. The second class focused on a crocheted pikake lei. In addition, Ms. Kagawa shared her adapted techniques that make it easier on the wrist while crocheting. What a wonderful skill to learn and helpful way to keep the hands and mind active!
Making Rainbows
On July 7th, Arcadia's Health Care Center celebrated National Macaroni Day by crafting colorful rainbows. How cheerful!
Member Luncheon
In June, Arcadia At Home started a monthly member luncheon. Members dined at Panya Bistro, which is known for their multi-cultural menu. Members enjoyed each other's company and their meals in the lovely outdoor seating area of the eatery. Future luncheons are planned for various restaurants in Honolulu.
Hitting the Target
Clients at the Arcadia Adult Day Care Center had a blast as they put their skills to the test and enjoyed some healthy competition with an exhilarating game of axe throwing. Some even hit the bullseye! The entertaining, physical activity can help improve motor skills and hand-eye coordination. Axe throwing is also a low impact exercise that is perfect for relieving stress.
10 Warning Signs of Alzheimer's Disease
The 15 Craigside resident-run Health & Wellness Programs team planned and organized an Alzheimer's Association presentation with guest speaker Steven Tam on the 10 warning signs of Alzheimer's disease. This brain disease causes a slow decline in memory, thinking and reasoning skills. If you notice any of the signs, don't ignore them. Schedule an appointment with your doctor. You can learn more about all 10 signs and symptoms at https://www.alz.org/alzheimers-dementia/10_signs.
Memory loss that disrupts daily life
Challenges in planning or solving problems
Difficulty completing familiar tasks
Confusion with time or place
Trouble understanding visual images and spatial relationships
New problems with words in speaking or writing
Misplacing things and losing the ability to retrace steps
Decreased or poor judgement
Withdrawal from work or social activities
Changes in mood and personality
Fairy Tern Friend
Arcadian, Ms. Bobbie Aisaka, captured photos of a new friend that has been landing on her lanai. The white fairy tern, a native Hawaiian seabird, is known to rest its wings along the busy streets of urban Honolulu, from Niu Valley to Sand Island. There are over 2,300 of these graceful birds in Honolulu's landscape. Thank you for sharing, Ms. Aisaka!
Baking Fun
Clients participated in a fun crescent roll baking activity led by Nora Cadiz, CNA at The Center. Each triangle of dough was rolled up, curved into a crescent shape, and baked until golden brown. Baking is great for stimulating the senses! From the smell of the dough to the feel of it when rolling it, baking can be very relaxing. But best of all is eating the finished products!
"In addition to staying cool and hydrated, this summer, COVID-19 safety precautions still make sense when you are in public places, especially indoors. Remember to continue mask-wearing, physical distancing and practicing good hand hygiene while still having fun! Also make sure you are up-to-date with COVID-19 vaccinations." - Suzie Schulberg, President & CEO