July 22, 2022
Hoʻomau (7/22/22)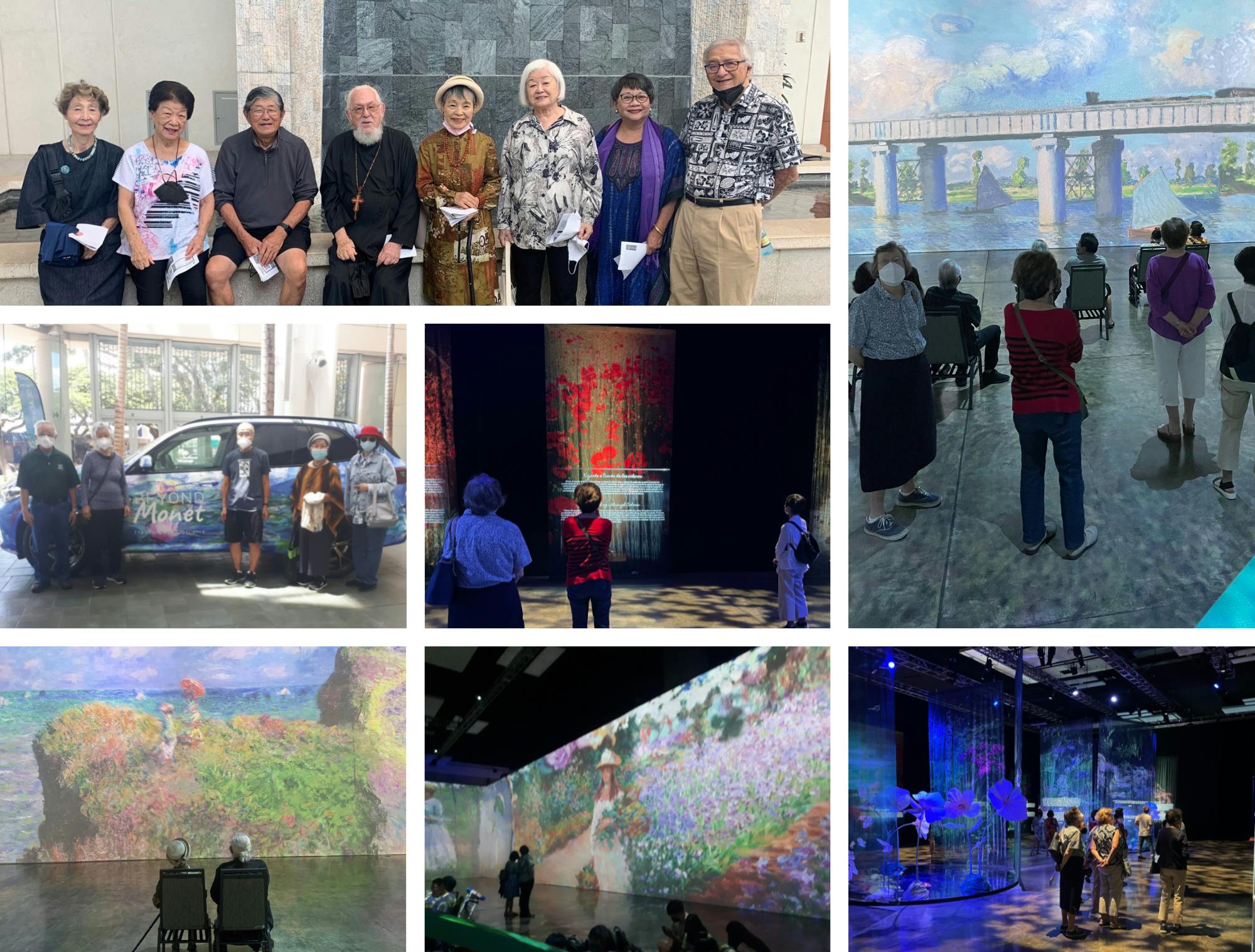 JULY 22, 2022, ISSUE 60
Hoʻomau
Renew, Perpetuate, Persevere
Beyond Monet
Have you had a chance to visit the Beyond Monet immersive exhibit at the Hawaii Convention Center? Groups of residents from 15 Craigside and Arcadia, plus members from Arcadia At Home, ventured out to see the French impressionist painter's dreamy colorful canvases come to life from floor to ceiling, timed to the rhythm of an original musical score. In addition, at 15 Craigside's Theater, a presentation with video and photos from the digital art experience was held for those who were unable to attend the excursion.
AAH Members Practice Their Swings
Arcadia At Home (AAH) members recently met up to practice their golf swings at the Ala Wai Driving Range. The golfers also had some light refreshments and have plans to gather again next month. The facility is run by the Hawaii State Junior Golf Association (HSJGA) and First Tee. Their mission is to give local youth an opportunity to enjoy the sport. Funds from the driving range go to support HSJGA and First Tee.
Popoki + Tea
A small group of Arcadia residents visited Popoki + Tea in Kaimuki. The purpose of this cat café is to provide cats and human guests with a peaceful environment that fosters connection, whether it's for a moment or a lifetime. The kitties at the café come from KAT Charities, a nonprofit animal rescue based in Aiea. Residents had a fun time playing and hanging out with the furry felines during their private reservation.
Painting Workshop
Punahou student, Isabel Cheever, returned to Arcadia to guide residents through a painting workshop with a tool that's typically used as a beauty product: Q-tips. Purple flowers, similar to lavender, were painted. We love the uniqueness of each creation!
Meditative Drawing
15 Craigside residents made fun, yet calming artwork with a meditative drawing. By inking free flow connected lines to create the design, they then colored in each section. This type of art gives one the opportunity to relax and be creative without the pressure of performing.
Tossing Bean Bags
Clients at the Arcadia Adult Day Care and Day Health Center had a blast trying out their colorful new bean bag toss game. On top of having fun, playing this game is an easy way to release all the stress of daily life.
Ice Cream Day
I scream, you scream, we all scream for ice cream! How did you celebrate National Ice Cream Day? Hopefully you were able to partake in this creamy cold treat that is enjoyed by over 90% of the US population. Clients at the Arcadia Adult Day Care Center were all smiles as they were getting ready to dig into their scoops covered with assorted syrups and colorful sprinkles.
No-Bake Icebox Cakes
Arcadia residents made patriotic icebox cakes to celebrate the 4th of July. Graham crackers, Cool Whip, fresh berries, and a mixture of instant pudding, milk and cream cheese were assembled to create the sweet dessert. Everyone had fun adding their own touch and was delighted with the final product. Some even took their cake to the Dining Room to share with friends!
Beautiful Butterflies
Did you know a butterfly's wings are often their best protection? Wings are folded to blend in with surroundings and the full spectrum of colors and patterns frighten predators. The Center's clients created their own fanciful butterflies with strips of paper affixed in loops for dimension. Each butterfly was made distinct with their color choices and placement.
"The Arcadia Family of Companies has welcomed a number of political candidates into our communities to share their visions for Hawaii and talk story. Remember to vote! The primary election is on August 13th and voters will receive their ballots in the mail by July 26th." - Suzie Schulberg, President & CEO