August 12, 2022
Hoʻomau (8/12/22)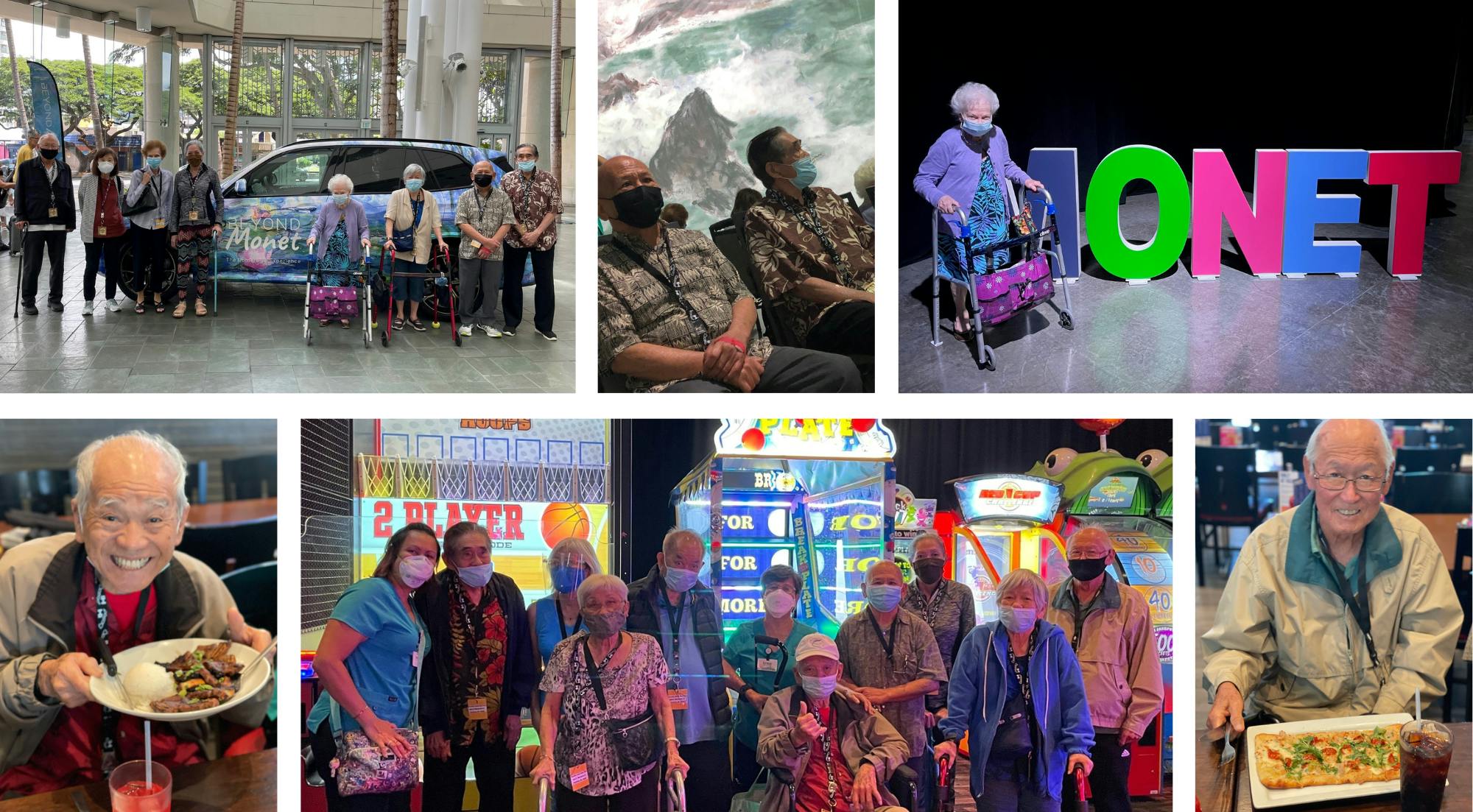 AUGUST 12, 2022, ISSUE 63
Hoʻomau
Renew, Perpetuate, Persevere
July Excursions
During the month of July, clients of the Arcadia Adult Day Care ventured out on a couple of excursions.
Like residents and members of 15 Craigside, Arcadia, and Arcadia At Home, The Center's clients also made a visit to Beyond Monet Honolulu to experience the beauty of Claude Monet's artwork. Over 400 of the artist's paintings are displayed through projection and accompanied by an original score. If you'd like to check out this immersive exhibit, it is open until Sunday, August 14th at the Hawaii Convention Center.
On another outing, clients enjoyed food and fun at Dave & Buster's. The story behind the popular venue is that a man named Buster opened a restaurant in the late 1970s in Texas. A few doors down, a man named Dave started a place of games and entertainment for adults. The two entrepreneurs noticed patrons rotating between their establishments and got the idea to put both under one roof!
Tie-Dye Pillowcases
The art of tie-dyeing is an ancient process that was used as early as the 6th century in countries including Japan, India and Africa. In the US, the hippie movement is largely responsible for bringing tie-dyeing to the attention of the American population. Arcadia residents recently personalized pillowcases with this technique by tying off sections with rubber bands and applying colorful dyes. Showing their amazing finished products are Ms. Amy Taniguchi (left and center) and Mrs. Takako Jenkins (right).
Oahu Cemetery Tour
15 Craigside residents made the short walk across Nuuanu Avenue to Oahu Cemetery for their latest excursion. Led by historian Nanette Napoleon, they learned the rich history of the gravesites and markers of those buried there. Some notable graves that the residents visited were Alexander Cartwright, Jr., the father of modern baseball; Duke Kahanamoku's sister, Maria, who has a full-size statue; and the Dillingham plot, the family that founded the Oahu Railway and Land Company, and Hawaiian Dredging.
Meet and Greet With Chef Jordan Salvador
Welcome Chef Jordan! Residents at 15 Craigside got acquainted with Jordan Salvador, the new Executive Chef and Director of Dining Services, during a meet and greet. He shared about his culinary background and excitement of working at 15C. After some questions, everyone received a special treat – a bao bun of twice cooked pork belly with tamarind glaze and Asian pear slaw, topped with pickled shallots and crispy garlic.
Watercolor Coasters
Last month, Arcadia residents painted their own watercolor designs to place atop a pair of cork coasters. Everyone was able to explore their creativity and create images or abstract patterns. Take a look at all the beautiful results!
Arcadia At Home Golfers
Arcadia At Home golfers got together again at the Ala Wai Driving Range for some practice. This time, the members also engaged in a friendly putting competition. Mr. Gerald Ching, Mrs. Teruko Murakami and Mr. Steven Nagata (left to right) did three putts each from a distance. Guess who sank two of three to win? Winner is shown holding the trophy flag!
Fairy Tern Friend
"This juvenile tern spends his day on our balcony waiting for his parents to bring fish. He is carefully listening to me talk to him and makes me smile because he is not afraid of me. I can get very close but am very aware that he is protected by Hui Manu-o-Ku. Just wanted to share another reason why living at Arcadia is special." - Mrs. June Honda, Arcadia resident
Best of Honolulu 2022
A big mahalo to the readers of Honolulu Magazine and our supporters! Your votes helped us win the Best of Honolulu 2022 awards for the Best Adult Day Care (Arcadia Adult Day Care & Day Health Center at Central Union Church) and Best Retirement Community (Arcadia). Thank you to our team members for always providing excellent care to our kupuna!
"August is Hawaii's statewide Pedestrian Safety Month. Pedestrians can help keep themselves safe by increasing their visibility by wearing reflective clothing or items. Drivers can help make streets safer by following speed limits and making sure your full attention is on driving. Remember to walk wise, drive wise, and be safe out there!" - Suzie Schulberg President & CEO