August 19, 2022
Ho'omau (08/19/22)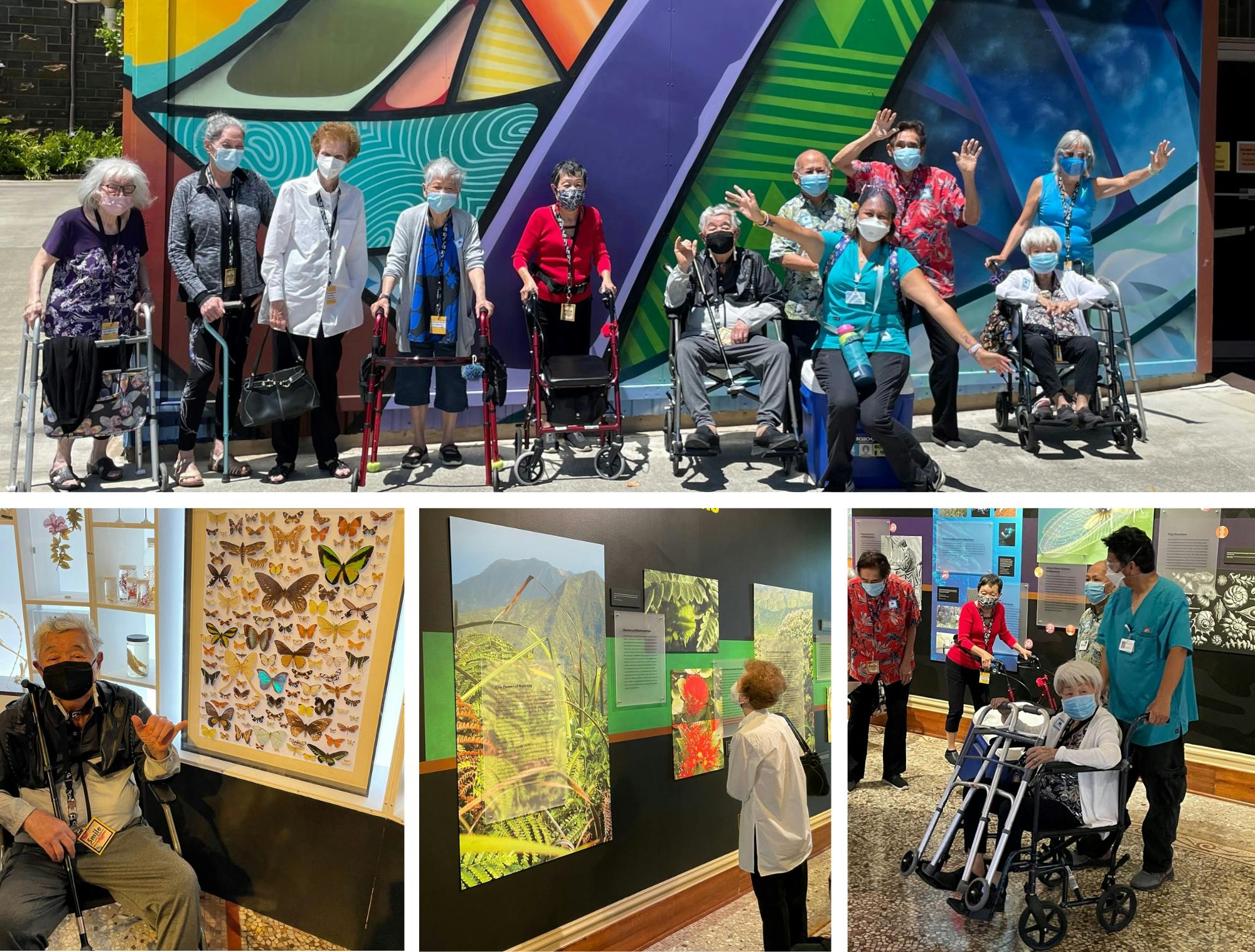 AUGUST 19, 2022, ISSUE 64
Hoʻomau
Renew, Perpetuate, Persevere
Bishop Museum
Arcadia Adult Day Care clients took a trip to the Bishop Museum and had the opportunity to explore the new interactive exhibit, Taxonomy: Our Lives Depend On It. Taxonomy is the science of identifying, naming, and classifying organisms. The exhibit features a variety of media including images, video, and interactives to tell stories of taxonomy and the people who do taxonomic work. The gallery also showcases one of the largest displays of plants and animals representative of Bishop Museum's natural sciences collection of more than 20 million specimens. Our clients and staff really enjoyed learning about the benefits of understanding our planet's biodiversity. The history and art is fascinating!
National Watermelon Day
On August 3rd, The Center's clients enjoyed some juicy and sweet watermelon slices to celebrate National Watermelon Day! In addition,they showcased their artistic talents by creating a watermelon painting. It's said that watermelon cultivation began in the Nile Valley as early as the second millennium B.C. Watermelon seeds were even found in King Tut's tomb! Take a look at their happy smiles and beautiful artwork.
Emergency Preparedness Presentation
Albert Torres, Arcadia Family of Companies' Director of Safety & Facilities Management, discussed emergency preparedness for 15 Craigside and Arcadia. Presentation topics included fire preparedness, nurse call system, and emergency preparedness. This was a great opportunity for residents to learn the best practices during an emergency situation. Education is key to creating a safe and healthy community!
Shell and Sand Shadow Boxes
Arcadians used their creativity to put together these beautiful shell and sand shadow boxes. Residents started by watercolor painting their personalized sea-inspired backing. Once dried, they added sand and shells into the shadow box and closed up their frame. As a finishing touch, they were able to select from larger shells as embellishments. This is the perfect island addition to their apartment!
National Chocolate Chip Cookie Day
August 4th was National Chocolate Chip Cookie Day and The Center celebrated with soft and gooey treats. In 1938, Ruth Graves Wakefield planned on making regular chocolate cookies but ran out of baker's chocolate. Instead, she had an idea of throwing in chunks of a chocolate bar into the cookie dough. The chocolate did not mix well with the dough and it filled up with tasty chunks of chocolate. The rest is history!
A Beautiful View
A double rainbow! Take a look at this beautiful picture taken by Arcadia resident, Ms. Bobbie Aisaka. A double rainbow occurs when the light is reflected twice in the raindrop, and thus, you can see two distinct reflections that are coming from two different angles. The secondary rainbow will have fainter colors and have its colors reversed. So interesting!
Popsicle Pick Up
15 Craigside residents enjoyed a fruit Popsicle to help them cool off from the summer heat. Did you know an 11-year-old boy accidently invented the Popsicle in 1905 when he left a glass of water mixed with powdered soda with a wooden stick outside overnight? The next morning he found it frozen and when he tried it, he knew he was onto something!
Water and energy conservation reminders from 15 Craigside residents, Ms. Charlene Oshiro and Ms. Irene Zane:
Love Water. Hate Pollution.
Water Smarter!
"The CDC recently updated its community guidance on quarantine and isolation following a COVID-19 exposure. The CDC recommends people who are not up-to-date with COVID-19 vaccinations do not need to quarantine after an exposure. However, this change does not apply to healthcare and congregate living settings. Until further notice, existing AFC practices on isolation, quarantine, return to work, and testing remain in effect." - Suzie Schulberg, President & CEO