September 1, 2023
Ho'omau (9/01/23)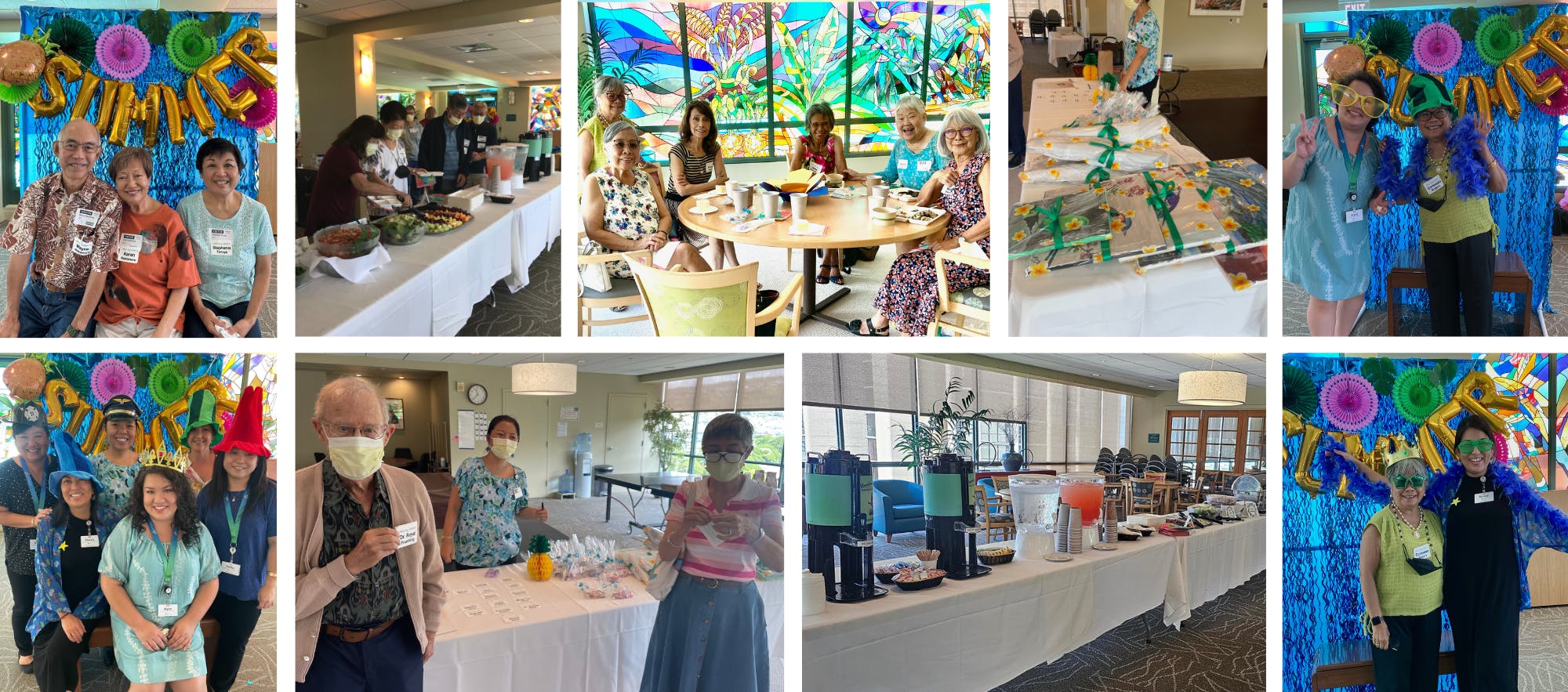 SEPTEMBER 1, 2023, ISSUE 118
Hoʻomau
Renew, Perpetuate, Persevere
Summer Fun and Friendship Party
The annual Arcadia At Home summer party is back! Members, guests, and employees gathered in the Solarium at 15 Craigside (15C) to enjoy a summer-themed party with ono food, games, raffle tickets, and prizes. Members were able to invite a friend or two. 15C Chief Operating Officer, Bree Komagome, and AFC Chief Financial Officer, Vivian Lai, stopped by to greet the guests as they arrived. Home and Community Based Services Chief Operating Officer, Stacey Young, also made an appearance at the event.
15C's Dining Services team prepared delicious Hawaiian food including kalua pig, laulau, chicken long rice, lomi salmon, and haupia cake. After lunch, members and guests were challenged with a few games such as "What's in the Bag?" where participants had to guess what object was in a brown paper bag without peeking and "Summer Brain Teasers."
Game winners were gifted one-of-a-kind paintings from Arcadia Adult Day Care client and artist, Mr. Larry Ueki. Raffle ticket winners scored AFC logo items such as beach towels, umbrellas, and notebooks. Attendees had fun posing in front of the photo booth with sunglasses, hats, and other festive props. It was an amazing time for everyone to gather together and celebrate the end of the summer season!
Holoholo to Lagoon Drive
Hale Ola Kino by Arcadia residents went on a holoholo ride to Lagoon Drive and watched a few planes land and take off! It was a beautiful summer day to get out, admire the views, and appreciate each other's company. The area around Lagoon Drive is currently under construction and will turn into Ahua station. It is being built as part of the second phase of the Skyline rail system route, scheduled to open in summer 2025.
A Ride on the Skyline
A ride on the Skyline! 15 Craigside residents have been excited to try out the new rail system which opened to the public on June 30th. Attendees hopped on the Aloha Stadium station and were able to take in the views from a higher perspective, passing through urban and rural landscapes. The round trip to East Kapolei and back takes about 40 minutes. Residents had so much fun experiencing the new rail!
Afternoon Tea
Residents took in the beautiful views from the 15 Craigside Solarium while enjoying an afternoon of tea and pastries. There was an assortment of teas and scones, along with smoked salmon cream cheese sandwiches, macarons, and chocolate. It was an elegant and relaxing time for residents to meet with friends. They look forward to the next afternoon tea!
Work of Art
Cecilia Vargas, Arcadia Health Care Center Activities Aide, hosted her second painting class for residents. Participants followed Cecilia's instructions to create a gorgeous painting of the moon!
Ululani's Shave Ice
Arcadia residents visited Ululani's Hawaiian Shave Ice for a yummy summer treat. In 2018, David and Ululani Yamashiro opened their first location in Lahaina, Maui. They take pride in their unique shaving techniques and wonderful customer service. Their syrup flavors are made from 100% pure cane sugar and their ice is made from ultra-purified water.
Banana Split Ice Cream Sandwich
Arcadia residents celebrated National Banana Split Day by making delicious banana split ice cream sandwich cakes. Participants layered Neapolitan ice cream sandwiches with Cool Whip, pineapple and strawberry toppings, peanuts, chocolate sauce, and cherries. Residents walked away with a lovely banana split ice cream sandwich cake to freeze and enjoy!
Walk and Roll Excursion
To celebrate the end of the summer, Hale Ola Kino by Arcadia residents took another excursion to Baskin-Robbins. Families came along as escorts and made their way down South King street. This was the perfect way for residents to spend quality time with their loved ones. Everyone loved the refreshing treat and getting some fresh air!
Ohana Harmony Band
Arcadia Health Care Center residents were delighted with a performance by Ohana Harmony Band. The band members, Cherilyn Moloney (singer) and Ijeva Bambridge (pianist), are both flight attendants at Hawaiian Airlines and love performing for the senior community. Their desire is to spread the message of peace, love, and harmony!
"Labor Day Weekend symbolizes the end of summer for many Americans and is celebrated with picnics, parties and other social events. I hope you are able to take time out for yourself and spend time with family and friends." - Suzie Schulberg, President & CEO