September 8, 2023
Hoʻomau (9/8/23)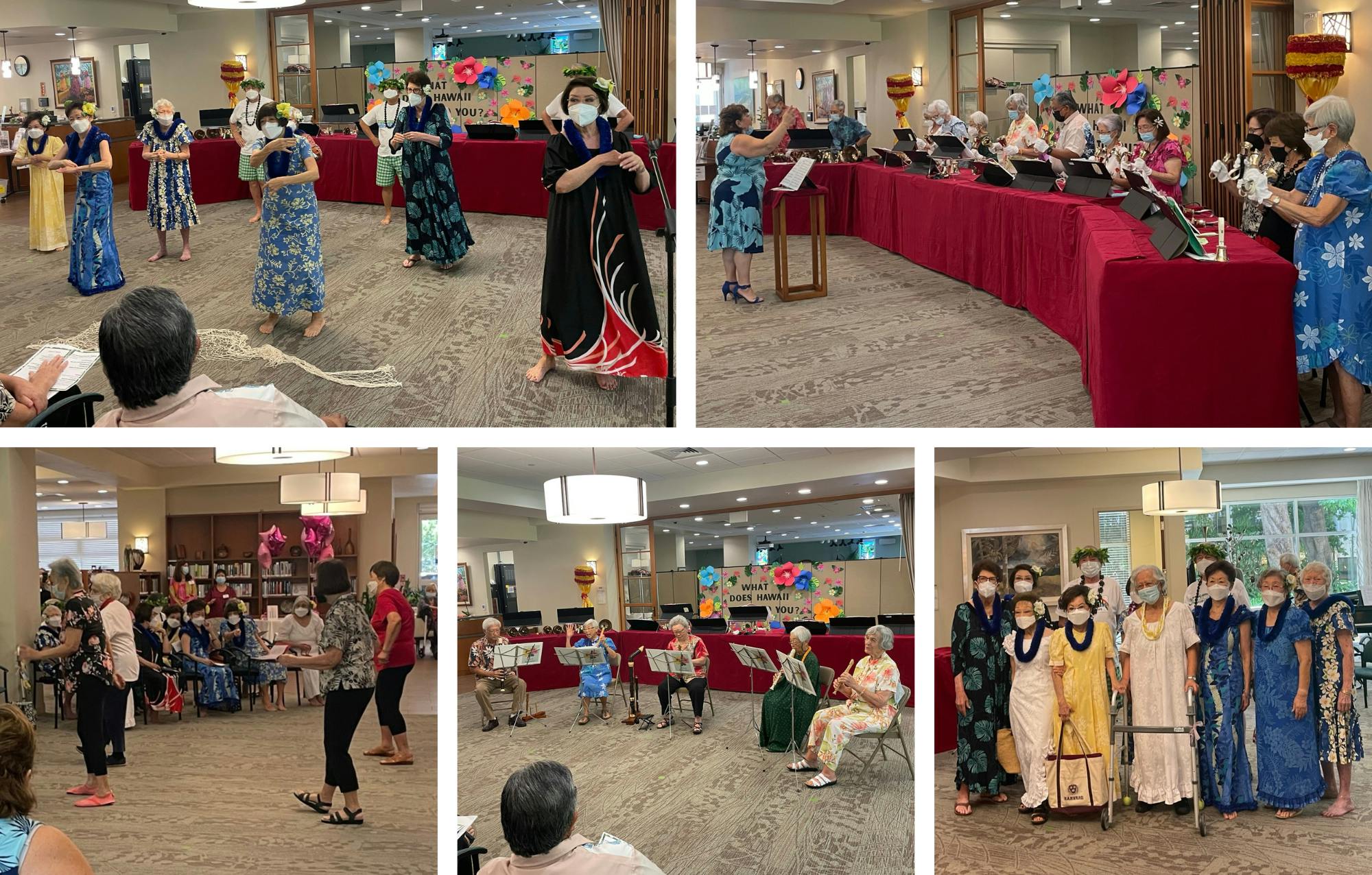 SEPTEMBER 8, 2023, ISSUE 119
Hoʻomau
Renew, Perpetuate, Persevere
Statehood Day Performance
Last month, Arcadia celebrated Statehood Day with delightful performances. A large crowd filled the Main Lounge and were entertained by the wonderful talents of various Arcadia resident groups including hula, recorders, handbells, and line dancing.
In addition to the program, residents shared what Hawaii means to them in honor of the holiday. Arcadians wrote a word that best represented their love and aloha for Hawaii on paper flowers. The wall of colorful blooms was on display during the week of Statehood Day and provided a beautiful background for the show.
Statehood Day or Admissions Day commemorates the anniversary of Hawaii's admission to the United States of America on August 21, 1959. It is celebrated each year on the third Friday of August.
August Aloha Hour
A special August Aloha Hour at 15 Craigside, hosted by the 4th, 6th, and 8th floors honored two resident centenarians, Mr. Henry Chang and Ms. Violet Kagawa. The resident taiko group performed, and the Sounds of Craigside singers and ukulele players entertained with favorite Japanese songs. Mrs. Kagawa shared that the secret to a long life is, to "eat healthy, help people and keep busy."
Silhouette Paintings
Hale Ola Kino by Arcadia residents got their creative juices flowing by making beautiful artwork. With brushes in hand, everyone painted unique and colorful designs that provided the perfect backdrop for the striking floral silhouettes to pop!
Seafood Night
On August 25th, Arcadia held a special seafood night. The menu featured lobster tail, king crab, shrimp, scallops, and clams. Upon entering the Dining Room, residents were welcomed with crab nets hanging above as well as other themed decor. To add to the experience, "Seafood Feast" bibs were also worn to protect clothing from all the tasty goodness!
Denim Blue Day
Clients and staff at the Central Union Church location recently kicked off Denim Blue Day. The first dress-up day was celebrated at The Center with a special shave ice treat complete with vanilla ice cream and condensed milk!
Scrumptious Splits
15 Craigside celebrated Banana Split Day with a pick up of the dessert in the Lobby. The treat included bananas, Neapolitan ice cream, chocolate and strawberry syrup, peanuts, rainbow sprinkles, whipped cream and a cherry on top!
Fun and Food at the Bon Dance
The residents and employees of 15 Craigside's Health Care Center participated in a fun and lively bon dance under colorful lanterns and around the yagura (central platform). Activities Aide, Sage Saito provided instruction and led the way for each of the dances. After working up an appetite, everyone partook in traditional refreshments of Spam musubi, andagi, fried noodles, and shave ice. Some residents enjoyed the snacks so much that they could not finish their dinners!
Go Bows!
The Rainbow Warriors have kicked off their season and what goes better with football than food and drinks? While enjoying the game, Arcadians were served ono pupu like poke, boiled peanuts and chips. Various cold beverages like Orion were also served – a new favorite of residents who shared that they were introduced to the beer at the recent Okinawan presentation.
Let's Go Holoholo
15 Craigside and 15 Craigside Health Care Center residents took a holoholo ride to the south shore of Oahu. Everyone enjoyed viewing the scenery and sunny blue skies as they rode through Ala Moana Park and Waikiki. As they continued further east, the Pacific Ocean was viewed from a higher vantage point as the shuttle made its way along the coast fronting Diamond Head.
Painting Project Pau
Thank you to The Zelinsky Company for a job well done! Last week, the crew completed the painting project at Arcadia and said that it was "the best place to work and that they were going to miss us!" In appreciation, the painters were gifted bento, Arcadia cooler bags, and Resident Service Manager Lee Henry-Chang's husband's dried aku.
"Sunday, September 10th, is Grandparents Day. Mahalo nui to the kupuna in our lives for being an incredible source of guidance, support, wisdom, inspiration and most of all, love." - Suzie Schulberg, President & CEO