September 15, 2023
Ho'omau (9/15/23)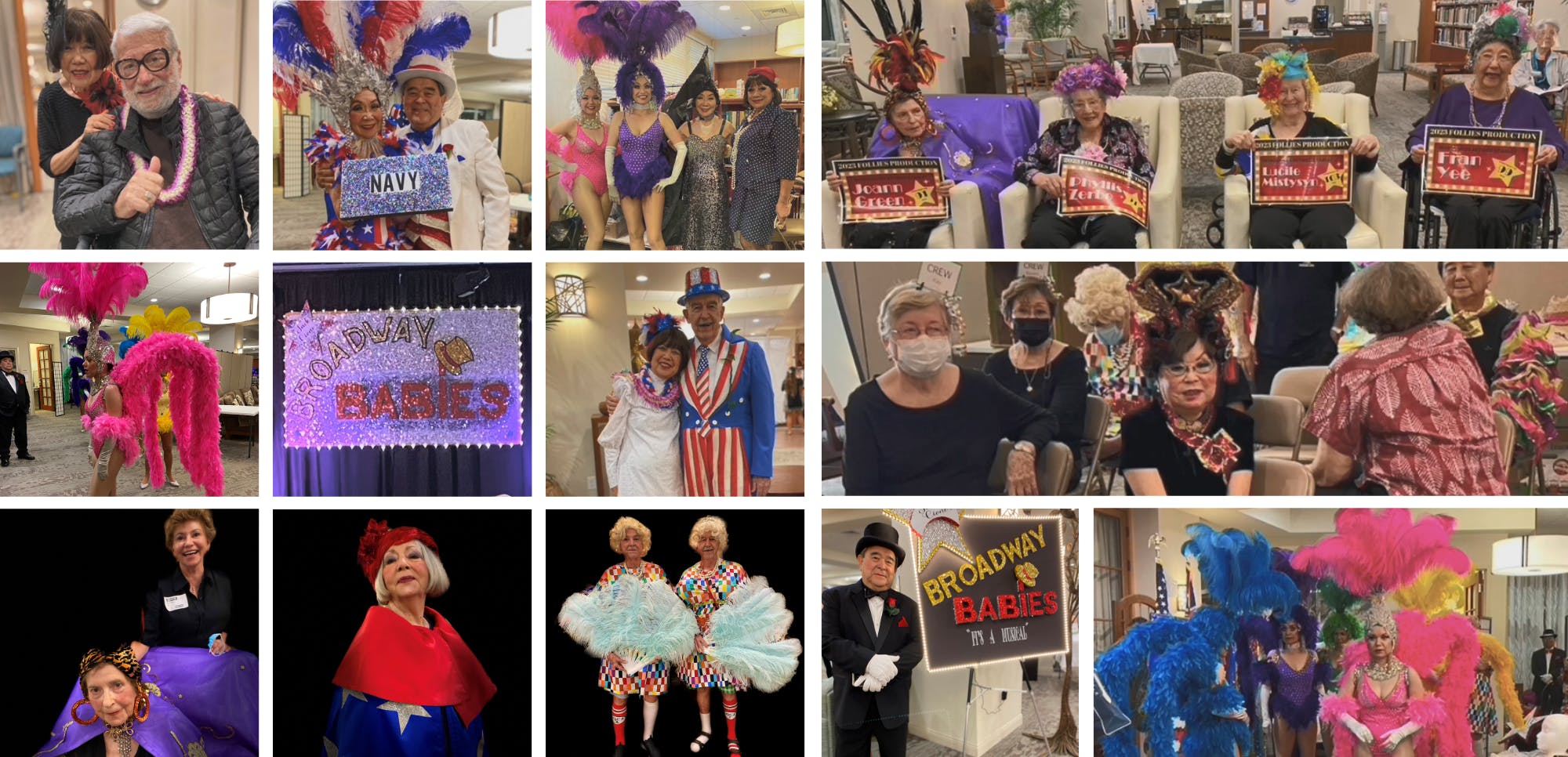 SEPTEMBER 15, 2023, ISSUE 120
Hoʻomau
Renew, Perpetuate, Persevere
The Follies Are Back!
After a three-year hiatus because of the COVID-19 pandemic, the Follies show at Arcadia is back! Directed and produced by Arcadia resident Mr. Jack Cione, this year's production theme was "Broadway Babies." This was the 16th year for the Follies and most likely the last for Mr. Cione.
There were 65 cast members of performers and crew volunteers with only 12 members that are not residents at Arcadia. They started rehearsals in June and practiced twice a week for three months. The musical featured the cast lip-syncing and dancing to a number of classic songs including "Broadway Baby" by Kaye Ballard and Stephen Sondheim.
Mr. Cione selects the tunes and teaches all of the choreography for the show. He is extremely grateful for the production crew's hard work, enthusiasm, and dedication, naming them the "best crew he has ever had." The cast was so excited to be back on stage in their glamorous costumes and bringing joy and laughter to their audience. The production was a spectacular success to say the least!
Mr. Cione said, "I would love to do another show, but as of right now, this was the last one."
Okinawan Festival
15 Craigside residents took a Sunday trip to the 41st Okinawan Festival at the Hawaii Convention Center. They explored the many attractions and booths including the cultural village, bonsai display, Okinawan Genealogical Society of Hawaii, and Hawaii Okinawa Creative Arts to learn about the history of Okinawa. They enjoyed yummy foods such as andagi and yakisoba while watching traditional dance and music performances.
Moss Art
The Arcadia Adult Day Care at Central Union Church clients created beautiful moss art frames. Preserved moss can last between five to eight years before requiring touch-ups!
Pass and Spike!
Hale Ola Kino by Arcadia residents played a fun game of balloon volleyball. The Living Room was filled with excitement as the balloon went back and forth over the net. Some residents cheered the players on from the sidelines with pom-poms!
Games, Games, Games
It's game day! Arcadia residents gathered in the Main Lounge to play hanafuda, mahjong, and bridge. It is a great way to spend a relaxing afternoon while displaying a little friendly competition.
Let's Get Vaccinated!
The Arcadia Family of Companies held flu shot clinics for residents, clients, members, and employees. Mahalo for getting vaccinated!
SALT at Our Kakaako
15 Craigside residents went on an excursion to SALT at Our Kakaako for lunch. With so many eateries to choose from, residents were overjoyed by the food, fresh air, sunshine, and good company. SALT opened in 2017, a hip urban destination for dining, shopping, art, and pop-up events. This central plaza was created for visitors of all ages to relax, play, and come together. The name "SALT at Our Kakaako" is a reference to the natural salt ponds that once dotted the low-lying wetlands in this area. This place preserves both the local spirit and working class grit of the area's history while creating a new, authentic urban-island culture.
S'more Sweets
15 Craigside Health Care Center residents enjoyed a classic sweet treat, s'mores! Perfectly cooked marshmallows and melted chocolate were sandwiched between two graham crackers (regular or cinnamon flavored). S'mores first appeared in a 1920's United States cookbook as a recipe called the "Graham Cracker Sandwich." The best snack to satisfy your sweet tooth!
A Beautiful Bloom
The Garden at Arcadia was blessed with a breathtaking lotus blossom. The flower in full bloom shined bright in the middle of the koi pond and brought so much joy to the residents. The plant was donated by Arcadia resident Mrs. Sue Okunami's son, Peter. Lotus flowers are often viewed as a symbol of purity. It also symbolizes strength, resilience, and rebirth.
Chicago-Style Hot Dogs
In honor of football season, residents at 15 Craigside were treated to a special hot dog bar. They had a choice between traditional toppings or try a Chicago-style hot dog topped with mustard, relish, tomatoes, onions, sport peppers, a pickle spear, and celery salt. For many residents, this was their first time trying this classic Chicago meal.
"Happy National Assisted Living Week to our hardworking staff who play a vital role in improving the lives of our residents, clients and members."- Suzie Schulberg, President & CEO