November 12, 2021
Ho'omau (11/12/21)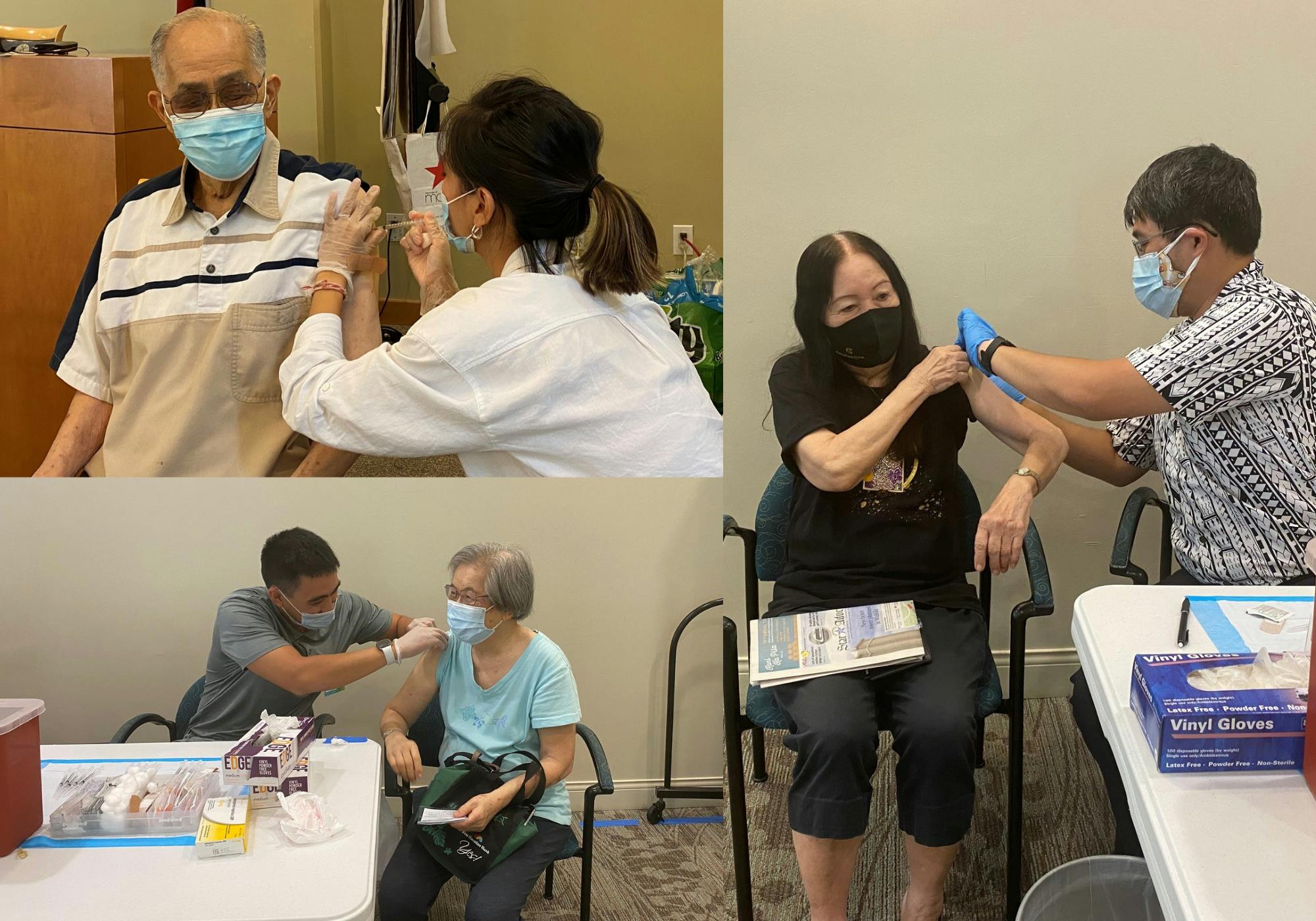 NOVEMBER 12, 2021, ISSUE 24
Hoʻomau
Renew, Perpetuate, Persevere
COVID-19 Booster Shots
The Arcadia Family of Companies started rolling out COVID-19 booster shots this week. The communities were buzzing with residents and employees eager to get their booster shots to better protect themselves from the virus.
         According to the Centers for Disease Control, Pfizer or Moderna booster shots increase the immune response of recipients when taken at least six months after receiving their initial series of vaccinations. The Johnson & Johnson booster shot also increases the immune response in recipients who completed their single-dose vaccine at least two months prior. With an increased immune response, people should have improved protection against COVID-19, including the Delta variant.
 Honoring Our Veterans
To help honor the veterans at 15 Craigside and Arcadia, each community has put up a gallery wall showcasing their photos. The displays show our appreciation of their service to our country. Another gallery wall at Arcadia is dedicated to the fallen veterans who were former residents.
         On November 11, 1918, a temporary peace was signed and the fighting during WWI came to an end. President Woodrow Wilson would later announce that November 11th was to be called Armistice Day, to celebrate world peace, and to honor the veterans of WWI. In 1954, the name was changed to Veterans Day to honor U.S. veterans of all wars.
 Patriotic Pinwheel Garden at Arcadia
To continue the Veterans Day celebrations, the Programs team created this wonderful Patriotic Pinwheel display at Arcadia. Residents and employees were able to decorate a pinwheel, each with a personal message to a beloved veteran inside. After all the pinwheels were complete, the Programs team carefully displayed them in Arcadia's garden.
Gifting Green Onions at 15 Craigside
In an ongoing effort to be greener, 15 Craigside residents used leftover green onion roots from the 15C kitchen and replanted them. For now, the residents are nurturing their plants, but have the option to give it as a gift to someone for Christmas. It would be a present that keeps on giving and growing! How delicious, thoughtful and resourceful!
National Deviled Egg Day
To celebrate National Deviled Egg Day on November 2nd, Arcadia Health Care Center residents and staff made deviled eggs. Stacy Aleman, HCC Activities Supervisor, said the eggs were very easy to make. The term 'deviled' comes from an 18th-century culinary term that was originally used to describe a fried or boiled dish that was highly seasoned.
 Day of the Dead
In celebration of Day of the Dead on November 2nd, Arcadia Adult Day Care and Day Health clients made colorful skull masks. In the past, Day of the Dead participants and dancers used masks to scare the dead away at the end of the festivities. In modern-day celebrations, people typically paint their faces with the skull, and its purpose is more decorative than anything.
Core Value: Honest
To recognize the core value "honest" at 15 Craigside, residents picked up a cup of "HonesTea" (hot green tea) and some favorite local snacks, which included Ishiharaya tea cookies and puff rice cakes. Each treat was labeled with a quote about the importance of honesty. Several residents caught up with friends while enjoying their special treat for the week.
 National Family Caregivers Month
November is National Family Caregivers Month. It is a time to celebrate and give thanks to those who have cared for loved ones in any way, big or small. Throughout November, consider who in your life has been a caregiver to you or others, or if you have been a caregiver. Whether it be a loved one or yourself, make sure to tell them they are appreciated and valued.
"As the State continues to open up, please remain vigilant in practicing infection prevention measures both at work and at home!" - Suzie Schulberg, President & CEO