October 1, 2021
Ho'omau (10/1/21)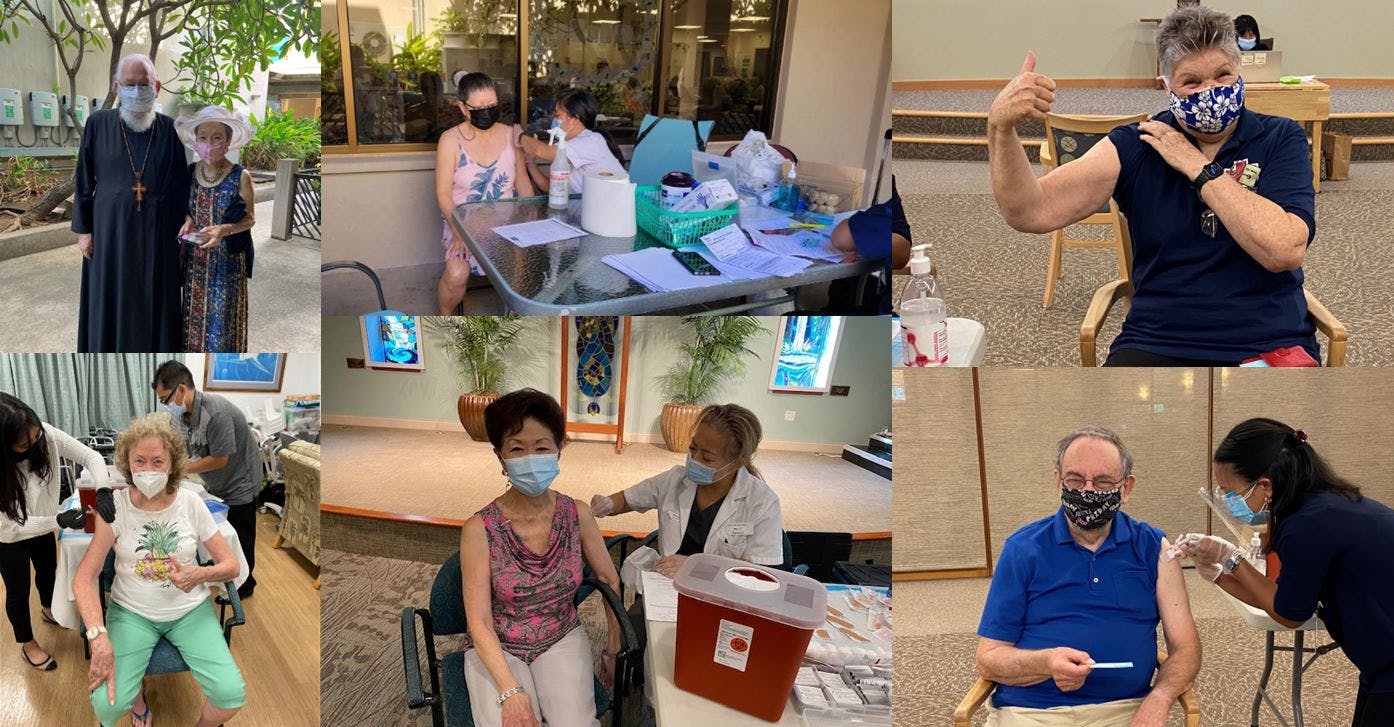 OCTOBER 1, 2021, ISSUE 18
Hoʻomau
Renew, Perpetuate, Persevere
Resident, Client and Member Flu Shot Clinics
The 2021-22 flu season is right around the corner and residents, clients and members of the Arcadia Family of Companies received their flu shots at clinics held at 15 Craigside, Arcadia and Central Union Church. September and October are generally good times to be vaccinated. Flu activity often begins to increase in October and usually peaks between December and February. The influenza (flu) vaccine protects against the four flu viruses that research indicates will be most common during the upcoming season. Here are some benefits of flu vaccination:
It's an important preventive tool, especially for people with certain chronic health conditions
The vaccine prompts your immune system to produce antibodies to protect against flu viruses
If you do get sick, being vaccinated will lessen the severity of your illness
Your risk of flu-associated hospitalization is reduced
Getting vaccinated yourself may also protect people around you
Tissue Paper Painting Cards
15 Craigside residents created their own unique cards using tissue paper to create colorful paintings. They first drew or wrote with crayons on their card, then they wet the paper and pieced together different colored tissue paper. Next, they sprayed the card with more water to allow the colors to bleed from the tissue paper. Once dry, the tissue paper was removed to reveal colorful mosaics.
Abstract Art at Arcadia Day Care
Clients at the Arcadia Adult Day Care repurposed brown paper bags into art canvasses. They mixed various colors of acrylic paint to create their very own abstract art pieces. Abstract painting is a wonderful way to stimulate the parts of the brain associated with creativity and imagination.
Arcadia Flower Arrangements
Whenever you're in the Arcadia Main Lounge, it's hard to miss the beautiful plant and floral arrangements all around.
You might be surprised to learn that much of the material comes from Arcadia's own garden, and that two Arcadians are the generous florists behind the scenes!
Every Monday, Ms. Chris Wada and Mr. Herbert Hamada arrange green foliage from the garden into creative arrangements for the Main Lounge. Flowers, which were saved from previous bouquets and then dried, are also repurposed to create new floral designs.
Mahalo to Ms. Wada and Mr. Hamada for donating your time and talent to making Arcadia a brighter place!
Moon Festival Dim Sum Service
Last week, Arcadia residents were treated to a small dim sum service in honor of the Chinese Moon Festival. The Chinese Moon Festival, also known as the Mid-Autumn Festival, was held on Tuesday, September 21st. It is one of the most important holidays in Chinese culture; rivaling the popularity of Chinese New Year.
CUC Thrift Shop
Arcadia Day Care clients got a little shopping done the other week at the Central Union Church Thrift Shop. Luckily for them, the thrift shop is located right next to the day care center so it was just a short walk over. Did you know that thrift shopping is not only cheaper, but better for the environment too?
Birds of Haleakala
Arcadia Family of Companies' Board Chair, Martin Zorn, captured this stunning photo from the Haleakala National Park. Of all the animals in Haleakala, bird species are the most widespread. Many of these birds, however, are actually threatened or endangered, such as the nene, kiwikiu and i'iwi. Thank you, Mr. Zorn, for sharing this photo!
"As we continue on this pandemic journey, one theme continues to emerge for me…the idea that compassion matters. It's through connecting with other people, actually making a difference to others, and bringing joy into their lives that we make our own lives matter, that we bring worth and purpose to our lives. This is the power of compassion." - Suzie Schulberg, President & CEO