September 17, 2021
Ho'omau (9/17/21)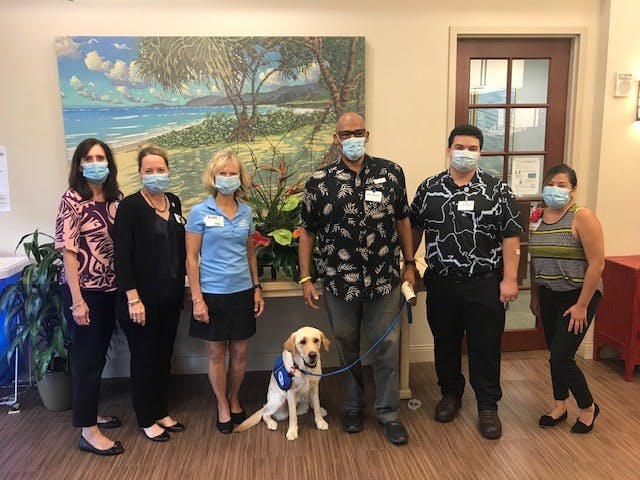 SEPTEMBER 17, 2021, ISSUE 16
Hoʻomau
Renew, Perpetuate, Persevere
Welcoming a New Furever Friend
Please join us in welcoming Cedar to the Arcadia Family! Cedar, who is a 19-month-old Labrador/Golden Retriever mix, is our new assistance dog. Last week, Cedar visited 15 Craigside and Arcadia for the first time with Reverend George Scott and her trainer, Sharon Dahlquist from Assistance Dogs of Hawaii. Did you know that Cedar and Reverend Scott's parents share the same names? Both of their mothers are named Ruby and both fathers are named Sam!
Cedar will be replacing Moose, who many of you may remember as our previous assistance dog. Moose, now 14 years old, retired after 8 years of service to our communities. A hui hou, Moose, you will be dearly missed and mahalo for all of the joy you brought everyone!
We look forward to seeing Cedar around more often, and if you see her, make sure to say hi!
Bronze Quality Awards for 15 Craigside and Arcadia
This year, both 15 Craigside and Arcadia's Assisted Living Programs were awarded the Bronze Quality Award from the American Health Care Association/National Center for Assisted Living, recognizing their commitment to providing quality services.
Since they were not able to attend the conference in person, the awards were sent to 15 Craigside and Arcadia. Congratulations to the Assisted Living team members for all their hard work.
Taiko Drumming at Arcadia
Taiko Center of the Pacific performed at Arcadia in celebration of Bon Dance season. Four of Hawaii's top taiko entertainers, Chizuko Endo, Eric Chang, Kenny Endo and Dr. Kirsten Pauko showcased the art of taiko drumming. Resident, Mrs. June Honda said it was an exciting day at Arcadia! Mahalo to Taiko Center of the Pacific!
Arcadia HCC Carnival
Arcadia's Health Care Center residents had a blast at their very own carnival! They played carnival games such as ring toss, and ate sweet and salty treats like popcorn and cupcakes. The HCC was vibrantly adorned in carnival décor to really get the residents feeling the circus spirit. Some of the staff even dressed up like clowns to match the theme. HCC Activities Supervisor, Stacy Aleman, says "We couldn't have the Punahou Carnival this year, so we had our own!" Thank you to the HCC staff for putting this event together and creating such a fun-filled day for residents.
Mini Flower Arrangements
To get in the spirit of fall, 15 Craigside residents designed miniscule flower arrangements. By putting fresh cut flowers and small stones into a clear, tiny plastic vase, they created fun-sized, beautiful pieces. What a great way to reduce stress and boost happiness while making something lovely!
North Shore Virtual Excursion
15 Craigside residents virtually explored several spots along Oahu's North Shore. Some highlights included catching a ride on a local charter boat, walking through Waimea Valley and stand up paddling in Haleiwa. After touring Ted's Bakery, they also received samples of their famous chocolate haupia pie. What an eventful day!
Employee Appreciation Carts
The Arcadia Family of Companies launched Employee Appreciation Carts! Employees at 15 Craigside, Arcadia, Arcadia Day Care and Home Health Services heard music which led them to the candy-filled carts. The carts toured the communities at different times throughout the day to ensure that all shifts could enjoy it!
"There are a ton of balls in the air right now and I'd like to COMMEND and THANK the AFC Team (all 550+ employees) for their leadership, grit, commitment and dedication to serve and protect our residents, clients, members and fellow employees. Grateful!" - Suzie Schulberg, President & CEO