January 7, 2022
Ho'omau (1/7/22)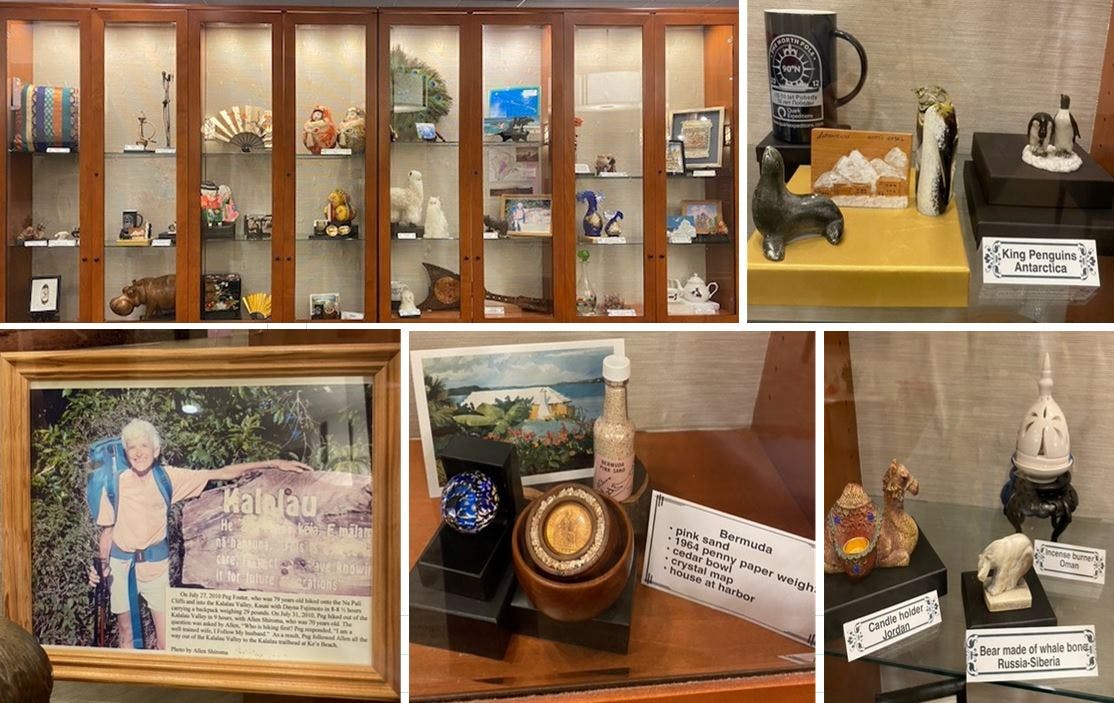 JANUARY 7, 2022, ISSUE 32
Hoʻomau
Renew, Perpetuate, Persevere
Favorite Destinations
The theme for this month's display case in Arcadia's main lounge is 'Favorite Destinations.' Residents were encouraged to share mementos from their most memorable travel destinations.
         The memorabilia have origins from nearly all seven continents and many islands in between. Some of the destinations include India, Russia, Antarctica, Japan and Chile. However, not all are from faraway travels. Resident, Mrs. Peg Foster, included a memento from her hiking trip into the Kalalau Valley on Kauai. Mrs. Foster, who was 79 years old at the time, completed the 19-hour roundtrip journey carrying a 29-pound backpack.
If you get a chance, stop and take a look at the amazing treasures from across the globe, and imagine the stories behind each souvenir.
Santa and Snowball Fights
Arcadia's Health Care Center residents got a special visit from Santa this Christmas! All residents were brought out one by one to the photo booth to take a photo with Santa and receive a special gift.
         HCC residents also partook in a frosty snowball fight! The snowballs were made using marshmallows and cornstarch, and staff volunteered to get hit by the residents.
15 Craigside Christmas Eve Service
15 Craigside residents Rev. Don Asman and Mrs. Judy Asman led the Christmas Eve Service in the theater on December 24th. Residents followed along in scripture, song and even held LED candles throughout the service. It was truly meaningful to join in fellowship, especially during the holiday season.
New Year Snack Bentos at 15 Craigside
Residents picked up a tasty snack to help ring in the New Year at 15 Craigside. The bento with traditional New Year's food included soba, gobo, kuromame, kanten, senbei and ozoni. Mahalo to Chef Kyle and the Dining Team for making the soba and ozoni!
Pasta-Imprinted Clay Tiles
In celebration of National Spaghetti Day on January 4th, Arcadia residents created a pasta-imprinted clay tile. This activity was a two-day class. First, the participants molded their clay and impressed the pasta to create patterns and landscapes. The next day, they made their artwork come to life by painting the clay.
Fulton Music Society
Last month, Arcadia's main lounge was filled with lovely sounds from the Fulton Music Society. FMS President and professional violinist, Addison Teng, along with his teaching assistant and three violin music students performed to a delighted crowd of residents. Mahalo to Fulton Music Society for choosing to perform at Arcadia!
Hawaiian Honeycreepers Captured by Martin Zorn
Arcadia Family of Companies' Board Chair, Martin Zorn, strikes again with more stunning wildlife shots. This time, he's captured the elusive and endangered Iiwi, also known as the Hawaiian Honeycreeper. These bright red Hawaiian Honeycreepers are usually spotted in high elevation native forests on Kauai, Maui and Hawaii Island. However, they're very rarely seen on Oahu and Molokai, and are extinct on the island of Lanai. Did you know that January 4th was National Bird Day?
Happy New Year!  As we power through this latest surge together, let's remember to support one another, be kind to each other and keep the faith!" - Suzie Schulberg President & CEO