January 15, 2021
How to Support Seniors During COVID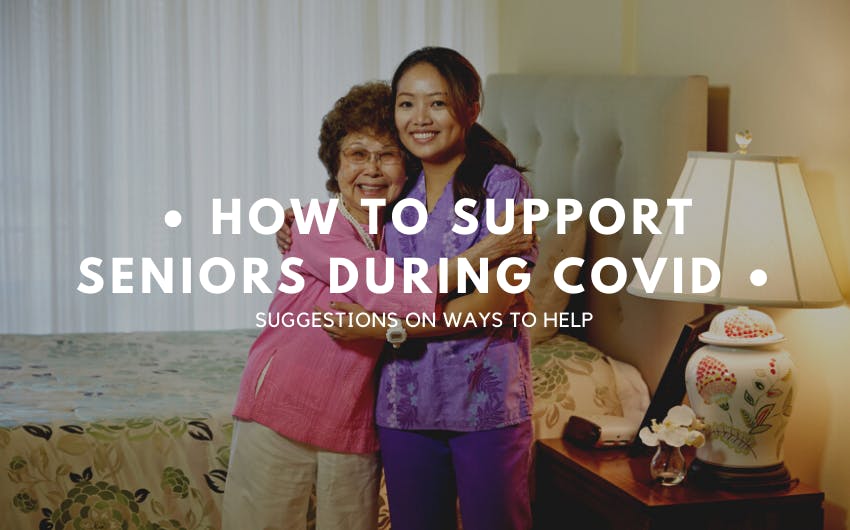 How to Support Seniors During COVID?
COVID-19 has stolen one of the most wonderful things about life from us — human connection. Those at risk suffer silently in lonely houses where they feel cut off from family and friends. Instead of spending their precious last years with loved ones dropping in regularly to say hi, they are alone.
Of course, the coronavirus may be an adept thief, but we are a resourceful breed. There are many ways that you can support elderly family members who may be feeling isolated during this difficult time.
Check out a few of our favorites below.
Stay Connected
First and foremost, it is extremely important for kupuna to stay connected with other people. Though coronavirus restrictions were meant to protect the health of this and other vulnerable populations, the lack of human contact has caused the health of many seniors to take a dramatic turn for the worst.
Turns out, social connections are vital for improving everything from mental health issues like dementia to physical conditions.
Help your loved one feel connected and loved by staying in contact. Technology gives us a plethora of ways to reach out electronically, allowing us to maintain close relationships even at a distance.
Make sure your loved one has a tablet or smartphone equipped with a video chat application and make sure they know how to use it. Now, you can safely visit anytime and stay in constant contact.
Use Technology Creatively
Video chats aren't the only thing technology is useful for. Your locked-down loved one may be getting frustrated about having to stay within a small living space all the time. Help them get "outside" by taking them on a virtual walk through one of Hawaii's many parks or beaches.
Other ideas include sharing a virtual meal together or watching a movie. Even though you might be physically in separate locations, these are still great ways to do activities together that you both can enjoy.
Many facilities have ceased offering community meals and don't allow the residents to intermingle much. Your loved one will be delighted to spend some time doing a favorite activity.
Think Outside the Tech Box
Though there are many ways to use technology to connect, something tangible is still nice once in a while. Take the time to sit down and write a handwritten note, send a cheerful bouquet of flowers, or arrange for a delivery from their favorite restaurant.
Other ideas include:
●     Craft kits
●     Adult coloring books
●     Crossword puzzles
●     Yarn and knitting supplies
●     Books
●     Music
If your loved one is living in a facility, check on the rules first. Not all facilities are accepting physical objects.
Stay Informed About Happenings at the Facility
Keep up with what is happening at the facility. Have a trusted point of contact on staff who you can go to with questions and concerns.
Seniors don't always speak up about concerns or problems they are having because they don't want to be a burden. Be sure to discuss anything odd that you notice with your point of contact and let them know to reach out immediately if they note something as well.
How to Support a Loved One Living Alone
If your loved one is living alone, the most important thing is to ensure their safety. You may want to do their grocery shopping or arrange to have someone do it for them. If they are up to it, now is a good time to learn to shop online if stores offer delivery in their area.
A home care service such as that offered through the Arcadia Home Health Services can be helpful to provide support through grocery shopping, cleaning, and other household chores. 
Always ensure that they have enough food, hygiene supplies, and medication. Set up telehealth visits and prescription delivery. Though they may not be forced to stay at home, limiting their forays into the outside world is the best way to keep them safe from the virus.
It's not the best way to protect their overall health, however. Those who are living alone are at an even higher risk of depression and even other mental health problems like dementia. Loneliness can even have an impact on their physical health.
Keep up with them electronically, but don't hesitate to drop by once in a while. Wear a mask, wash your hands, and keep your distance, but trust us when we say your in-person visit will be appreciated!
Lend a Listening Ear
Be available to talk. The pandemic and resulting lockdowns have been hard on all of us, but the elderly have borne the brunt. Not only are they typically higher risk and may be living in fear of the virus, but also they tend to be on their own.
Younger people are working, figuring out virtual schooling with their kids, and in general being distracted by the business of life. For older adults, everything has stopped. If they live alone, they have no one to talk to and those in retirement communities or care facilities fare only a little better.
Your loved one may not speak up much about their fears, not wanting to trouble you. Or they might talk about them all the time, overshadowing your visits and making it less enjoyable for you. Try not to get angry and remember that whatever they're saying to you is probably the inner dialogue they're stuck listening to through the long, lonely hours.
Protecting the Most Vulnerable
Nobody knows how long the pandemic will drag on. Few people could have guessed at the beginning that it would keep on as long as it has. The only thing we can do is make the best of each day as it comes.
For many people, that includes taking care of their kupuna. At the Arcadia Family of Companies, we offer a continuum care retirement community. This means that we offer all levels of care from allowing your loved one to be mostly independent all the way to full medical care.
Looking for a safe place for your loved one to ride out the pandemic? Reach out to us here at the Arcadia Family of Companies to learn more!