April 13, 2022
Independent Living for Older Adults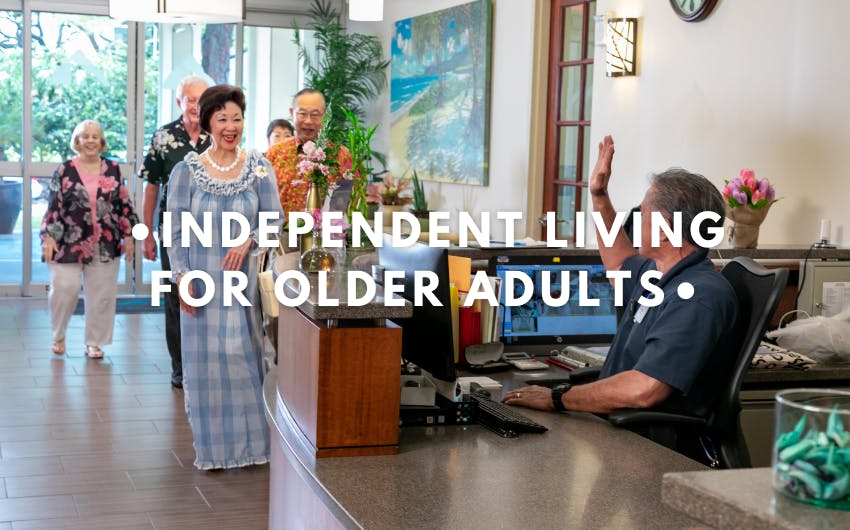 As retirement draws near, you'll likely be thinking about your future. Whether you plan to move into a community or age in place during your golden years is usually based on preference and medical needs. There is no right or wrong answer because each individual is as unique as their needs.
What is Independent Living?
Independent living encompasses a variety of living options for older adults who may or may not want to remain living in their own home versus moving into a community. Independent living communities are a housing arrangement for older adults, generally for ages 62 and older. The purpose of independent living communities is to meet the needs of residents so they can continue to live active lives without having to maintain a home.
Aging in Place
If you've heard about independent living communities, then you've likely come across the term aging in place. Aging in place refers to older adults who want to remain living independently in their current home or may downsize to a smaller home in their twilight years. This means taking care of various responsibilities of living on your own without the help you might receive in a community.
Therefore, if you opt for aging in place, it's best practice to consider the following to remain safe and happy at home.
Home safety precautions
Install grab bars near toilets and tubs/showers
Replace tub with walk-in shower
Install brighter lights throughout the home
Secure handrails on stairs
Remove all loose rugs or mats to prevent tripping
Install smart home technology like automatic lights, voice-activated emergency calling system, home security
Hire people to clean and maintain your home inside and out
Find engaging activities and spend time with friends/family to prevent feelings of isolation
See Aging in Place article for a more detailed summary on how to safeguard a home.
Independent Living Facility
The design of an independent living facility caters to active older adults who need little to no medical assistance. Living accommodations are ADA friendly and easier to navigate with the inclusion of home maintenance services like cleaning and repairs. Many facilities have full service meal preparation so the chore of daily cooking is eliminated.
The types of independent living facilities vary from apartment buildings to detached, single-family homes. Most communities offer amenities, activities, and other services including: 
Recreational centers
Libraries
Swimming pools
Fitness centers
Tennis courts
Golf courses
Arts and crafts
Movie nights
Health clinic
Pharmacy
On-site spas
Beauty salons and barbershops
Walking paths, communal gardens, or courtyards
Daily meals
Basic housekeeping and laundry services
Why Older Adults Chose to Move into an Independent Living Community
Difficulty in Maintaining Current Home
As you age, you might notice that you have less energy to take care of your home. Whether your home has a large yard that requires constant attention, or cleaning many rooms becomes overwhelming, maintaining your home can become a burden. Moving into a community that takes care of the mundane household chores and home maintenance allows older adults to focus on the activities they enjoy doing.
Isolation
Isolation from people you love outside and within the neighborhood has become a reality for many older adults during the pandemic. Seeing friends and family on a regular schedule has been challenging and loneliness may start sink into daily life. Difficulty due to a medical condition may hinder frequent trips outside the home to perform routine tasks like grocery shopping or going to the post office. The absence of these small yet important social interactions may create a sense of isolation and may put older adults at a greater risk for depression and other mental health conditions.
Driving Restrictions
As we age, driving can become increasingly difficult or even unsafe. Stiff joints and muscles, slower reflexes, vision problems, and certain medications might affect your ability to drive safely. As a result, you may feel hesitant to drive, making you more reliant on public transportation, rideshare or family and friends to get around.
Whether you want to visit others, participate in activities, or attend your doctors' appointments, it can be a challenge to get around as an older adult who does not drive. Many independent living communities offer convenient transportation options to help with getting around town.
Benefits of Moving into an Independent Life Plan Community
Independent living communities are not one-size-fits-all. Every community is different and offers different amenities, services, and resources that help support health and wellness goals. But in general, they all offer similar benefits which may include:
A sense of community and connection: Enjoy socializing with a built-in community of people at a similar stage of life.
Increased well-being: Being engaged, enjoying nutritious meals, and exercising more often can do the body and mind good.
Security: 24-hour on-site security can reduce the stress and fear of chance encounters with strangers.
Convenient and maintenance-free living: No more worrying about housekeeping, lawn maintenance, or home repair.
Recreation and social activities: Live a happier, fuller life by staying engaged with others through participation in the many scheduled events specially curated by the community's events team.
Safety and senior-friendly facilities: Enjoy accessibility features that cater to your specific level of physical ability, including wide doorways, low thresholds, well-lit spaces, handrails, and more.
All-inclusive rent: Your monthly base rent will cover housing, utilities, meals, and amenities. No surprise monthly fees.
Pet-friendly community: Some independent living communities allow pets so you can bring along your furry friend.
Peace of Mind
The Arcadia Family of Companies provides a wide range of senior living options. Whether you want to age in place in your own home or prefer to move to a life plan community, we have many options that fit your needs. Start the conversation today by calling (808) 533-5416.