May 1, 2020
Letter for 15 Craigside Residents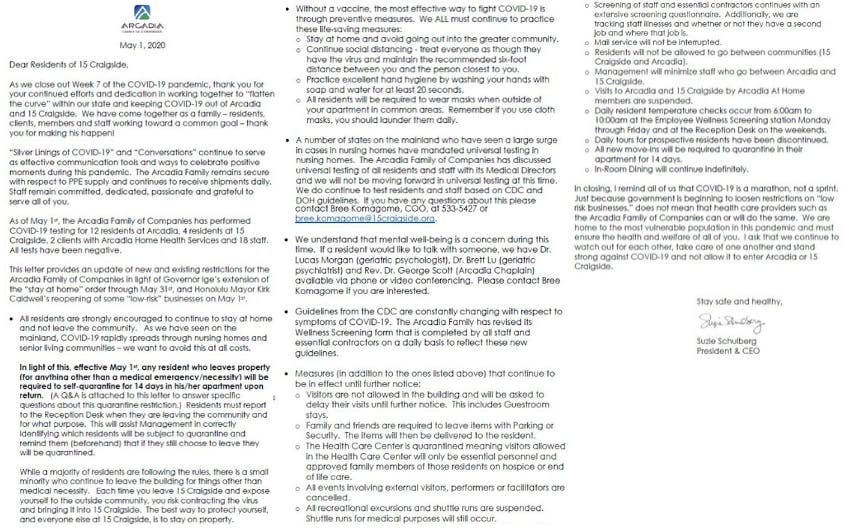 May 1, 2020
Dear Residents of 15 Craigside,
As we close out Week 7 of the COVID-19 pandemic, thank you for your continued efforts and dedication in working together to "flatten the curve" within our state and keeping COVID-19 out of Arcadia and 15 Craigside. We have come together as a family – residents, clients, members and staff working toward a common goal – thank you for making his happen!
"Silver Linings of COVID-19" and "Conversations" continue to serve as effective communication tools and ways to celebrate positive moments during this pandemic. The Arcadia Family remains secure with respect to PPE supply and continues to receive shipments daily. Staff remain committed, dedicated, passionate and grateful to serve all of you.
As of May 1st, the Arcadia Family of Companies has performed COVID-19 testing for 12 residents at Arcadia, 4 residents at 15 Craigside, 2 clients with Arcadia Home Health Services and 18 staff. All tests have been negative.
This letter provides an update of new and existing restrictions for the Arcadia Family of Companies in light of Governor Ige's extension of the "stay at home" order through May 31st, and Honolulu Mayor Kirk Caldwell's reopening of some "low-risk" businesses on May 1st.
 All residents are strongly encouraged to continue to stay at home and not leave the community. As we have seen on the mainland, COVID-19 rapidly spreads through nursing homes and senior living communities – we want to avoid this at all costs.
In light of this, effective May 1st, any resident who leaves property (for anything other than a medical emergency/necessity) will be required to self-quarantine for 14 days in his/her apartment upon return. (A Q&A is attached to this letter to answer specific questions about this quarantine restriction, PLEASE CLICK HERE TO ACCESS Q&A) Residents must report to the Reception Desk when they are leaving the community and for what purpose. This will assist Management in correctly identifying which residents will be subject to quarantine and remind them (beforehand) that if they still choose to leave they will be quarantined.
While a majority of residents are following the rules, there is a small minority who continue to leave the building for things other than medical necessity. Each time you leave 15 Craigside and expose yourself to the outside community, you risk contracting the virus and bringing it into 15 Craigside. The best way to protect yourself, and everyone else at 15 Craigside, is to stay on property.
 Without a vaccine, the most effective way to fight COVID-19 is through preventive measures. We ALL must continue to practice these life-saving measures:
o Stay at home and avoid going out into the greater community.
o Continue social distancing - treat everyone as though they have the virus and maintain the recommended six-foot distance between you and the person closest to you.
o Practice excellent hand hygiene by washing your hands with soap and water for at least 20 seconds.
o All residents will be required to wear masks when outside of your apartment in common areas. Remember if you use cloth masks, you should launder them daily.
 A number of states on the mainland who have seen a large surge in cases in nursing homes have mandated universal testing in nursing homes. The Arcadia Family of Companies has discussed universal testing of all residents and staff with its Medical Directors and we will not be moving forward in universal testing at this time. We do continue to test residents and staff based on CDC and DOH guidelines. If you have any questions about this please contact Bree Komagome, COO, at 533-5427 or bree.komagome@15craigside.org.
 We understand that mental well-being is a concern during this time. If a resident would like to talk with someone, we have Dr. Lucas Morgan (geriatric psychologist), Dr. Brett Lu (geriatric psychiatrist) and Rev. Dr. George Scott (Arcadia Chaplain) available via phone or video conferencing. Please contact Bree Komagome if you are interested.
 Guidelines from the CDC are constantly changing with respect to symptoms of COVID-19. The Arcadia Family has revised its Wellness Screening form that is completed by all staff and essential contractors on a daily basis to reflect these new guidelines.
 Measures (in addition to the ones listed above) that continue to be in effect until further notice:
o Visitors are not allowed in the building and will be asked to delay their visits until further notice. This includes Guestroom stays.
o Family and friends are required to leave items with Parking or Security. The items will then be delivered to the resident.
o The Health Care Center is quarantined meaning visitors allowed in the Health Care Center will only be essential personnel and approved family members of those residents on hospice or end of life care.
o All events involving external visitors, performers or facilitators are cancelled.
o All recreational excursions and shuttle runs are suspended. Shuttle runs for medical purposes will still occur.
o Screening of staff and essential contractors continues with an extensive screening questionnaire. Additionally, we are tracking staff illnesses and whether or not they have a second job and where that job is.
o Mail service will not be interrupted.
o Residents will not be allowed to go between communities (15 Craigside and Arcadia).
o Management will minimize staff who go between Arcadia and 15 Craigside.
o Visits to Arcadia and 15 Craigside by Arcadia At Home members are suspended.
o Daily resident temperature checks occur from 6:00am to 10:00am at the Employee Wellness Screening station Monday through Friday and at the Reception Desk on the weekends.
o Daily tours for prospective residents have been discontinued.
o All new move-ins will be required to quarantine in their apartment for 14 days.
o In-Room Dining will continue indefinitely.
In closing, I remind all of us that COVID-19 is a marathon, not a sprint. Just because government is beginning to loosen restrictions on "low risk businesses," does not mean that health care providers such as the Arcadia Family of Companies can or will do the same. We are home to the most vulnerable population in this pandemic and must ensure the health and welfare of all of you. I ask that we continue to watch out for each other, take care of one another and stand strong against COVID-19 and not allow it to enter Arcadia or 15 Craigside.
Stay safe and healthy,
Suzie Schulberg
President & CEO