March 23, 2020
Letter to Employees of Arcadia Family of Companies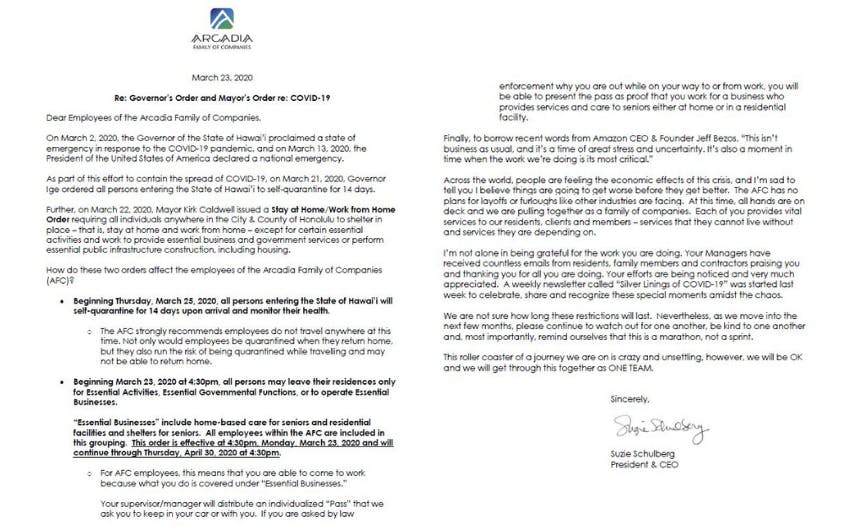 March 23, 2020
Re: Governor's Order and Mayor's Order re: COVID-19
Dear Employees of the Arcadia Family of Companies,
On March 2, 2020, the Governor of the State of Hawai'i proclaimed a state of emergency in response to the COVID-19 pandemic, and on March 13, 2020, the President of the United States of America declared a national emergency.
As part of this effort to contain the spread of COVID-19, on March 21, 2020, Governor Ige ordered all persons entering the State of Hawai'i to self-quarantine for 14 days.
Further, on March 22, 2020, Mayor Kirk Caldwell issued a Stay at Home/Work from Home Order requiring all individuals anywhere in the City & County of Honolulu to shelter in place – that is, stay at home and work from home – except for certain essential activities and work to provide essential business and government services or perform essential public infrastructure construction, including housing.
How do these two orders affect the employees of the Arcadia Family of Companies (AFC)?
- Beginning Thursday, March 25, 2020, all persons entering the State of Hawai'i will self-quarantine for 14 days upon arrival and monitor their health.

***The AFC strongly recommends employees do not travel anywhere at this time. Not only would employees be quarantined when they return home, but they also run the risk of being quarantined while travelling and may not be able to return home.

- Beginning March 23, 2020 at 4:30pm, all persons may leave their residences only for Essential Activities, Essential Governmental Functions, or to operate Essential Businesses.

"Essential Businesses" include home-based care for seniors and residential facilities and shelters for seniors. All employees within the AFC are included in this grouping. This order is effective at 4:30pm, Monday, March 23, 2020 and will continue through Thursday, April 30, 2020 at 4:30pm.
***For AFC employees, this means that you are able to come to work because what you do is covered under "Essential Businesses."
Your supervisor/manager will distribute an individualized "Pass" that we ask you to keep in your car or with you. If you are asked by law enforcement why you are out while on your way to or from work, you will be able to present the pass as proof that you work for a business who provides services and care to seniors either at home or in a residential facility.
Finally, to borrow recent words from Amazon CEO & Founder Jeff Bezos, "This isn't business as usual, and it's a time of great stress and uncertainty. It's also a moment in time when the work we're doing is its most critical."
Across the world, people are feeling the economic effects of this crisis, and I'm sad to tell you I believe things are going to get worse before they get better. The AFC has no plans for layoffs or furloughs like other industries are facing. At this time, all hands are on deck and we are pulling together as a family of companies. Each of you provides vital services to our residents, clients and members – services that they cannot live without and services they are depending on.
I'm not alone in being grateful for the work you are doing. Your Managers have received countless emails from residents, family members and contractors praising you and thanking you for all you are doing. Your efforts are being noticed and very much appreciated. A weekly newsletter called "Silver Linings of COVID-19" was started last week to celebrate, share and recognize these special moments amidst the chaos.
We are not sure how long these restrictions will last. Nevertheless, as we move into the next few months, please continue to watch out for one another, be kind to one another and, most importantly, remind ourselves that this is a marathon, not a sprint.
This roller coaster of a journey we are on is crazy and unsettling, however, we will be OK and we will get through this together as ONE TEAM.
Sincerely,
Suzie Schulberg
President & CEO