May 11, 2020
Letter for Arcadia At Home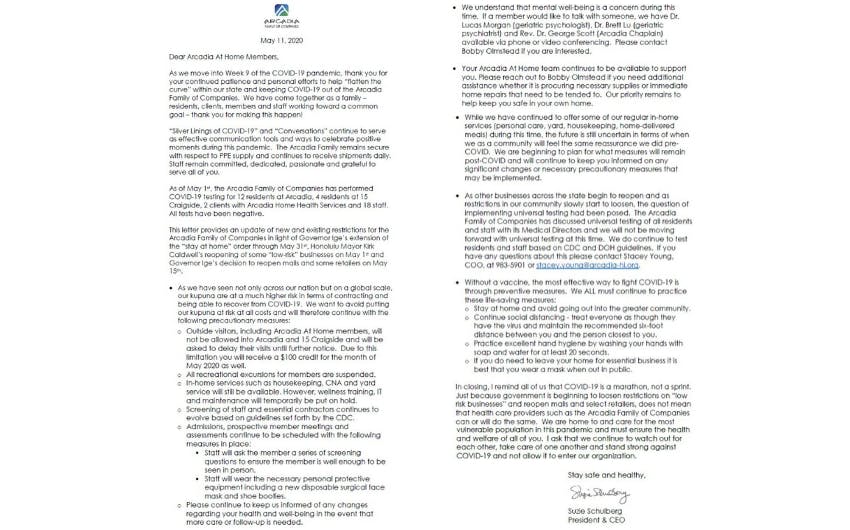 May 11, 2020
Dear Arcadia At Home Members,
As we move into Week 9 of the COVID-19 pandemic, thank you for your continued patience and personal efforts to help "flatten the curve" within our state and keeping COVID-19 out of the Arcadia Family of Companies. We have come together as a family – residents, clients, members and staff working toward a common goal – thank you for making this happen!
"Silver Linings of COVID-19" and "Conversations" continue to serve as effective communication tools and ways to celebrate positive moments during this pandemic. The Arcadia Family remains secure with respect to PPE supply and continues to receive shipments daily. Staff remain committed, dedicated, passionate and grateful to serve all of you.
As of May 1st, the Arcadia Family of Companies has performed COVID-19 testing for 12 residents at Arcadia, 4 residents at 15 Craigside, 2 clients with Arcadia Home Health Services and 18 staff. All tests have been negative.
This letter provides an update of new and existing restrictions for the Arcadia Family of Companies in light of Governor Ige's extension of the "stay at home" order through May 31st, Honolulu Mayor Kirk Caldwell's reopening of some "low-risk" businesses on May 1st and Governor Ige's decision to reopen malls and some retailers on May 15th.
• As we have seen not only across our nation but on a global scale, our kupuna are at a much higher risk in terms of contracting and being able to recover from COVID-19. We want to avoid putting our kupuna at risk at all costs and will therefore continue with the following precautionary measures:
o Outside visitors, including Arcadia At Home members, will not be allowed into Arcadia and 15 Craigside and will be asked to delay their visits until further notice. Due to this limitation you will receive a $100 credit for the month of May 2020 as well.
o All recreational excursions for members are suspended.
o In-home services such as housekeeping, CNA and yard service will still be available. However, wellness training, IT and maintenance will temporarily be put on hold.
o Screening of staff and essential contractors continues to evolve based on guidelines set forth by the CDC.
o Admissions, prospective member meetings and assessments continue to be scheduled with the following measures in place:
 Staff will ask the member a series of screening questions to ensure the member is well enough to be seen in person.
 Staff will wear the necessary personal protective equipment including a new disposable surgical face mask and shoe booties.
o Please continue to keep us informed of any changes regarding your health and well-being in the event that more care or follow-up is needed.
• We understand that mental well-being is a concern during this time. If a member would like to talk with someone, we have Dr. Lucas Morgan (geriatric psychologist), Dr. Brett Lu (geriatric psychiatrist) and Rev. Dr. George Scott (Arcadia Chaplain) available via phone or video conferencing. Please contact Bobby Olmstead if you are interested.
• Your Arcadia At Home team continues to be available to support you. Please reach out to Bobby Olmstead if you need additional assistance whether it is procuring necessary supplies or immediate home repairs that need to be tended to. Our priority remains to help keep you safe in your own home.
While we have continued to offer some of our regular in-home services (personal care, yard, housekeeping, home-delivered meals) during this time, the future is still uncertain in terms of when we as a community will feel the same reassurance we did pre-COVID. We are beginning to plan for what measures will remain post-COVID and will continue to keep you informed on any significant changes or necessary precautionary measures that may be implemented.
• As other businesses across the state begin to reopen and as restrictions in our community slowly start to loosen, the question of implementing universal testing had been posed. The Arcadia Family of Companies has discussed universal testing of all residents and staff with its Medical Directors and we will not be moving forward with universal testing at this time. We do continue to test residents and staff based on CDC and DOH guidelines. If you have any questions about this please contact Stacey Young, COO, at 983-5901 or stacey.young@arcadia-hi.org.
• Without a vaccine, the most effective way to fight COVID-19 is through preventive measures. We ALL must continue to practice these life-saving measures:
o Stay at home and avoid going out into the greater community.
o Continue social distancing - treat everyone as though they have the virus and maintain the recommended six-foot distance between you and the person closest to you.
o Practice excellent hand hygiene by washing your hands with soap and water for at least 20 seconds.
o If you do need to leave your home for essential business it is best that you wear a mask when out in public.
In closing, I remind all of us that COVID-19 is a marathon, not a sprint. Just because government is beginning to loosen restrictions on "low risk businesses" and reopen malls and select retailers, does not mean that health care providers such as the Arcadia Family of Companies can or will do the same. We are home to and care for the most vulnerable population in this pandemic and must ensure the health and welfare of all of you. I ask that we continue to watch out for each other, take care of one another and stand strong against COVID-19 and not allow it to enter our organization.
Stay safe and healthy,
Suzie Schulberg
President & CEO