December 7, 2020
Retirement Communities and COVID-19 - What You Need to Know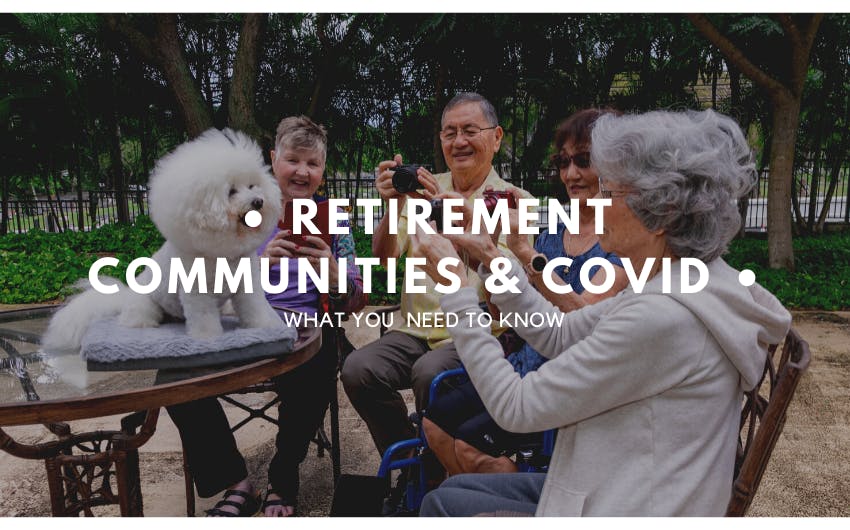 If you're thinking about moving into a retirement community, or you're considering one for your loved one, then you already know it's a decision laced with endless questions and considerations. Especially now, during a global pandemic of a disease that older people are more vulnerable to, you're right to feel anxious about moving to a retirement community during COVID-19.
Unfortunately, decisions like these often can't be put on hold. With the COVID-19 pandemic, it's becoming increasingly difficult to guarantee home security for older people who live alone or in isolation. With social distancing measures making it difficult to secure resources and help when needed, it's important now more than ever to consider moving to a retirement community if you or your loved one needs additional support.
It's a trying time for everyone, which is why the Arcadia Family of Companies has worked hard to ensure that you and your loved ones are safe while they're living in an Arcadia retirement community.
With that in mind, it's good to know what questions you should be asking when you're considering moving you or your loved one into a retirement community during this trying time.
What are Your Protocols for Testing Residents/Staff for COVID-19?
Older adults are particularly vulnerable to COVID-19, so every retirement community should have strict protocols in place for testing all residents and staff for COVID-19. Not only that, but they should also be clear about what happens when a resident or staff member tests positive. Before considering a retirement community move, you should ask what protocols are in place for testing and outbreak containment, as well as how these protocols are communicated to residents and family members. 
How has the Moving Process Changed?
Moving new residents into a retirement community can present a risk to the existing residents, so the moving process will have changed to help mitigate these risks. Most retirement communities have their own protocols, but these three approaches are the most common:
●     New residents are asked to take a COVID-19 test before arrival, and their move is confirmed on receipt of a negative result. Further guidance will be given to residents if they test positive for COVID-19,
●     New residents are asked to quarantine in their accommodation upon arrival,
●     New residents are asked to quarantine in their own home before arrival.
Your chosen retirement community should give you advice on what to expect at every step of the process, and particularly what happens in the event of a positive COVID-19 test before arrival.  
Have You Had Confirmed COVID-19 Cases Here?
It's important to know if any member of the retirement community has been confirmed to have COVID-19, and in particular, how that confirmed case was contained before it could spread. Reputable retirement communities should make everyone aware of not only how many confirmed cases they've had in their facilities, but how those cases were dealt with and the result of those cases.
What Retirement Community COVID-19 Safety Protocols are in Place?
This is perhaps the most important question you can ask before moving yourself or your loved one into a retirement community, particularly because the risk of a COVID-19 outbreak is higher in such facilities.
Your chosen retirement community must be open and honest about their protocols, and this is reflected in their communications with residents, staff, contractors, and family members. Also, you need to make sure that any changes to those protocols are communicated in a timely fashion, and anyone who may want to visit residents is made aware of how they can visit safely without risking further spread of COVID-19.
These protocols may be too much to discuss in a single visit, so it's recommended that you get a copy of these to look over in your own time. Any reputable retirement community should be able to tell you things like how high-traffic areas are disinfected, how meal services have changed, what PPE is available for staff and residents, whether temperature checks are being conducted, and so on.
Are Activities Still Being Run?
It's understandable that many of the standard group activities have been put on hold to ensure social distancing between residents, but a great retirement community will have found creative ways to keep their residents entertained and active while staying safe. So, you need to ask if they still have an activity program in use, and what additional activities are being run instead of more traditional group activities.
Home Security During COVID-19
COVID-19 is going to be here for the foreseeable future, which means that delaying major life decisions until the pandemic is over might not always be possible. It's understandable that you may want to continue living at home or continue caring for your loved one in their own home, but independent living comes with its own risks, particularly during COVID-19.
It's becoming increasingly difficult for older adults to live alone, particularly due to the returning stay-at-home orders that can make accessing help difficult. While independent living may not have been an issue before, the lack of access to supplies and help when something goes wrong can compound the risks that come with falls and other household hazards. Additionally, as higher targets for home invasion, seniors need to consider their personal safety as friends and family visits are less frequent or have stopped altogether due to pandemic distancing rules.
With that in mind, moving yourself or a loved one to a continuum care retirement community is a great way to reduce the risk of independent living as an older adult and guarantee access to home support, medical attention, and other additional facilities older adults often need.
Staying Safe with the Arcadia Family of Companies
The Arcadia Family of Companies offers a full spectrum of care options for older adults, ranging from at-home care to lifetime residency in state-of-the-art assisted living facilities. With robust COVID-19 safety protocols in place that are regularly communicated across all of our facilities, you'll be safe in the knowledge that the risk of contracting COVID-19 is mitigated as much as possible.
 All 15 Craigside and Arcadia residents can benefit from guaranteed lifetime care, so you or your loved one can enjoy your retirement care safe in the knowledge that you'll never be a burden on your children or other family members.