January 15, 2021
Silver Linings of COVID-19 (Issue 1/15/21)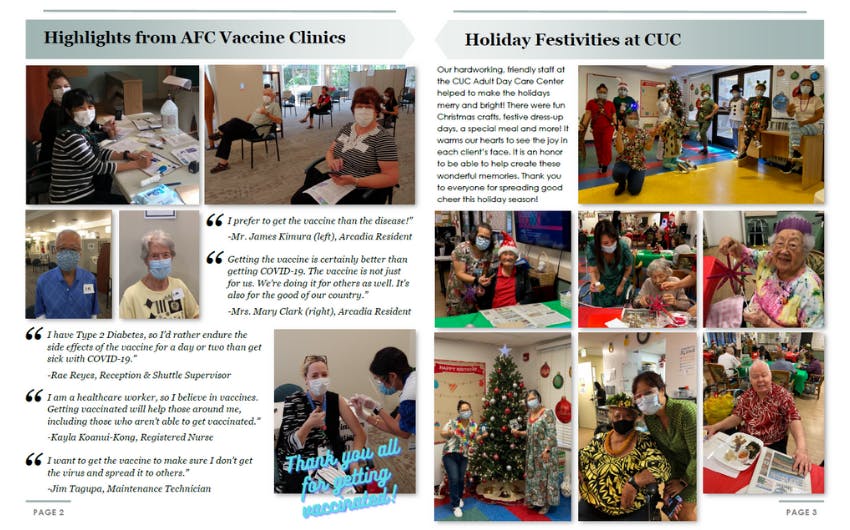 CLICK HERE TO READ THE FULL ISSUE
JANUARY 15, 2021, ISSUE 44
Silver Linings of COVID-19
Uplifting updates from the Arcadia Family of Companies delivered to you weekly
AFC Vaccine Clinics
As a community, we continue to make sacrifices and endure many challenges due to the pandemic. Whether its wearing personal protective equipment, limiting our close contact with others or adjusting to new procedures—we do it all.
With the introduction of recently approved vaccines, people must now prepare for this next step in protection. We are grateful for the immense support and participation we received during our vaccine clinics last week. Residents, clients, members and staff alike came forward to get their first dose of the Moderna vaccine. While getting vaccinated is a personal choice, we discovered a common motivating factor among participants: the overwhelming desire to protect those they love.
We are extremely proud of everyone helping to lead the way in creating a safer world for all!
"I prefer to get the vaccine than the disease!" -Mr. James Kimura (left), Arcadia Resident
"Getting the vaccine is certainly better than getting COVID-19. The vaccine is not just for us. We're doing it for others as well. It's also for the good of our country." -Mrs. Mary Clark (right), Arcadia Resident
"I have Type 2 Diabetes, so I'd rather endure the side effects of the vaccine for a day or two than get sick with COVID-19." -Rae Reyes, Reception & Shuttle Supervisor
"I am a healthcare worker, so I believe in vaccines. Getting vaccinated will help those around me, including those who aren't able to get vaccinated." -Kayla Koanui-Kong, Registered Nurse
"I want to get the vaccine to make sure I don't get the virus and spread it to others." -Jim Tagupa, Maintenance Technician
Holiday Festivities at CUC
Our hardworking, friendly staff at the CUC Adult Day Care Center helped to make the holidays merry and bright! There were fun Christmas crafts, festive dress-up days, a special meal and more! It warms our hearts to see the joy in each client's face. It is an honor to be able to help create these wonderful memories. Thank you to everyone for spreading good cheer this holiday season!
UNIQLO Hawaii Donation
The Arcadia Family of Companies received masks and garments from UNIQLO Hawaii, the forward-thinking fashion brand striving to change the world for the better. They focus on creating quality garments in sustainable ways while supporting the livelihood of their diverse staff. We will do a lucky drawing for the donated items and those selected will be notified by their supervisor at a later date!
Chinese New Year Lanterns
The Programs team at Arcadia organized a fun lantern-making craft in preparation for Chinese New Year on Friday, February 12. In Chinese culture, red is the color of good luck, joy and happiness, thus these lanterns are a wish for a prosperous life. Arcadia resident, Mrs. Marcia Wong, holds up her finished craft. What a great start to the Year of the Ox!
CUC Safety Committee
We continue to keep safety top of mind and are excited to resume our Safety Committee meetings! This year, we are also launching a Safety Committee for our CUC Adult Day Care Center. Each committee is comprised of staff from different departments, working together to ensure the wellbeing of everyone in our communities. Thank you all for keeping us safe!
"We received numerous compliments about the efficiency and calmness of the clinics at both 15 Craigside and Arcadia. I am so proud and humbled by the collaboration, teamwork, support and pure grit exhibited by everyone in putting on these clinics. Mahalo!" - Suzie Schulberg, President & CEO