March 19, 2021
Silver Linings of COVID-19 (Issue 3/19/21)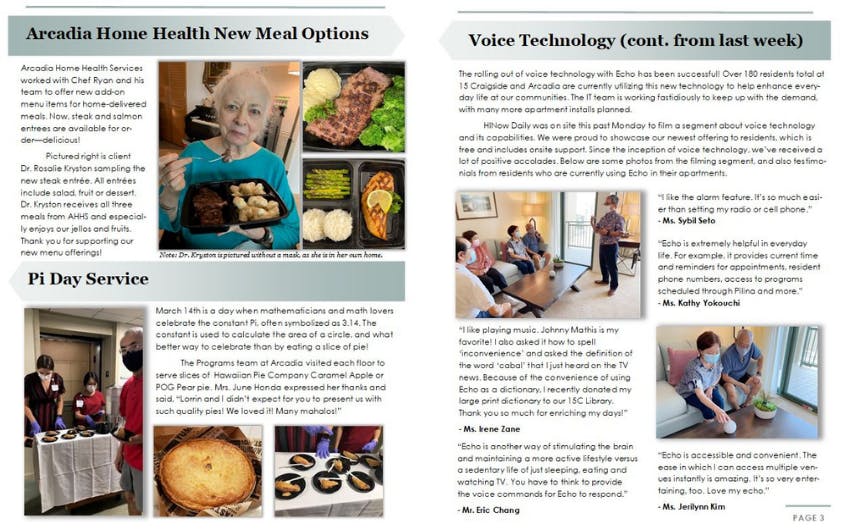 MARCH 19, 2021, ISSUE 53
Silver Linings of COVID-19
Uplifting updates from the Arcadia Family of Companies delivered to you weekly
Kahauiki Village Dedication
It always feels good to do well unto others, especially now as the pandemic continues to impact our everyday lives. You may remember the playground The Arcadia Foundation funded at Kahauiki Village, an affordable plantation-style community for homeless families. We're pleased to announce the playground is open and well loved by the community!
A dedication ceremony was attended by the Arcadia Family of Companies' Social Accountability team, as well as members of the board, Duane Kurisu (project leader), and two resident families. Rev. George Scott performed a blessing of the new equipment with the help of two keiki, who afterwards eagerly played on the jungle gym.
We are truly fortunate to be able to give back to the community in this way and are humbled at the small impact this playground might make for Kahauiki Village.
Arcadia Home Health New Meal Options
Arcadia Home Health Services worked with Chef Ryan and his team to offer new add-on menu items for home-delivered meals. Now, steak and salmon entrees are available for order—delicious!
Pictured is client   Dr. Rosalie Kryston sampling the new steak entrée. All entrées include salad, fruit or dessert. Dr. Kryston receives all three meals from AHHS and especially enjoys our jellos and fruits. Thank you for supporting our new menu offerings!
Pi Day Service
March 14th is a day when mathematicians and math lovers celebrate the constant Pi, often symbolized as 3.14. The constant is used to calculate the area of a circle, and what better way to celebrate than by eating a slice of pie!
The Programs team at Arcadia visited each floor to serve slices of  Hawaiian Pie Company Caramel Apple or POG Pear pie. Mrs. June Honda expressed her thanks and said, "Lorrin and I didn't expect for you to present us with such quality pies! We loved it! Many mahalos!"
Voice Technology (cont. from last week)
The rolling out of voice technology with Echo has been successful! Over 180 residents total at 15 Craigside and Arcadia are currently utilizing this new technology to help enhance everyday life at our communities. The IT team is working fastidiously to keep up with the demand, with many more apartment installs planned.
HINow Daily was on site this past Monday to film a segment about voice technology and its capabilities. We were proud to showcase our newest offering to residents, which is free and includes onsite support. Since the inception of voice technology, we've received a lot of positive accolades. Below are some photos from the filming segment, and also testimonials from residents who are currently using Echo in their apartments.
"I like playing music. Johnny Mathis is my      favorite! I also asked it how to spell 'inconvenience' and asked the definition of the word 'cabal' that I just heard on the TV news. Because of the convenience of using Echo as a dictionary, I recently donated my large print dictionary to our 15C Library. Thank you so much for enriching my days!"
- Ms. Irene Zane
 "Echo is another way of stimulating the brain and maintaining a more active lifestyle versus a sedentary life of just sleeping, eating and watching TV. You have to think to provide the voice commands for Echo to respond."
- Mr. Eric Chang
 "I like the alarm feature. It's so much easier than setting my radio or cell phone."
- Ms. Sybil Seto
 "Echo is extremely helpful in everyday life. For example, it provides current time and reminders for appointments, resident phone numbers, access to programs scheduled through Pilina and more."
- Ms. Kathy Yokouchi
 "Echo is accessible and convenient. The ease in which I can access multiple venues instantly is amazing. It's so very entertaining, too. Love my echo."
- Ms. Jerilynn Kim
HI-EMA PPE Donation
The Hawaii Emergency Management Agency (HI-EMA) recently made a delivery of PPE to Arcadia as part of a free PPE request program they offered. The delivery consisted of face shields, disposable gowns, nitrile exam gloves, surgical masks, cloth masks and KN95 masks. Pictured right is the National Guard dropping off Arcadia's allotment. Thank you for the supplies and the personal drop off!
Celebrating St. Patty's Day
The Adult Day Care and Day Health Center at CUC never misses an opportunity to celebrate a holiday! On St. Patrick's Day, the staff dressed up in green, as no one wanted to get pinched by a leprechaun! Our clients got in the spirit by playing fun St. Patty's Day trivia and crafting leprechaun hats and shamrocks in the afternoon.
Flashback Friday
Here's a fun flashback photo of Arcadia Landscape Committee members Mrs. Vonnie Turner (left) and Mrs. Fusae Kiyokawa (right) tending to the 2nd floor's sunny garden lanai! Wearing their cheerful Friday red shirts, they weeded and did general garden cleanup. Good garden design and plant selection has allowed this garden to remain beautiful for HCC residents and staff to enjoy.
"With new guidance issued by the CDC and CMS last week, the team is working with residents to determine the impact of these guidelines on continuing to safely loosen restrictions within AFC programs and communities over the next couple of weeks. More to come." - Suzie Schulberg, President & CEO