April 1, 2021
Silver Linings of COVID-19 (Issue 4/1/21)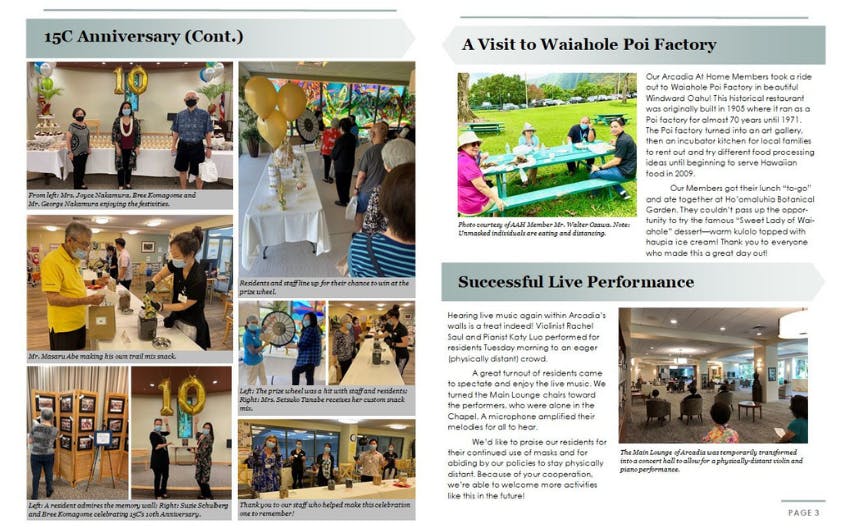 APRIL 1, 2021, ISSUE 55
Silver Linings of COVID-19
Uplifting updates from the Arcadia Family of Companies delivered to you weekly
Happy 10th Anniversary to 15 Craigside!
15 Craigside, our Life Plan Community located in Nuuanu, officially turned 10 years old (young!) on March 4, 2021. Last Friday, March 26, was a chance to commemorate the past decade of operations with a responsible and FUN birthday party!
A total of three celebration stations located in the Solarium, Wellness Center and Theater each offered a unique theme, special treat and a memory wall to display 15 Craigside's greatest moments. Residents and staff alike were invited to partake in all the fun! Some treats included sushi, gourmet cupcakes and a build-your-own trail mix station. People were able to spin the prize wheel to win cash and other goodies, and a special 15C Bingo rounded out the fun. Check out photo highlights on page 2!
A Visit to Waiahole Poi Factory
Our Arcadia At Home Members took a ride out to Waiahole Poi Factory in beautiful Windward Oahu! This historical restaurant was originally built in 1905 where it ran as a Poi factory for almost 70 years until 1971. The Poi factory turned into an art gallery, then an incubator kitchen for local families to rent out and try different food processing ideas until beginning to serve Hawaiian food in 2009.
Our Members got their lunch "to-go" and ate together at Ho'omaluhia Botanical Garden. They couldn't pass up the opportunity to try the famous "Sweet Lady of Waiahole" dessert—warm kulolo topped with haupia ice cream! Thank you to everyone who made this a great day out!
Successful Live Performance
Hearing live music again within Arcadia's walls is a treat indeed! Violinist Rachel Saul and Pianist Katy Luo performed for residents Tuesday morning to an eager (physically distant) crowd.
A great turnout of residents came to spectate and enjoy the live music. We turned the Main Lounge chairs toward the performers, who were alone in the Chapel. A microphone amplified their melodies for all to hear.
We'd like to praise our residents for their continued use of masks and for abiding by our policies to stay physically distant. Because of your cooperation, we're able to welcome more activities like this in the future!
Arcadia Easter Lilies
Arcadia has a display of beautiful lilies in the Main Lounge in honor of the Easter season. Residents ordered pots and dedicated them to fellow residents, individuals and departments like Arcadia's Health Care Center. They will be on display through Easter Sunday. Did you know? White flowers like the Easter lily are often referred to as "white-robed apostles of hope," their color symbolizing purity and rebirth.
Member Wellness
We often hear about the benefits of exercise, but those who exercise as a group are able to find motivation and inspiration, prevent injuries and of course, be part of a community with like-minded people. Arcadia At Home Members have been participating in virtual group exercise classes facilitated by Jon China and Jody Takata. Just check out those lifts!
Easter Egg Decorating
It wouldn't be the Easter season without some festive egg decorating! 15 Craigside residents had the chance to flex their creative muscles by decorating hard-boiled eggs with white crayons and dyes. The result was an array of multi-colored eggs residents can proudly display in their apartments and floor lobbies.   Mr. Eric Chang said he wanted to reminisce childhood days. What fun!
"In light of the increase in new positive COVID-19 cases, please continue to stay vigilant in practicing strong infection prevention measures." - Suzie Schulberg, President & CEO