September 25, 2020
Silver Linings of COVID-19 (Issue 9/25/2020)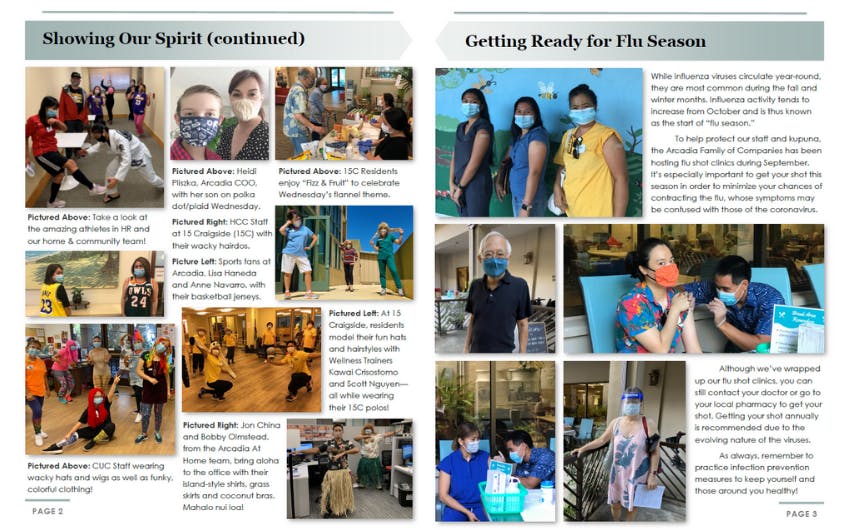 SEPTEMBER 25, 2020, ISSUE 28
Silver Linings of COVID-19
Uplifting updates from the Arcadia Family of Companies delivered to you weekly
Showing Our Spirit
Last week, we hosted a family-wide Spirit Week as a fun way to showcase comradery and pride across our communities! Employees as well as all residents, clients and members were encouraged to participate by dressing up in attire that matched the unique theme of the day.
September 14th: "Patriotic Monday"
September 15th: "Sports Tuesday"
September 16th: "Polka Dot/Plaid Wednesday"
September 17th: "Hat/Wacky Hair Thursday"
September 18th: "Aloha Friday"
This week-long dress up event was perfect for bringing lighthearted humor and joy to our kupuna, many of whom couldn't help but smile at the festive garments they saw. What a great experience! Thank you to all who participated!
Getting Ready for Flu Season
While influenza viruses circulate year-round, they are most common during the fall and winter months. Influenza activity tends to increase from October and is thus known as the start of "flu season."
To help protect our staff and kupuna, the Arcadia Family of Companies has been hosting flu shot clinics during September. It's especially important to get your shot this season in order to minimize your chances of contracting the flu, whose symptoms may be confused with those of the coronavirus.
Although we've wrapped up our flu shot clinics, you can still contact your doctor or go to your local pharmacy to get your shot. Getting your shot annually is recommended due to the evolving nature of the viruses.
As always, remember to practice infection prevention measures to keep yourself and those around you healthy!
Kind2Kupuna Greeting Card
Kaika, age 8 writes: "I hope you're well and staying healthy. I have been doing online school and staying home a lot. I play football and do basketball races with my brother and dad in the afternoon. I don't like coronavirus, do you? Staying home is boring. When coronavirus is over, I will have a birthday party! What are you going to do after?"
Mrs. Peola Keahi's Response
In response to Kaika's greeting card, Mrs. Peola Keahi, Arcadia Home Health Services client, replied with: "Mahalo for the rainbow greeting. Very beautiful. Me too, I stay home and clean house, crochet and watch TV. After coronavirus, going to go out to restaurants with friends and family. Mahalo Kaika—you are an inspiration." What a beautiful, intergenerational exchange!
CUC Takeout Meals
Takeout meals are now available for our CUC Adult Day Care Center clients! This service is a great option for those who do not attend the center everyday, or who just want convenient meals to enjoy on the weekend. We're happy with all the great feedback we've received! Pictured right, the niece of our daycare client said her aunt enjoyed our mini manapuas so much that they're ordering them again!
"The Arcadia Family of Companies remains the gold standard in kupuna care because of what each of you do every day. A sincere and heartfelt mahalo for all of your dedication, commitment and passion in serving our residents, clients and members!" - Suzie Schulberg, President & CEO