December 11, 2020
Silver Linings of COVID-19 (Issue 12/11/20)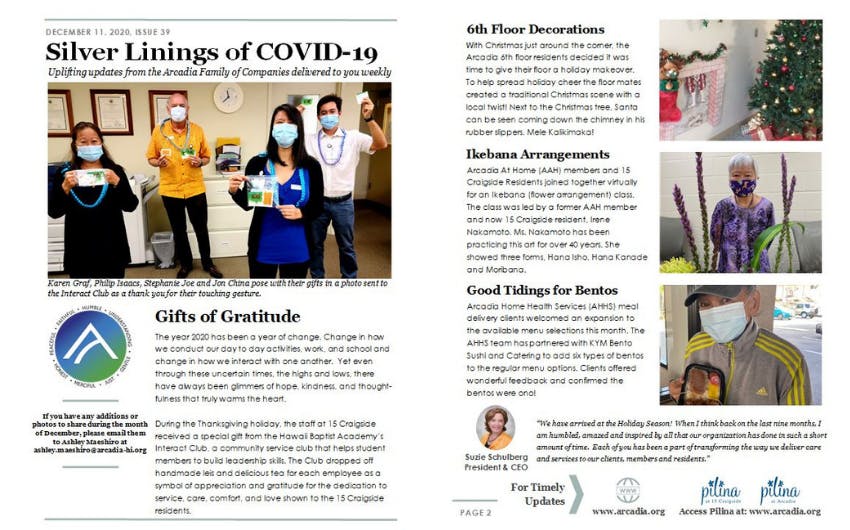 CLICK HERE TO READ THE FULL ISSUE
DECEMBER 11, 2020, ISSUE 39
Silver Linings of COVID-19
Uplifting updates from the Arcadia Family of Companies delivered to you weekly
Gifts of Gratitude
The year 2020 has been a year of change. Change in how we conduct our day to day activities, work, and school and change in how we interact with one another.  Yet even through these uncertain times, the highs and lows, there have always been glimmers of hope, kindness, and thoughtfulness that truly warms the heart.
During the Thanksgiving holiday, the staff at 15 Craigside received a special gift from the Hawaii Baptist Academy's Interact Club, a community service club that helps student members to build leadership skills. The Club dropped off handmade leis and delicious tea for each employee as a symbol of appreciation and gratitude for the dedication to service, care, comfort, and love shown to the 15 Craigside residents.
6th Floor Decorations
With Christmas just around the corner, the Arcadia 6th floor residents decided it was time to give their floor a holiday makeover.  To help spread holiday cheer the floor mates created a traditional Christmas scene with a local twist! Next to the Christmas tree, Santa can be seen coming down the chimney in his rubber slippers. Mele Kalikimaka!
Ikebana Arrangements
Arcadia At Home (AAH) members and 15 Craigside Residents joined together virtually for an Ikebana (flower arrangement) class. The class was led by a former AAH member and now 15 Craigside resident, Irene Nakamoto. Ms. Nakamoto has been practicing this art for over 40 years. She showed three forms, Hana Isho, Hana Kanade and Moribana.
Good Tidings for Bentos
Arcadia Home Health Services (AHHS) meal delivery clients welcomed an expansion to the available menu selections this month. The AHHS team has partnered with KYM Bento Sushi and Catering to add six types of bentos to the regular menu options. Clients offered wonderful feedback and confirmed the bentos were ono!
"We have arrived at the Holiday Season!  When I think back on the last nine months, I am humbled, amazed and inspired by all that our organization has done in such a short amount of time.  Each of you has been a part of transforming the way we deliver care and services to our clients, members and residents." - Suzie Schulberg, President & CEO