March 12, 2021
Silver Linings of COVID-19 (Issue 3/12/21)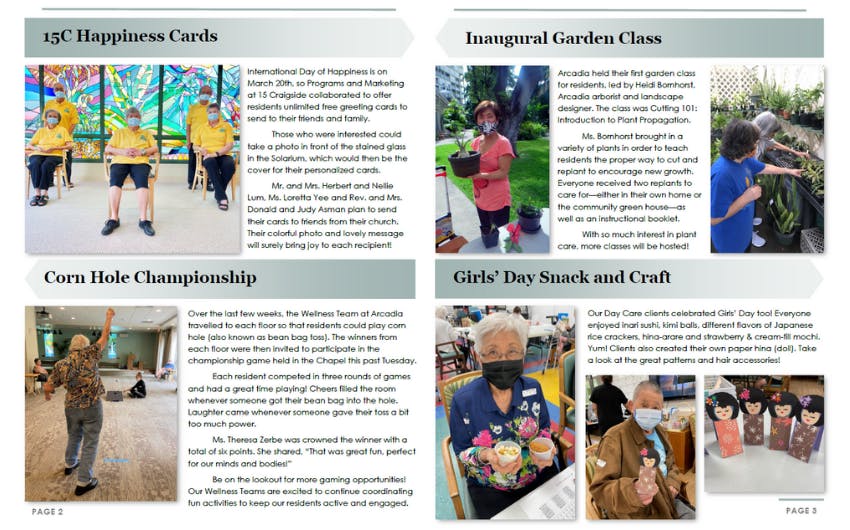 MARCH 12, 2021, ISSUE 52
Silver Linings of COVID-19
Uplifting updates from the Arcadia Family of Companies delivered to you weekly
Harnessing Voice Technology
"Echo, what are the events for today?" This and other requests are now being directed to Echo Dot, a small device that utilizes voice technology to improve life for our residents at 15 Craigside and Arcadia.
With a simple command, Echo can provide information, reminders and entertainment. Residents can even control the lighting and temperature in their apartment. Unlike devices set up with a personal Amazon account, however, our devices are programmed specifically for use in our communities. Residents do not provide Amazon with their name or any personal information, making it safer and more convenient to use.
Only our residents would have access to community information, such as upcoming activities, dining menus and more. Best of all, residents are able to request an Echo Dot for free! We want to make this technology accessible to all.
We'll be sharing more information next week. Stay tuned!
15C Happiness Cards
International Day of Happiness is on March 20th, so Programs and Marketing at 15 Craigside collaborated to offer residents unlimited free greeting cards to send to their friends and family.
Those who were interested could take a photo in front of the stained glass in the Solarium, which would then be the cover for their personalized cards.
Mr. and Mrs. Herbert and Nellie Lum, Ms. Loretta Yee and Rev. and Mrs. Donald and Judy Asman plan to send their cards to friends from their church. Their colorful photo and lovely message will surely bring joy to each recipient!
Corn Hole Championship
Over the last few weeks, the Wellness Team at Arcadia travelled to each floor so that residents could play corn hole (also known as bean bag toss). The winners from each floor were then invited to participate in the championship game held in the Chapel this past Tuesday.
Each resident competed in three rounds of games and had a great time playing! Cheers filled the room whenever someone got their bean bag into the hole. Laughter came whenever someone gave their toss a bit too much power.
Ms. Theresa Zerbe was crowned the winner with a total of six points. She shared, "That was great fun, perfect for our minds and bodies!"
Be on the lookout for more gaming opportunities! Our Wellness Teams are excited to continue coordinating fun activities to keep our residents active and engaged.
Inaugural Garden Class
Arcadia held their first garden class for residents, led by Heidi Bornhorst, Arcadia arborist and landscape designer. The class was Cutting 101: Introduction to Plant Propagation.
Ms. Bornhorst brought in a variety of plants in order to teach residents the proper way to cut and replant to encourage new growth. Everyone received two replants to care for—either in their own home or the community green house—as well as an instructional booklet.
With so much interest in plant care, more classes will be hosted!
Girls' Day Snack and Craft
Our Day Care clients celebrated Girls' Day too! Everyone enjoyed inari sushi, kimi balls, different flavors of Japanese rice crackers, hina-arare and strawberry & cream-fill mochi. Yum! Clients also created their own paper hina (doll). Take a look at the great patterns and hair accessories!
Life in Bloom
Arcadia's Art Design Committee is comprised of residents who are responsible for finding ways to enhance the community common areas to make it more appealing for all. To the right is the first floral arrangement they've commissioned from Wayne, the owner/floral designer of Flowers N' Fun, for the main entrance into Arcadia. The committee looks forward to receiving more of his lovely work!
Another Successful Clinic
Our Adult Day Care and Day Health Center at Central Union Church just hosted their second vaccine clinic with Times Pharmacy. A total of 49 participants received their shot. All who were involved remarked that everything was exceptionally organized and timely. Melissa Machida, Times Pharmacy Manager, even said they would be happy to partner with us again for future clinics!
An Expression of Love
Although Valentine's Day has passed, signs of love still surround us! The keiki of St. Clement's School created a giant heart to share with our Arcadia residents, which can still be spotted when passing their building. The sight warms our hearts! We are truly blessed to have such caring, thoughtful neighbors! Mahalo nui loa!
"The safety and well-being of our residents, clients, members and staff is our top priority. […] All employees, vaccinated or not, will continue to practice the infection prevention measures that we currently have in place." - Suzie Schulberg, President & CEO