November 20, 2020
Silver Linings of COVID-19 (Issue 11/20/20)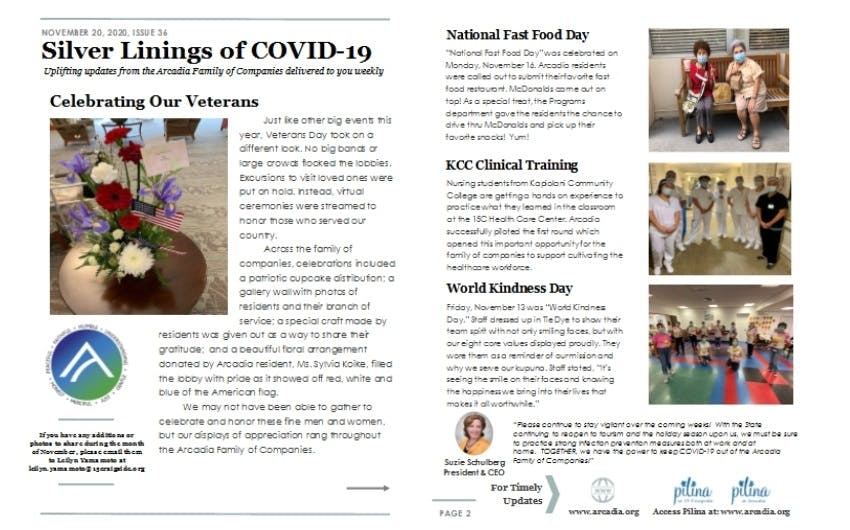 CLICK HERE TO READ THE FULL ISSUE
NOVEMBER 20, 2020, ISSUE 36
Silver Linings of COVID-19
Uplifting updates from the Arcadia Family of Companies delivered to you weekly
Celebrating Our Veterans
Just like other big events this year, Veterans Day took on a different look. No big bands or large crowds flocked the lobbies. Excursions to visit loved ones were put on hold. Instead, virtual ceremonies were streamed to honor those who served our country.
Across the family of companies, celebrations included a patriotic cupcake distribution; a gallery wall with photos of residents and their branch of service; a special craft made by residents was given out as a way to share their gratitude;  and a beautiful floral arrangement donated by Arcadia resident, Ms. Sylvia Koike, filled the lobby with pride as it showed off red, white and blue of the American flag.
We may not have been able to gather to celebrate and honor these fine men and women, but our displays of appreciation rang throughout the Arcadia Family of Companies.
National Fast Food Day          
"National Fast Food Day" was celebrated on Monday, November 16. Arcadia residents were called out to submit their favorite fast food restaurant. McDonalds came out on top! As a special treat, the Programs department gave the residents the chance to drive thru McDonalds and pick up their favorite snacks!  Yum!
KCC Clinical Training
Nursing students from Kapiolani Community College are getting a hands on experience to practice what they learned in the classroom at the 15C Health Care Center. Arcadia successfully piloted the first round which opened this important opportunity for the family of companies to support cultivating the healthcare workforce.
World Kindness Day
Friday, November 13 was "World Kindness Day." Staff dressed up in Tie Dye to show their team spirit with not only smiling faces, but with our eight core values displayed proudly. They wore them as a reminder of our mission and why we serve our kupuna. Staff stated, "It's seeing the smile on their faces and knowing the happiness we bring into their lives that makes it all worthwhile." 
"Please continue to stay vigilant over the coming weeks!  With the State continuing to reopen to tourism and the holiday season upon us, we must be sure to practice strong infection prevention measures both at work and at home.  TOGETHER, we have the power to keep COVID-19 out of the Arcadia Family of Companies!" - Suzie Schulberg, President & CEO