November 27, 2020
Silver Linings of COVID-19 (Issue 11/27/20)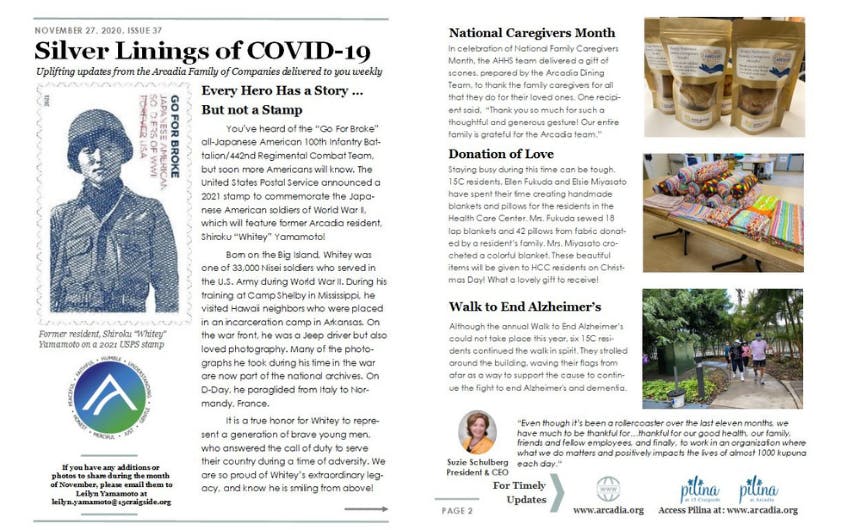 CLICK HERE TO READ THE FULL ISSUE
NOVEMBER 27, 2020, ISSUE 37
Silver Linings of COVID-19
Uplifting updates from the Arcadia Family of Companies delivered to you weekly
Every Hero Has a Story … But not a Stamp
You've heard of the "Go For Broke" all-Japanese American 100th Infantry Battalion/442nd Regimental Combat Team, but soon more Americans will know. The United States Postal Service announced a 2021 stamp to commemorate the Japanese American soldiers of World War II, which will feature former Arcadia resident, Shiroku "Whitey" Yamamoto!
Born on the Big Island, Whitey was one of 33,000 Nisei soldiers who served in the U.S. Army during World War II. During his training at Camp Shelby in Mississippi, he visited Hawaii neighbors who were placed in an incarceration camp in Arkansas. On the war front, he was a Jeep driver but also loved photography. Many of the photographs he took during his time in the war are now part of the national archives. On D-Day, he paraglided from Italy to Normandy, France.
It is a true honor for Whitey to represent a generation of brave young men, who answered the call of duty to serve their country during a time of adversity. We are so proud of Whitey's extraordinary legacy, and know he is smiling from above!
National Caregivers Month
In celebration of National Family Caregivers Month, the AHHS team delivered a gift of scones, prepared by the Arcadia Dining Team, to thank the family caregivers for all that they do for their loved ones. One recipient said,  "Thank you so much for such a thoughtful and generous gesture! Our entire family is grateful for the Arcadia team."
Donation of Love
Staying busy during this time can be tough. 15C residents, Ellen Fukuda and Elsie Miyasato have spent their time creating handmade blankets and pillows for the residents in the Health Care Center. Mrs. Fukuda sewed 18 lap blankets and 42 pillows from fabric donated by a resident's family. Mrs. Miyasato crocheted a colorful blanket. These beautiful items will be given to HCC residents on Christmas Day! What a lovely gift to receive!
Walk to End Alzheimer's
Although the annual Walk to End Alzheimer's could not take place this year, six 15C residents continued the walk in spirit. They strolled around the building, waving their flags from afar as a way to support the cause to continue the fight to end Alzheimer's and dementia. 
"Even though it's been a rollercoaster over the last eleven months, we have much to be thankful for…thankful for our good health, our family, friends and fellow employees, and finally, to work in an organization where what we do matters and positively impacts the lives of almost 1000 kupuna each day." - Suzie Schulberg, President & CEO