December 28, 2020
Silver Linings of COVID-19 (Issue 12/24/20)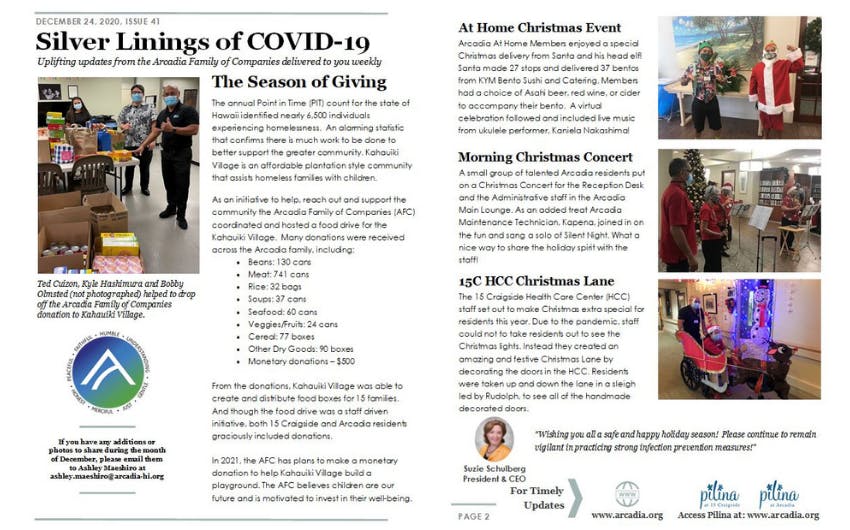 CLICK HERE TO READ THE FULL ISSUE
DECEMBER 24, 2020, ISSUE 41
Silver Linings of COVID-19
Uplifting updates from the Arcadia Family of Companies delivered to you weekly
The Season of Giving
The annual Point in Time (PIT) count for the state of Hawaii identified nearly 6,500 individuals experiencing homelessness.  An alarming statistic that confirms there is much work to be done to better support the greater community. Kahauiki Village is an affordable plantation style community that assists homeless families with children.
As an initiative to help, reach out and support the community the Arcadia Family of Companies (AFC) coordinated and hosted a food drive for the Kahauiki Village.  Many donations were received across the Arcadia family, including:
· Beans: 130 cans
· Meat: 741 cans
· Rice: 32 bags
· Soups: 37 cans
· Seafood: 60 cans
· Veggies/Fruits: 24 cans
· Cereal: 77 boxes
· Other Dry Goods: 90 boxes
· Monetary donations – $500
 From the donations, Kahauiki Village was able to create and distribute food boxes for 15 families. And though the food drive was a staff driven initiative, both 15 Craigside and Arcadia residents graciously included donations. 
In 2021, the AFC has plans to make a monetary donation to help Kahauiki Village build a playground. The AFC believes children are our future and is motivated to invest in their well-being. 
At Home Christmas Event
Arcadia At Home Members enjoyed a special Christmas delivery from Santa and his head elf! Santa made 27 stops and delivered 37 bentos from KYM Bento Sushi and Catering. Members had a choice of Asahi beer, red wine, or cider to accompany their bento.  A virtual celebration followed and included live music from ukulele performer, Kaniela Nakashima!
Morning Christmas Concert
A small group of talented Arcadia residents put on a Christmas Concert for the Reception Desk and the Administrative staff in the Arcadia Main Lounge. As an added treat Arcadia Maintenance Technician, Kapena, joined in on the fun and sang a solo of Silent Night. What a nice way to share the holiday spirit with the staff!
15C HCC Christmas Lane 
The 15 Craigside Health Care Center (HCC) staff set out to make Christmas extra special for residents this year. Due to the pandemic, staff could not to take residents out to see the Christmas lights. Instead they created an amazing and festive Christmas Lane by decorating the doors in the HCC. Residents were taken up and down the lane in a sleigh led by Rudolph, to see all of the handmade decorated doors.
"Wishing you all a safe and happy holiday season!  Please continue to remain vigilant in practicing strong infection prevention measures!" - Suzie Schulberg, President & CEO