December 31, 2020
Silver Linings of COVID-19 (Issue 12/31/20)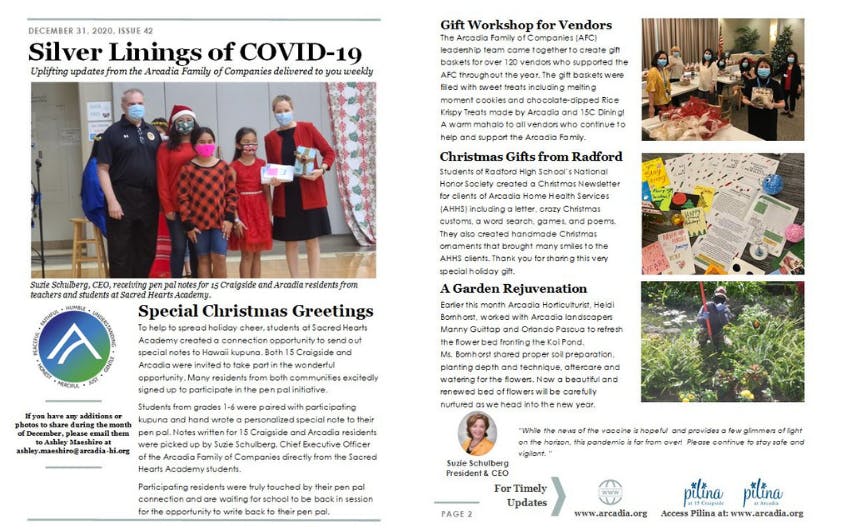 CLICK HERE TO READ THE FULL ISSUE
DECEMBER 31, 2020, ISSUE 42
Silver Linings of COVID-19
Uplifting updates from the Arcadia Family of Companies delivered to you weekly
Special Christmas Greetings
To help to spread holiday cheer, students at Sacred Hearts Academy created a connection opportunity to send out special notes to Hawaii kupuna. Both 15 Craigside and Arcadia were invited to take part in the wonderful opportunity. Many residents from both communities excitedly signed up to participate in the pen pal initiative.
 Students from grades 1-6 were paired with participating kupuna and hand wrote a personalized special note to their pen pal. Notes written for 15 Craigside and Arcadia residents were picked up by Suzie Schulberg, Chief Executive Officer of the Arcadia Family of Companies directly from the Sacred Hearts Academy students.
Participating residents were truly touched by their pen pal connection and are waiting for school to be back in session for the opportunity to write back to their pen pal.
Gift Workshop for Vendors
The Arcadia Family of Companies (AFC) leadership team came together to create gift baskets for over 120 vendors who supported the AFC throughout the year. The gift baskets were filled with sweet treats including melting moment cookies and chocolate-dipped Rice Krispy Treats made by Arcadia and 15C Dining! A warm mahalo to all vendors who continue to help and support the Arcadia Family.
Christmas Gifts from Radford
Students of Radford High School's National Honor Society created a Christmas Newsletter for clients of Arcadia Home Health Services (AHHS) including a letter, crazy Christmas customs, a word search, games, and poems. They also created handmade Christmas ornaments that brought many smiles to the AHHS clients. Thank you for sharing this very special holiday gift.
A Garden Rejuvenation
Earlier this month Arcadia Horticulturist, Heidi Bornhorst, worked with Arcadia landscapers Manny Guittap and Orlando Pascua to refresh the flower bed fronting the Koi Pond. Ms. Bornhorst shared proper soil preparation, planting depth and technique, aftercare and watering for the flowers. Now a beautiful and renewed bed of flowers will be carefully nurtured as we head into the new year.
"While the news of the vaccine is hopeful  and provides a few glimmers of light on the horizon, this pandemic is far from over!  Please continue to stay safe and vigilant. "- Suzie Schulberg, President & CEO