April 16, 2021
Silver Linings of COVID-19 (Issue 4/16/21)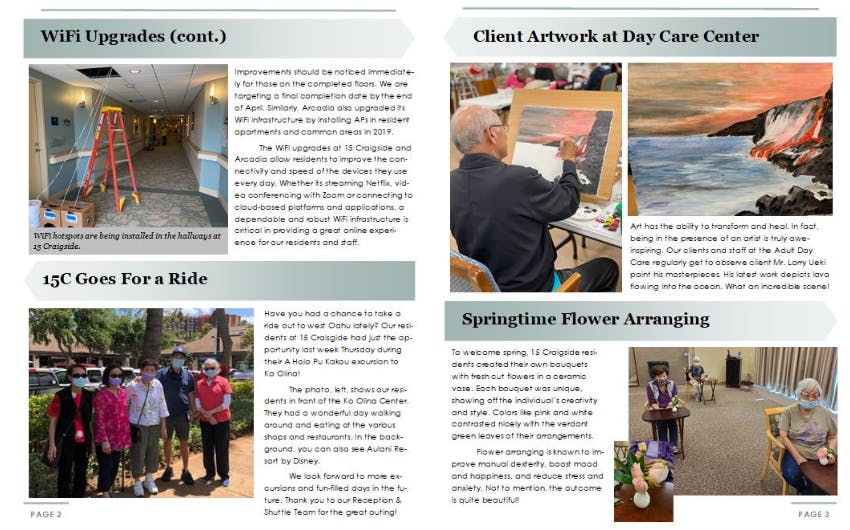 APRIL 16, 2021, ISSUE 57
Silver Linings of COVID-19
Uplifting updates from the Arcadia Family of Companies delivered to you weekly
WiFi Upgrade in Communities
Many of us can't fathom a world without high-speed internet connection.  WiFi offers us the convenience to connect to information and resources all over the world. That's why the Arcadia Family of Companies prioritized enhancing accessibility to this commodity through a series of upgrades.
When 15 Craigside first opened in 2011, WiFi Access Points (APs) were installed in the hallways and other common areas, but due to the signals changing over time and advancements made in technology, we are now in the process of upgrading our WiFi infrastructure. The current installation involves setting up additional APs in every resident's apartment and in common areas to improve WiFi connectivity and internet speeds.
The 15 Craigside WiFi upgrade project began at the end of March this year and is going strong. Improvements should be noticed immediately for those on the completed floors. We are targeting a final completion date by the end of April. Similarly, Arcadia also upgraded its WiFi infrastructure by installing APs in resident apartments and common areas in 2019.
The WiFi upgrades at 15 Craigside and Arcadia allow residents to improve the connectivity and speed of the devices they use every day. Whether its streaming Netflix, video conferencing with Zoom or connecting to cloud-based platforms and applications, a dependable and robust WiFi infrastructure is critical in providing a great online experience for our residents and staff.
15C Goes For a Ride
Have you had a chance to take a ride out to west Oahu lately? Our residents at 15 Craisgide had just the opportunity last week Thursday during their A Holo Pu Kakou excursion to Ko Olina!
The photo, left, shows our residents in front of the Ko Olina Center. They had a wonderful day walking around and eating at the various shops and restaurants. In the background, you can also see Aulani Resort by Disney.
We look forward to more excursions and fun-filled days in the future. Thank you to our Reception & Shuttle Team for the great outing!
Client Artwork at Day Care Center 
Art has the ability to transform and heal. In fact, being in the presence of an artist is truly awe-inspiring. Our clients and staff at the Adult Day Care regularly get to observe client Mr. Larry Ueki paint his masterpieces. His latest work depicts lava flowing into the ocean. What an incredible scene!
Springtime Flower Arranging
 To welcome spring, 15 Craigside residents created their own bouquets with fresh cut flowers in a ceramic vase. Each bouquet was unique, showing off the individual's creativity and style. Colors like pink and white contrasted nicely with the verdant green leaves of their arrangements.
Flower arranging is known to improve manual dexterity, boost mood and happiness, and reduce stress and anxiety. Not to mention, the outcome is quite beautiful!
Dr. David Andrew Retires
This week, we bid a hui hou to long-time Arcadia Associate Medical Director, Dr. David Andrew. Dr. Andrew retired on April 15th with over 30 years of service (including 10 years on the board) to the Arcadia Family of Companies. He joined Arcadia in 2000 as part of its Interdisciplinary Team and since has performed thousands of annual health assessments for our residents. Thank you for all of your years of dedicated service, Dr. Andrew!
Live Jazz at Arcadia
"Dr. Jazz" paid a visit to Arcadia! Dr. Robert Marvit, aka Dr. Jazz, performed on saxophone with guitarist Tom Chun in the Garden under a canopy in full view of the Main Lounge. Microphones amplified their melodies into the community for our admiring residents. Did you know? Dr. Robert Marvit is a practicing psychiatrist in Honolulu and works in rehab medicine, which includes music therapy. Thank you for sharing your talents with us!
Outdoor Tai Chi
15 Craigside residents resumed practice with tai chi instructor, Les, after about a year without his weekly classes. It was held in the courtyard, which was a change of scenery from the Solarium where they used to meet. Yet, it was fitting to be outside in the fresh air while they practiced their meditation and flowing movements. What a great way to unwind.
"As we continue to gradually re-open our communities and programs, please remember that we are taking this gradual approach because our number one responsibility is to care for and protect the health and safety of our residents, clients, members and employees." - Suzie Schulberg, President & CEO