April 30, 2021
Silver Linings of COVID-19 (Issue 4/30/21)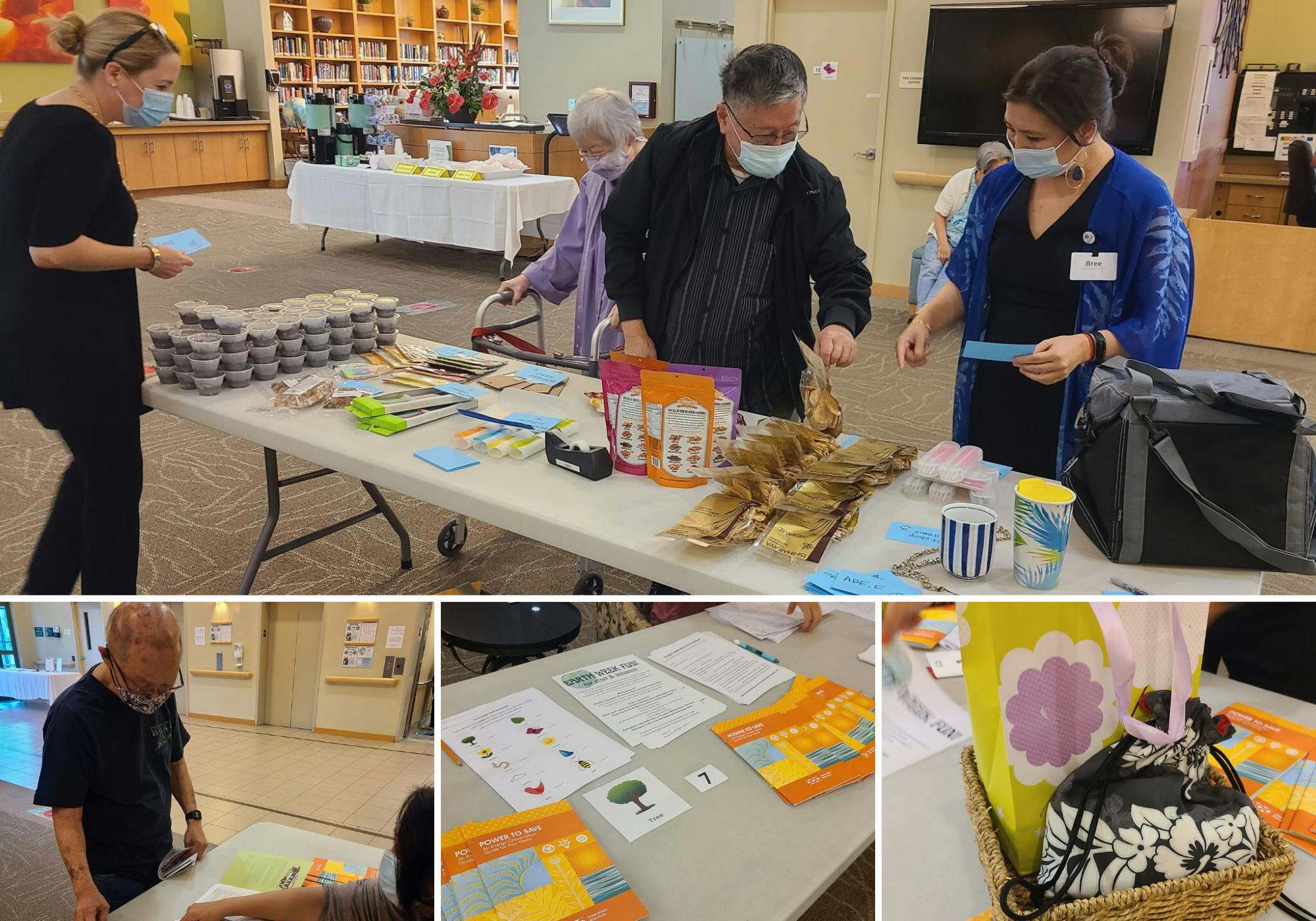 APRIL 30, 2021, ISSUE 59
Silver Linings of COVID-19
Uplifting updates from the Arcadia Family of Companies delivered to you weekly
15C Earth Day Celebration
At the Arcadia Family of Companies, we try to keep sustainability top-of-mind. In celebration of Earth Week last week, 15 Craigside residents and staff were invited to participate in daily activities to earn points. At the end of the week, those who participated were able to redeem their points for prizes at an event called, "It's Aloha Friday at 15C."

Residents could earn points by picking up a copy of Hawaiian Electric's Power to Save booklet and completing the Energy Conservation quiz; by showing the following items: one recyclable item, one donation item (which could be donated to the resident store), one reusable item, and one locally made item; by answering a daily trivia question; and by completing a trivia worksheet and scavenger hunt.       
On Friday, everybody was able to pick up an "Earth Cup" which included chocolate pudding, a gummy worm and crushed Oreos. Those who participated throughout the week could redeem their points for items such as snacks, reusable storage bags, reusable utensils, beeswax wrap, reusable masks and metal straws.
Thank you to everyone who participated to make this week one to remember! Mother Earth surely appreciates your awareness and efforts!
Arcadia Takes a Hike
Last week Arcadia residents took a virtual hike to Havasupai Falls in Arizona. They enjoyed impeccable views and an abundance of nature! They also were offered Earth Day coloring pages to go along with the experience. Many residents were sharing that they used to enjoy hiking. What a fun experience! 
Arcadia At Home Backyard Views
In a recent issue of the Arcadia At Home Newsletter, Members shared photos of the view from their backyards. Our Members choose to age in place at home, and with views like these, it's easy to see why! We loved their photos so much, they are being re-printed here with permission for everyone to enjoy.
Leaf Painting
Arcadia residents wanted to celebrate nature, albeit unconventionally, so they participated in a leaf painting class facilitated by Programs. Residents chose from a variety of leaves collected by staff and painted the underside for more detailed patterns, then pressed them onto the paper to reveal beautiful designs. Each leaf's unique stems, veins and shapes made for a one-of-a-kind art project.
A Long-Awaited Reunion
Perhaps one of the brightest parts of the loosening coronavirus restrictions is the ability to see family and friends again. 15 Craigside Health Care Center resident, Mr. Fred Taomae, greeted his visiting daughter from the mainland with a lei saying, "Welcome to Hawaii!" He also gave her a big hug. It's these types of reunions that make all of our hard sacrifices during the past year worth it.
Tie Dying Fun
Tie-dying produces colorful designs that never seem to go out of style! Arcadia residents tried their hand at the craft and created beautiful designs, imitating the art of Shibori, a  Japanese manual tie-dying technique that produces different patterns on fabrics. Our residents' keepsakes were their colorful linen towels. What a neat takeaway!
"While we continue to gradually emerge from the pandemic, please remember that it is not over. We must remain vigilant and continue to practice strong infection prevention measures like hand washing, physical distancing, face masking, staying home if you are not feeling well and avoiding large crowds." - Suzie Schulberg, President & CEO