April 9, 2021
Silver Linings of COVID-19 (Issue 4/9/21)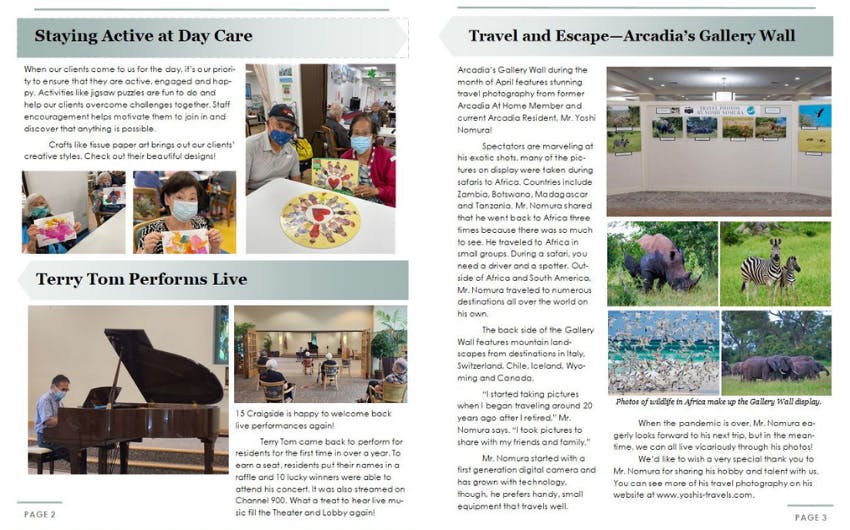 APRIL 9, 2021, ISSUE 56
Silver Linings of COVID-19
Uplifting updates from the Arcadia Family of Companies delivered to you weekly
"These Hands" Project
Our residents have lived fascinating lives comprised of careers, family achievements, travels and hobbies. The "These Hands" project provided a glimpse into the lives of our Arcadia Residents and the amazing things they've enjoyed and accomplished.
Residents filled out questionnaires and shared special stories about themselves. Interesting submissions included, "Are proud to have taught someone how to drive" as well as "Setting up and operating a new business," "Accompanied travel to all seven continents," "Worked in the airline industry for 32 years," and "Have enjoyed 54 years of marriage."
Residents traced their hands, and the hand cut outs were used to create paper flowers to accompany their stories. Perfect for spring! Thank you to all of our residents who shared their stories!
Staying Active at Day Care 
When our clients come to us for the day, it's our priority to ensure that they are active, engaged and happy. Activities like jigsaw puzzles are fun to do and help our clients overcome challenges together. Staff encouragement helps motivate them to join in and discover that anything is possible.
Crafts like tissue paper art brings out our clients' creative styles. Check out their beautiful designs!
Terry Tom Performs Live
15 Craigside is happy to welcome back live performances again!
Terry Tom came back to perform for residents for the first time in over a year. To earn a seat, residents put their names in a raffle and 10 lucky winners were able to attend his concert. It was also streamed on Channel 900. What a treat to hear live music fill the Theater and Lobby again!
Travel and Escape—Arcadia's Gallery Wall
Arcadia's Gallery Wall during the month of April features stunning travel photography from former Arcadia At Home Member and current Arcadia Resident, Mr. Yoshi Nomura!
Spectators are marveling at his exotic shots, many of the pictures on display were taken during safaris to Africa. Countries include Zambia, Botswana, Madagascar and Tanzania. Mr. Nomura shared that he went back to Africa three times because there was so much to see. He traveled to Africa in small groups. During a safari, you need a driver and a spotter. Outside of Africa and South America, Mr. Nomura traveled to numerous destinations all over the world on his own.
The back side of the Gallery Wall features mountain landscapes from destinations in Italy, Switzerland, Chile, Iceland, Wyoming and Canada.
"I started taking pictures when I began traveling around 20 years ago after I retired," Mr. Nomura says. "I took pictures to share with my friends and family."
Mr. Nomura started with a first generation digital camera and has grown with technology, though, he prefers handy, small equipment that travels well.
When the pandemic is over, Mr. Nomura eagerly looks forward to his next trip, but in the meantime, we can all live vicariously through his photos! We'd like to wish a very special thank you to Mr. Nomura for sharing his hobby and talent with us.
Support Restaurant Week
We're always looking for ways to support local businesses. Food-A-Go-Go, the Hawaii Agriculture Foundation's program to help local eateries survive the pandemic, is hosting its first restaurant week from April 5 through April 12. There are over 120 participating restaurants statewide offering unique dishes or special course menus for delivery, takeout, curbside and dine in. A list of participating restaurants can be found here: https://foodagogo.org/food-a-go-go-restaurant-week/.
Card Donation
Nothing feels better than getting a greeting card, but it's extra special when it's homemade. Friend of the Arcadia Family of Companies, Colleen LaClair, generously donated hand-crafted greeting cards for our usage. The intricate designs and superb craftsmanship of these cards will surely bring joy and comfort to all recipients. Thank you for thinking of us!
Virtual Bingo
Until it's safe to gather in large groups again, our Programs team at 15 Craigside continues to keep those whom we serve immersed in the community. To be able to get more people "together," residents have been playing Virtual Bingo. It's been fun to play with more than 10 people, and residents can join in from the comfort of their own homes. Virtual Bingo has also helped many residents practice using Zoom on their iPads.
"Necessity being the mother of invention, our top priorities as we continue to emerge from this pandemic remain the safety and well-being of our residents, clients, members and employees. With the success of our vaccination efforts and continued vigilance as we embrace this 'new normal' together, be assured the AFC continues to explore innovative and inventive ways to actively engage and support you in whatever ways possible." - Suzie Schulberg, President & CEO