May 29, 2020
Silver Linings of COVID-19 (Issue 5/29/20)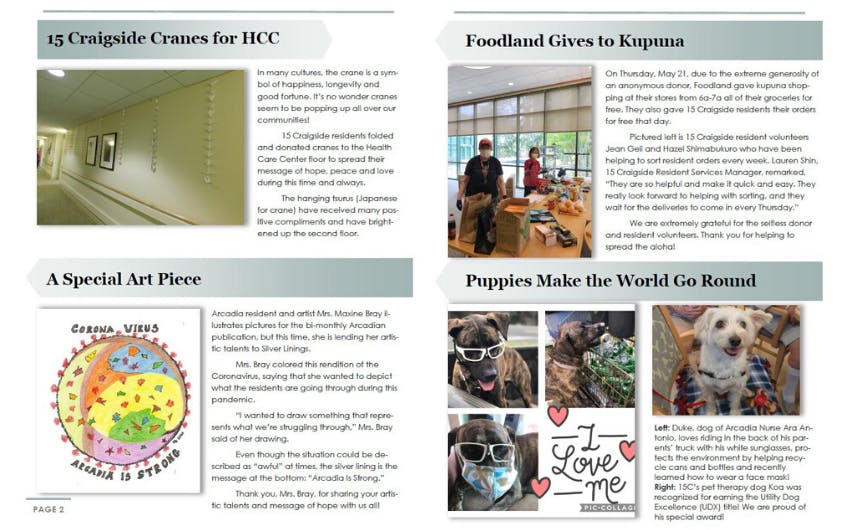 MAY 29, 2020, ISSUE 11
Silver Linings of COVID-19
Uplifting updates from the Arcadia Family of Companies delivered to you weekly
Messages of Hope for Kupuna
Hawaii's youth continues to reach out and share messages of hope with kupuna to let them know they are not alone in this fight against COVID-19.
The Arcadia Family of Companies has been the lucky recipient of beautiful handmade works of art, collages and letters sharing uplifting and inspirational drawings and words meant to brighten the days of our kupuna.
The students at Hawaii Baptist Academy created seven collages for 15 Craigside residents, and each version had its own special message. One message read, "15 Craigside, sending you lots of smiles across the miles!"
Iolani School and Momilani Elementary, in partnership with the Kind2Kupuna initiative, shared letters penned by 2nd graders with sentiments like, "Please know that we are thinking about you and we want you to stay positive," and "We are in this together, so stay positive!"
Iolani High School students penned letters and shared some of the following: "I cannot imagine a world without our kupuna. I am so thankful for all the wise people who have guided me throughout the years, and I want to extend that gratitude to you," and "Stay strong and stay positive! We believe in you and we love you!
Thank you to everyone for the kind messages!
15 Craigside Cranes for HCC
In many cultures, the crane is a symbol of happiness, longevity and good fortune. It's no wonder cranes seem to be popping up all over our communities!
15 Craigside residents folded and donated cranes to the Health Care Center floor to spread their message of hope, peace and love during this time and always.
The hanging tsurus (Japanese for crane) have received many positive compliments and have brightened up the second floor.
A Special Art Piece
Arcadia resident and artist Mrs. Maxine Bray illustrates pictures for the bi-monthly Arcadian publication, but this time, she is lending her artistic talents to Silver Linings.
Mrs. Bray colored this rendition of the Coronavirus, saying that she wanted to depict what the residents are going through during this pandemic.
"I wanted to draw something that represents what we're struggling through," Mrs. Bray said of her drawing.
Even though the situation could be described as "awful" at times, the silver lining is the message at the bottom: "Arcadia Is Strong."
Thank you, Mrs. Bray, for sharing your artistic talents and message of hope with us all!
Foodland Gives to Kupuna
On Thursday, May 21, due to the extreme generosity of an anonymous donor, Foodland gave kupuna shopping at their stores from 6a-7a all of their groceries for free. They also gave 15 Craigside residents their orders for free that day.
Pictured left is 15 Craigside resident volunteers Jean Geil and Hazel Shimabukuro who have been helping to sort resident orders every week. Lauren Shin, 15 Craigside Resident Services Manager, remarked, "They are so helpful and make it quick and easy. They really look forward to helping with sorting, and they wait for the deliveries to come in every Thursday."
We are extremely grateful for the selfless donor and resident volunteers. Thank you for helping to spread the aloha!
Puppies Make the World Go Round
Left: Duke, dog of Arcadia Nurse Ara Antonio, loves riding in the back of his parents' truck with his white sunglasses, protects the environment by helping recycle cans and bottles and recently learned how to wear a face mask!
Right: 15C's pet therapy dog Koa was recognized for earning the Utility Dog Excellence (UDX) title! We are proud of his special award!
AHHS Team Meetings
The Arcadia Home Health team holds a weekly teleconference meeting to connect to each other during the pandemic. Each meeting starts off with an ice breaker question, the last of which was, "What's the last thing that someone did for you that made your day?" Noly Julian, CNA, shared that her husband helped her complete her garden at home! What a reminder that even the smallest acts of kindness have the biggest impact!
Earrings for Hope
An anonymous reader and donor was so touched by the recent "Cranes for Hope" initiative by 15 Craigside residents that she wanted to start her own extension of Cranes for Hope. She has been folding cranes, crafting crane earrings and passing it out to others, sharing how each crane represents hope through the pandemic. We'd like to say a sincere mahalo to our reader for her thoughtfulness and generosity!
AAH Member Testimonial
Arcadia At Home Members are continuing to stay safe at home, and Ms. Arleda Watson is no different. She shared that her silver lining during this pandemic is the housekeeping services she is receiving. She said, "It feels so good to have clear windows and screens, stainless steel without smears, not to mention, the friendly 'invasion' of real live people." We're thankful our members appreciate the assistance during these times.
"A huge mahalo to all of you residents and staff for sticking with us as we have navigated through unchartered waters […] Currently, we are in the Act With Care phase. Take care, and stay safe!" - Suzie Schulberg, President & CEO
Behind the Mask
A poem written by Susan G. Panui
In the midst of this crisis
The world seems a mess
With stay at home orders
And health workers so stressed
So many are ill
And many pulled through
But every life lost
Was someone's precious and few
Many are jobless
They all share the same strains
Unsure if they'll make it
With what little remains
In the midst of this storm
We can refocus on life
And rediscover the values
Once forgotten in strife
When you're no longer busy
And you've nowhere to go
You return to the basics
Of the life you should know
Families are bonding
With more time to spare
The air is now cleaner
Heavy traffic is rare
Meals cooked at home
Shared at a table
Creating memories together
Now that they're able
Many are willing
To help as they can
Creatively thinking
Since the struggle began
It doesn't take all this
to realize that you care
God gave you a heart
That was already there
And when the time came
When you could step up
With no hesitation
You helped fill someone's cup
Behind every mask
So much more can be seen
You can see in their eyes
Their smiles as they gleam
The mask cannot hide
What the heart clearly shows
Full of compassion for others
As the love overflows
We thank you for you
Caring for more than yourself
Whether risking your lives
Or putting food on a shelf
You are the sunshine
That brightens the day
When someone is struggling
In all this dismay
You give people hope
Along a rough road
When the burden is heavy
You help lighten the load
When all this is over
Things may not be the same
Through all of this I hope
Your servant's heart will remain
There's a great silver lining
Though apart we must stay
As our hearts join together
We turn to our God and pray
Mahalo!
The team at 15 Craigside delivered 15 delicious lunch bentos to the Walgreens pharmacy team and all other staff on shift at the time! We're grateful for all that they've done for us, and we're happy to show them a small token of our appreciation. Mahalo for all that you do everyday!
We'd like to thank Sheri-Ann Lau Clark (Hawaii Employers Council) for donating 10 reusable masks for our staff to use. Thank you for the kind gesture. Our staff won't soon forget it!
Thank you to Avanti Designs for your generous donation of 300 disposable masks! We are humbled by your donation! Please know that these masks will go toward protecting the lives of those we serve.