June 2, 2021
Tips to Juggle Work and Caregiving - How to Cope With Caregiver Burnout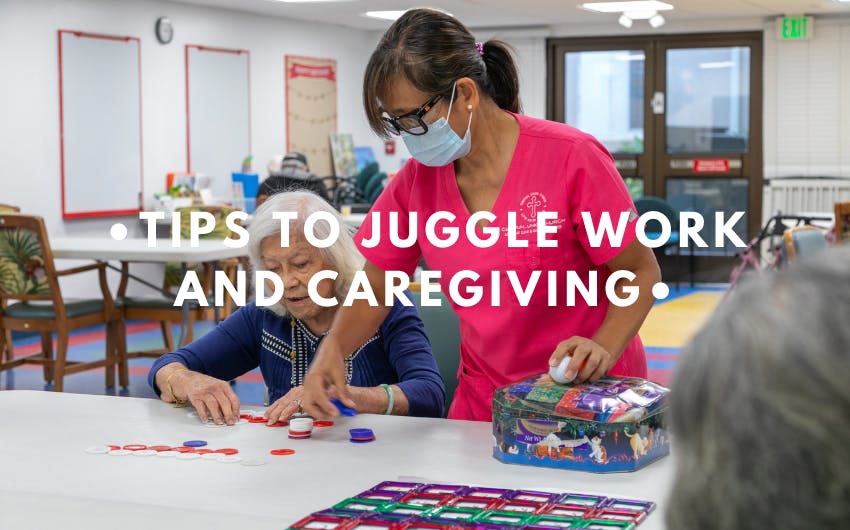 Maintaining a job and a family is challenging enough for anyone, but for caregivers, it can feel like a balancing act. On average, caregivers put in around 34 hours a week. So, while not everyone treats it as such, caregiving is its own full-time job—and it can leave you feeling overwhelmed, spread too thin, and burnt out.
Fortunately, there are ways to help maintain the balance between working and caregiving—here are a few tips to help prevent caregiver burnout.
1.  Stay Organized
One way to manage the stress of being a caregiver is through staying organized. You can do this in multiple ways:
●     Set a schedule for what your patient needs. This could be anything for times that they need medication, doctor's appointments, or other obligations you'll need to be there for
●     Make sure you create a personal schedule for yourself that tracks when you need to work, free time, and other events
●     Keep your patient's medical equipment or medication in the same place so you're not searching for it at the last minute
Organization can manifest in various ways, but it's important that you come up with a system or schedule that works for you and the person you're caring for.
2.  Visit Local Agencies for Insight and Support
As a caregiver, it can feel like you're alone, especially if you're taking care of a family member. On top of your new responsibilities, you also have your own emotions to manage as you enter into a new normal.
But, even if you don't realize it, you're surrounded by local agencies that are ready to give support. Search for local agencies in your area, and you'll likely find plenty of organizations.
The most important resource that these agencies can provide is assistance. If being a full-time caregiver is not a solution that works for your family, a local caregiver organization can lend a hand.  
If you're simply looking for insight or support about how to be a better caregiver, the FCA is a great resource. From tips about your loved one's health condition to strategies about self-care, there's no shortage of good reading material.
There are also ways to get connected to a support group, either online or in person, to help manage the stress of your caregiver duties. 
3.  Keep Your Caregiving Duties Separate From Your Personal Life
It's easy to let your caregiving duties overtake every part of your life—even your social life. After awhile, you may find yourself blowing off friends or a significant other because you feel as if your loved one needs you more.
However, it's important not to let your responsibilities as a caregiver become more important than your own personal time. Neglecting yourself or your personal life is only going to lead to more burnout and frustration.
Try to schedule regular outings or free time that you spend away from the person you're caring for. This could mean hanging out with friends, a date night, or even just relaxing by yourself.
If your loved one needs 24/7 care and you don't feel comfortable leaving them alone, ask another family member or a trusted friend to step in while you're gone.
4.  Ask About Flexible Work Policies
Unfortunately, caregiver responsibilities aren't always convenient, especially if you're working a part-time or full-time job. Once you know you're going to be a caregiver, you'll need to meet with a human resources rep or your boss to ask about flexible work policies. Not all employers may have a formal policy about flex-time, but bigger corporations are usually already prepared.  
Still, a lot of employers are willing to offer flex-time, such as a modified work week or new hours to meet your needs. Depending on your job, you can always ask about telecommuting so you aren't leaving your loved one home alone.
Keep in mind that you may be able to take advantage of other work benefits as well. Some companies may have programs that provide counseling for managing stress, or eldercare referrals that help you find medical resources in your area.
5.  Understand FMLA Laws
As a caregiver, FMLA (Family and Medical Leave Act) laws can work to your advantage. FMLA laws allow you to take up to twelve weeks of unpaid leave annually, while still getting health benefits and having job security.
However, to qualify for FMLA, you usually need to:
●     Work in the public sector or for a company that employs more than fifty people that aren't remote. Even if your company doesn't employ fifty people, you may still be eligible for medical or state leave laws.
●     You'll need to have worked at least 1,250 hours for your employer (which levels out to be a year if you're working part-time or even less if you're full-time).
●     FMLA for caregivers usually only covers caring for a child, spouse, or parent. In-laws, for instance, aren't covered by FMLA
For a more in-depth look at your eligibility, check out the FMLA employee guide.
6.  Build a Caregiving Community
Support from your friends, family, and other caregivers is key to avoiding burnout. Building a caregiving community may be easier than you think. Local agencies and hospitals can put you in contact with other caregivers or a support group to help you cope emotionally.
If your loved one suffers from a specific illness, like cancer or Alzheimer's, you can also find your community through online resources as well.
Signs of Caregiver Burnout
You may not always realize you're suffering from caregiver burnout, especially if it's the first time you've been a caregiver. Here are a couple warning signs of burnout:
●     You're constantly tired, and never feel like you have energy to do your daily tasks
●     You're not sleeping a lot (or you're sleeping too much)
●     You feel as if caregiving has taken over your life
●     You've become unusually irritated or impatient with those around you
●     You're experiencing changes in eating habits, like weight gain or weight loss
●     You're dealing with a lot of anxiety, depression, or mood swings
●     You're neglecting your own needs to take care of your loved one instead
●     You've started to have stomach aches or headaches frequently
●     You feel hopeless about life
How to Cope With Caregiver Burnout
If you checked off more than a couple of those symptoms, you may be in the midst of caregiver burnout, but you don't have to stay there. Here's how you can cope with the burnout, and prevent it from happening again:
●     Practice acceptance: Becoming a caregiver can happen fast, and you may not be prepared for the change. Instead of trying to resist what's happened, try to embrace it instead. Accept that your life and responsibilities have altered, but it doesn't mean you can't still enjoy your personal life.
●     Don't let caregiving take over your life: Neglecting your own needs can lead to burnout. Try to take time for yourself regularly, and hang out with friends or family on a regular basis.
●     Celebrate the small victories: Rather than criticizing your mistakes, celebrate what you've accomplished instead. These small victories can be as simple as accomplishing the tasks you've set out for the day, or getting to a doctor's appointment on time.
●     Get the appreciation you need: Caregivers often feel underappreciated. If your loved one doesn't recognize what you're doing for them, you can always reach out to a support group that'll understand how you're feeling.
●     Ask for help: Don't feel as if you have to do everything alone. Don't be afraid to ask friends or family members for help. You can also reach out to a local agency to request a professional caregiver as well
●     Take care of yourself: You need to make sure you're also caring for yourself. This means watching your own health, hanging out with friends, and taking some downtime.
●     Join a support group: Friends may be sympathetic, but they may not understand what you're sacrificing. A support group full of other caregivers will not only listen to you, but will likely have similar experiences of their own.
Caregiver burnout is far more common than it seems, and it's important to recognize that you may not be able to juggle it all by yourself. If you are experiencing caregiver burnout, the Arcadia Family of Companies has senior living options providing needed caregiver respite on the occasional or frequent basis.
Arcadia Home Health Services can provide part-time or full-time care that your loved one needs while giving caregivers the respite they need. Not only can they provide an in-home nurse aide, but they also offer other essential services to make your life easier—such as meal delivery, older adult companionship, nurse care, or even just housekeeping.
Central Union Church Adult Day Care & Day Health Center offers clients a healthy balance of physical and mental exercises in a setting that encourages socialization. Included in the program are delicious meals, socialization and exercise. Plus, clients also benefit from a varied list of fun and stimulating activities that change daily.
As a caregiver, it's easy to feel isolated and spread too thin, and there's no reason you need to do it alone.