December 23, 2021
Ho'omau (12/23/21)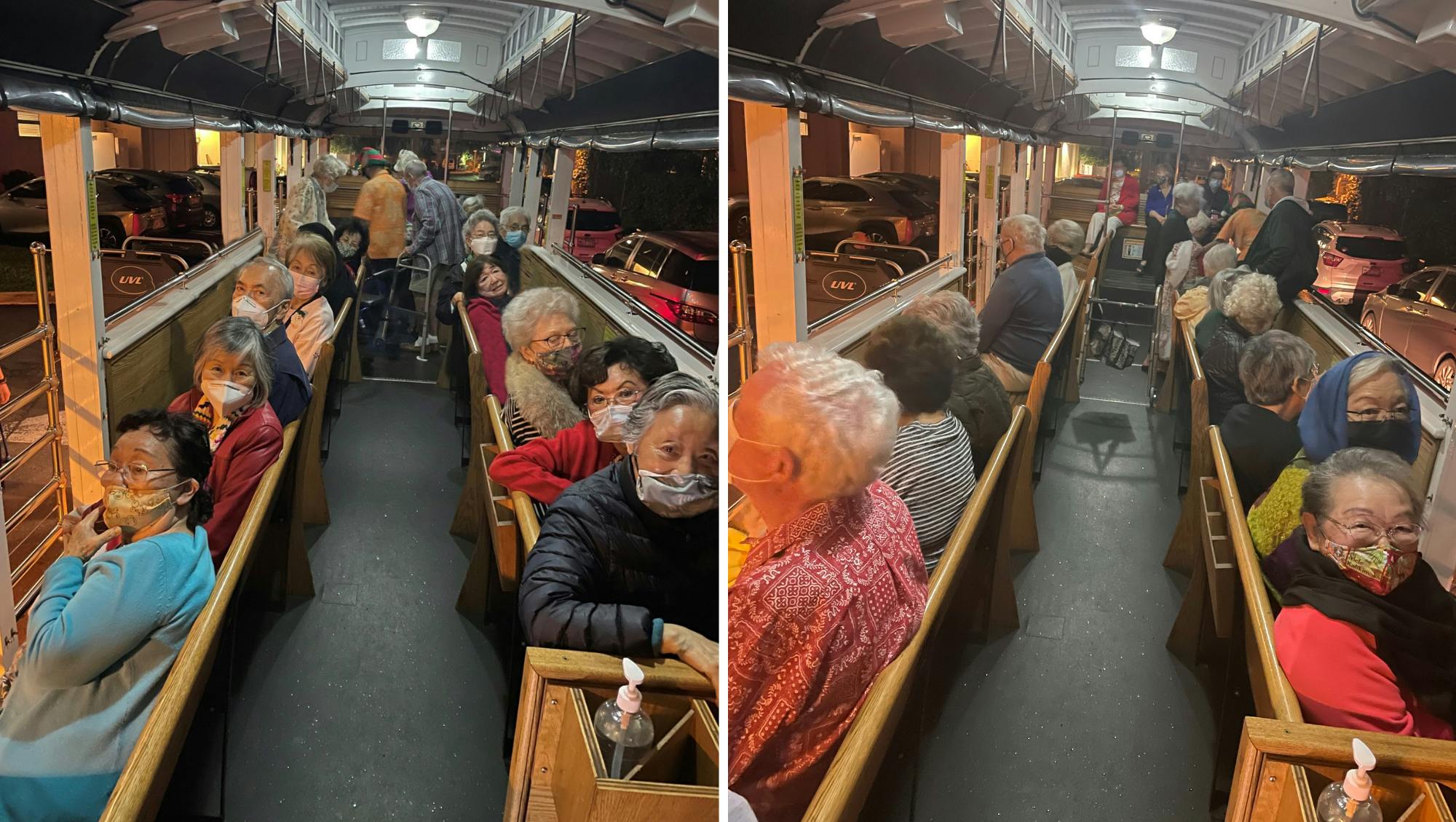 DECEMBER 23, 2021, ISSUE 30
Hoʻomau
Renew, Perpetuate, Persevere
Trolley Rides to the Honolulu City Lights
Visiting the Honolulu City Lights are a holiday tradition for many in Hawaii. Arcadia residents got a spectacular view via private trolley ride. There were two private trolley rides to accommodate a larger number of residents. Programs Manager, Ashley Maeshiro, said "Residents were excited and our wonderful tour guide did not disappoint! Everyone raved about their ride and had a lot of fun. The air was a little chilly, but the perfect Christmas weather."
The Honolulu City Lights began in 1985 when Mayor Frank F. Fasi created a free event that included a lighted tree on the main lawn of the Honolulu City Hall, decorated tree display in the courtyard, holiday concert and displays of light on the trees and buildings from Downtown to the Civic Center.           
15 Craigside Health Care Center Christmas Lane
15 Craigside Health Care Center residents took a stroll down Christmas Lane to see the door decorations and colorful lights. The festive decorations were elaborate and stunning, which surely filled the residents with lots of holiday cheer! One wheelchair was converted into Santa's sleigh, pulled by Rudolph the Red Nosed Reindeer!
Arcadia Resident Door Decorating Contest
Take a look at the beautiful 'doors' decorated at Arcadia! Residents participated in a Christmas door decorating contest by working with their floormates to dress up a section of wall on their respective floors. Employees were able to walk to the different floors to vote for their favorite display. Based on the employee votes, the Programs team will crown the 1st, 2nd and 3rd place winners.
Silent Auction at 15C
A silent auction was held in the theater at 15 Craigside. Various items such as teapots, necklaces, glassware and more were on display. Residents and staff were able to bid on anything that caught their eye. At the end of the event, the items went to the highest bidder. Thank you to all the resident volunteers for coordinating this fun event!
Christmas Trees and Cards at Arcadia Health Care Center
'Tis the season for decorations and gifts, and the Arcadia Health Care Center residents are enjoying both! They have a Christmas tree adorned with blue ribbon, snowflakes and ornaments with their faces on them. HCC Activities Supervisor, Stacy Aleman, said "The HCC residents are having fun trying to find their face in it". As for the gifts, Arcadia Independent and Assisted Living residents decorated Christmas cards for the HCC residents to enjoy! What a thoughtful and kind gesture from the residents and Arcadia's Programs team.
Nativity Story
Arcadia residents recently enjoyed a reenactment of the Nativity Story in the Main Lounge. Resident, Edgar Kimsey, and Reverend Dr. George Scott, led the viewers through the story of the birth of Christ, while a cast of Arcadia residents acted out each scene. Mahalo to all who helped out and participated! 
"The latest COVID-19 surge is spreading quickly and affecting AFC staffing due to exposures and close contacts. Mahalo nui loa to each member of the AFC Team for your dedication in supporting your fellow coworkers to ensure we don't skip a beat in providing care and services to our residents, clients and members. Thank you for going above and beyond the call! Mele Kalikimaka!" -Suzie Schulberg, President & CEO