May 18, 2022
Arcadia At Home Member Newsletter (April 2022)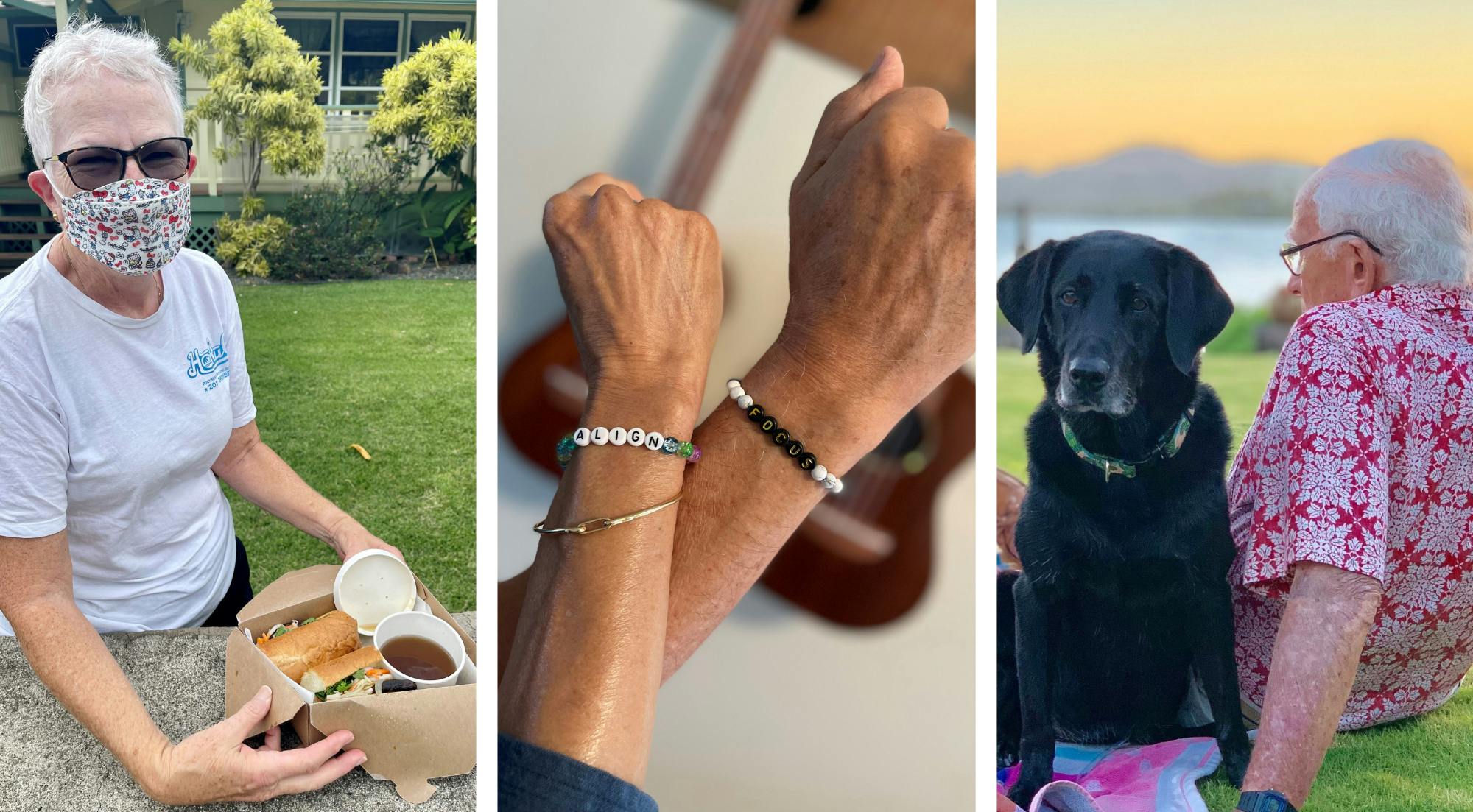 APRIL 2022
Arcadia At Home Member Newsletter
Furry Friends
There are many key aspects to life at home. It's a place of refuge...there's an emotional connection and a sense of belonging. What are some of those things that really make house a home? In this issue, we feature our furry friends of Arcadia at Home.
Pals – Pua and Bob. (Dr. Robert and Adelaide Kistner)
I've had Max for nearly 9 years. I adopted him from the Hawaiian Humane Society and think he's about 13 years old. When I started taking him to the beach regularly a few months ago he did not want to get near the water, but last week he started to follow me into the water. Just a few inches deep, but it's a start! Maybe an old dog can learn new tricks. (Adele Chong)
Mahalo is a 14 year old Abyssinian from Japan. He is quite the world traveler and was evacuated to Hawaii after the 2011 tsunami earthquake. He then did a 2 year home stay with friends in Colorado before returning to Hawaii in 2013. I did not return to Hawaii until late 2012, so we were separated. But, he's very adaptable. He doesn't play well with other animals, so he has to be the only pet. (Marian Okada)
"I wonder what lunch will be? I hope its chicken!" Coco Bun is our precious eight-year-old Maltese/Chihuahua who loves to eat. She will dance for her supper on her hind legs. (George and Evy Hao)
Monster, who was born wild on Sand Island, moved in as a foster kitten 12 years ago. He's quite bossy and quick to point out an empty bowl. He is not interested in meeting you. Sumo arrived at age six as a foster cat three years ago. He had a respiratory infection. When he recovered, he persuaded Monster and me to adopt him. If Monster's bowl is empty, Sumo probably finished it off. Sumo would be delighted to meet you. (Arleda Watson)
Bro is a terrier mix with Tibetan spaniel. I adopted him 5 years ago, and that was his given name. He is smart, sensitive, and playful. (Teruko Murakami)
Meet the Master of the Sims household. Over the past 17 years, Ricky has skillfully trained John and Steph to answer his every whim…including wake up taps at 2:00 AM for fresh running water in the shower. Amazing how they continue to be "Best Friends."
Intention Bracelets
February 1, 2022 — Happy Year of the Tiger! In conjunction with Chinese New Year, members were invited to choose colors and submit a word of intention. An intention is an aim or purpose, something you plan to do or achieve — and paying more attention to your intentions can truly do incredible things for your life.
At Home Gets Another Boost
Booster clinics across the Arcadia Family of Companies continued for a second go around, and members got their booster shots at either Arcadia, 15 Craigside, or Central Union Church. Thank you again to Times Pharmacy for the collaboration.
Diner Delivery 2022
Brick Fire Tavern Pizza, Pig & the Lady Restaurant and Alley Restaurant at Aiea Bowl.
Member Move-In
Welcome to your new homes and best wishes!
Looking forward to having the meals taken care of and the medication management Also, our son will be walking distance and we can see our grandchildren more often! - Elaine & Stanley Yoshioka
Our move into Arcadia went very smoothly. Everyone has been very welcoming and eager to get to know us. - Roy & Catherine Miyahira
In-Home Massage
In-Home massages are now available for At Home Members with Michael Tanouye, contract Massage Therapist for the Arcadia Family of Companies! $85 per hour Monday-Saturday (times vary based on availability). Contact Jon & Shannon at (808) 983-5927 or (808) 983-5926 to schedule an appointment.
Meet Shannon Miyazaki, Member Services Manager
Aloha Arcadia At Home Members!
I am delighted to be a part of the Arcadia Family of Companies and honored to serve as your Member Services Manager.
I was born in Seoul, South Korea and raised in Hawaii Kai. As a child I aspired to be an astronaut, inspired by the late Ellison Onizuka. I am blessed with incredibly supportive parents who sent me to Space Camp in Huntsville, Alabama (you may have seen the fun 1986 movie based on the program).
I graduated from the University of Hawaii at Manoa, a Regent Scholar, with a Bachelor of Science in Human Development and Family Studies, Minor in Biology, and Undergraduate Certificate in Aging. During college I was a weekend volunteer for Hale Pulama Mau, Kuakini Health System's long-term care facility. This was the start of my career in healthcare and passion for working with seniors.
In addition to senior living, I worked in the hospitality industry at several Waikiki hotels, most recently at the Hyatt Regency Waikiki Beach Resort & Spa.
In my spare time I enjoy watching television, reading, Bikram Yoga, and almost any activity with family or friends. I love to travel - food, shows, museums, boutique shops - and have a bucket list to see the world.
With the ease of COVID-19 restrictions, I am excited to work with Jon to plan Member events. Most importantly, I look forward to meeting and getting to know everyone!