November 2, 2021
How Does Assisted Living Differ From Skilled Nursing Care?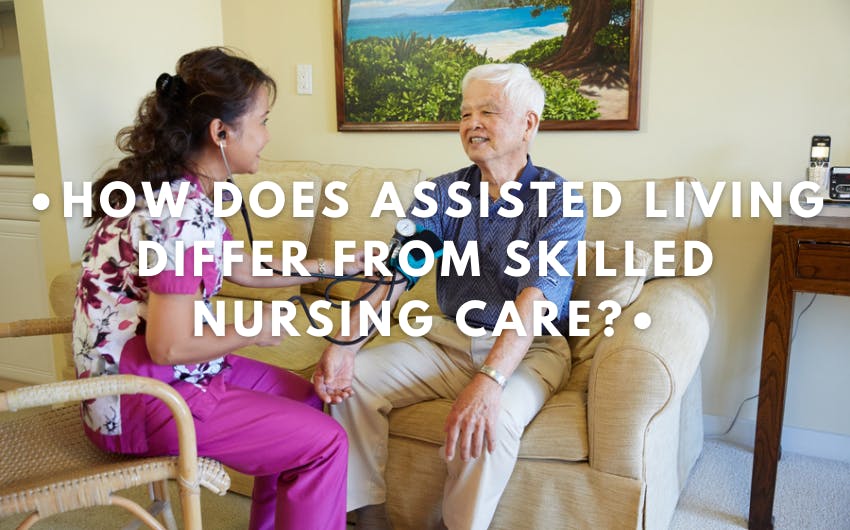 There are many senior living options to choose from, and while information is readily available, not many people know the little nuances that differentiate the levels of senior care, especially when exploring assisted living and skilled nursing. What are the differences between the two and which one is the right option for you or a loved one?
Assisted living
Assisted living communities are for older adults who are more or less able to live independently but may need help with some daily activities. For example, residents may need help with grooming, personal hygiene and household activities in which caregivers provide assistance. Those in assisted living neither need constant supervision nor do they require serious medical attention.
Skilled nursing
Skilled nursing are for individuals who need a high level of medical care whether physical, mental or both. They may be in cognitive decline, suffer from an illness or may be recovering from an injury or surgery. This can be short or long term. Older adults in skilled nursing are no longer able to safely take care of themselves and need help with daily living.
Differences between assisted living and skilled nursing care
The most significant difference between skilled nursing and assisted is the level of care older adults receive. For those needing help with daily activities who are otherwise healthy and mobile, assisted living is the right option. On the other hand, skilled nursing offers round the clock medical assistance to include services like physical therapy, medication management, wound care and monitoring of vital signs with a care plan specific to the person's needs and goals.
Nursing homes vs continuum of care communities
Nursing homes, more commonly known as skilled nursing facilities (SNFs), are 24-hour medical monitoring and assistance centers. Typical residents of a SNF have severe physical or mental conditions that makes daily living difficult or impossible to manage without help.
While some establishments only offer only some facets of senior care, continuum of care communities or life plan communities provide the full spectrum of care. Life plan communities support residents through their aging journey as their needs change. For instance, even though a resident is currently in assisted living, they may require skilled nursing care at some point in their stay. In a life plan community that offers a continuum of care, older adults may find it easier to transition from different levels of care because it's under one roof. Residents are not suddenly uprooted and placed into a new facility; they are able to remain in the same environment surrounded by people they have grown to know and trust.
Choosing the right care
The right decision is not always the easiest to make because every person's situation is unique. There are many factors involved, however most agree that when an older adult's living situation is no longer safe, it may be time to consider more care.
It's always best to do your homework and start preparing for the possibility of moving yourself or a loved one into a community that provides both assisted living and skilled nursing care. Take the time to visit various homes and communities, talk to their staff and seek referrals from people that you trust.
The Arcadia Family of Companies offers the full spectrum of senior care. Whether it is assisted living or skilled living, we have solutions for every stage of a kupuna's journey. Visit arcadia.org for more information or call (808) 544-5416 and speak with an expert consultant.